As one of their first votes in the new Congress, House Republicans passed a resolution Wednesday condemning political violence against pro-life crisis pregnancy centers, but nearly all Democrats opposed the measure.
The House voted 222-209 in favor of a resolution introduced by Rep. Mike Johnson, R-La., which "condemns recent attacks of vandalism, violence, and destruction against pro-life facilities" and "recognizes the sanctity of life and the important role of pro-life facilities, groups, and churches play in supporting pregnant women, infants, and families."
The resolution is a response to the wave of political violence targeting pro-life groups and churches that erupted last year after the U.S. Supreme Court's Dobbs decision overturning Roe v. Wade was leaked on May 2. More than 100 crisis pregnancy centers, pro-life organizations and churches were firebombed, smashed, ransacked, or vandalized with pro-abortion graffiti and threatening messages.
Fox News Digital previously reported that while more than a dozen attacks have been claimed by the left-wing pro-abortion group Jane's Revenge, not a single member of the underground group has been arrested.
210 DEMOCRATS VOTE AGAINST BILL REQUIRING MEDICAL CARE FOR BABIES BORN ALIVE AFTER ABORTION ATTEMPT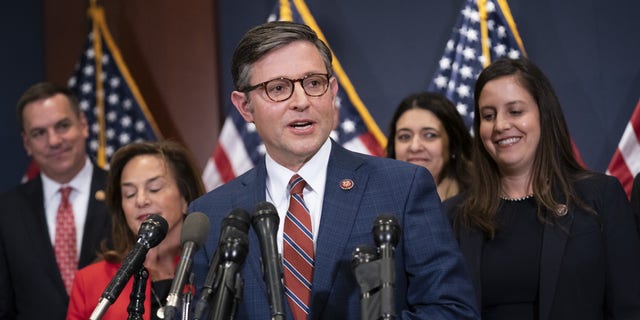 Rep. Mike Johnson, a Republican from Louisiana, who was voted to become Vice Conference Chair, speaks to reporters following the House Republican caucus leadership elections at the U.S. Capitol in Washington, D.C., Tuesday, Nov. 15, 2022.
(Sarah Silbiger/Bloomberg via Getty Images)
The House called upon the Biden administration to enforce the law and protect pro-life groups and churches from violence.
"Since there has been so little accountability for the leaked draft Dobbs opinion and ensuing violence and intimidation against pro-lifers, we are making the position of Congress crystal clear: violence, property damage, threats, and intimidation tactics must be condemned, and these clear violations of federal and state laws must be prosecuted," Johnson said in a statement. "I thank Speaker McCarthy and our entire House Republican leadership team for making this resolution one of the first priorities of the 118th Congress."
However, Democrats criticized the resolution as one-sided because it did not condemn similar violence against abortion clinics. The resolution is "woefully incomplete," said New York Rep. Jerrold Nadler, the top Democrat on the House Judiciary Committee. Seventy percent of abortion-related violent threats since the Supreme Court Dobbs decision have been against pro-life centers, FBI Director Christopher Wray said in November.
Reps. Diana DeGette, D-Colo., Barbara Lee, D-Calif., and Ayanna Pressley, D-Mass., introduced a counter-resolution that "condemns all acts of political violence" and "affirms that all people have the freedom to access reproductive health care services and medical advice without fear of violence, intimidation, or harassment."
REPUBLICANS TO CONDEMN PRO-CHOICE ACTIVIST VIOLENCE AFTER ROE ROLLBACK WITH RESOLUTION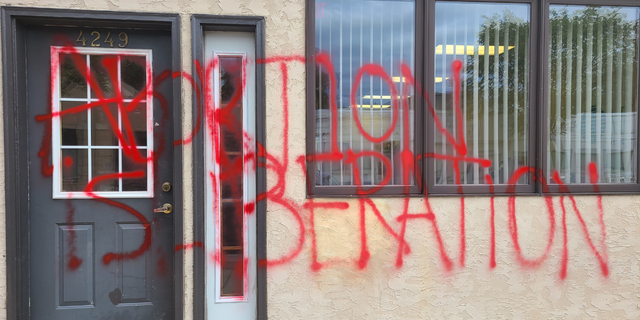 A pro-life pregnancy center in Minneapolis, Minnesota was vandalized on June 14, 2022, and the group Jane's Revenge has claimed responsibility for carrying out the act in an online post.
(Minnesota Citizens Concerned for Life)
A press release from the sponsors of the Democratic resolution stated, "the GOP's blatant refusal to condemn the violence against pro-choice entities as part of their resolution sends a dangerous message that could further embolden the extremists behind such attacks" against abortion providers.
The release noted there have been nearly 7,000 acts of violence reported against abortion providers in the U.S. between 1977 and 2015, "including arsons, bombings, death threats, kidnappings and assaults."
NEW YORK PRO-LIFE PREGNANCY CENTER ALLEGEDLY 'FIREBOMBED' BY LEFT-WING GROUP, INVESTIGATION LAUNCHED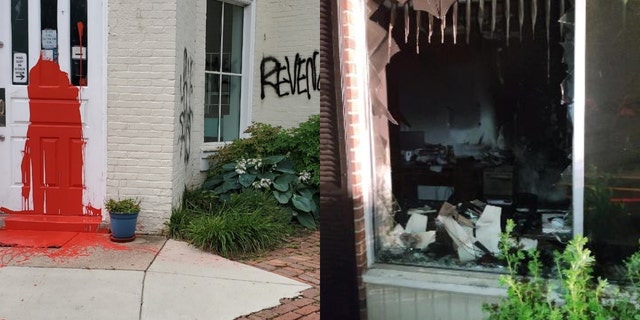 Graffiti and red paint found at the Capitol Hill Pregnancy Center in Washington, D.C. | A pro-life pregnancy center's office building in Buffalo, New York, was vandalized and the scene of suspected arson.
(Capitol Hill Pregnancy Center/CompassCare)
"There should be no place for violence of any kind in this country," said DeGette, who serves as co-chair of the House Pro-Choice Caucus. "By only condemning the attacks against anti-choice groups, and ignoring the growing violence against those providing or seeking abortion care in this country, House Republicans are sending a very dangerous signal to extremists across this country. It's imperative that Congress remain united in condemning all forms of political violence in this country – regardless of who is behind it. Anything less will only embolden those who are spreading the hate-filled rhetoric that's tearing this country apart."
The GOP resolution was brought up alongside the Born-Alive Abortion Survivors Protection Act, which would require abortionists to seek medical care for infants born alive during an abortion procedure. The bill passed 220-210, with all "no" votes belonging to Democrats, though Rep. Henry Cuellar, D-Texas, voted "yes" and Rep. Vicente Gonzalez, D-Texas, voted "present." It is unlikely to advance in the Senate, where Democrats hold the majority.
CLICK HERE TO GET THE FOX NEWS APP
Fox News' Jessica Chasmar, Emma Colton and the Associated Press contributed to this report.