Dozens of House Democrats this week renewed their push for reparations and a national apology for slavery by reintroducing legislation that would set up a commission to consider these steps as way to address the "cruelty, brutality, and inhumanity of slavery" in the U.S.
Rep. Sheila Jackson Lee, D-Texas, and 52 House Democrats proposed the legislation this week in an effort to keep the issue alive. Her legislation, which was considered by the House Judiciary Committee in the last Congress when Democrats were in charge, is unlikely to taken up in the 118th Congress led by Republicans.
Still, Jackson Lee said she is hopeful a commission can be formed not just to recommend monetary compensation, but to help America understand how slavery still affects the country today.
CHURCH OF ENGLAND SETS ASIDE £100M TO 'ADDRESS PAST WRONGS' OVER SLAVERY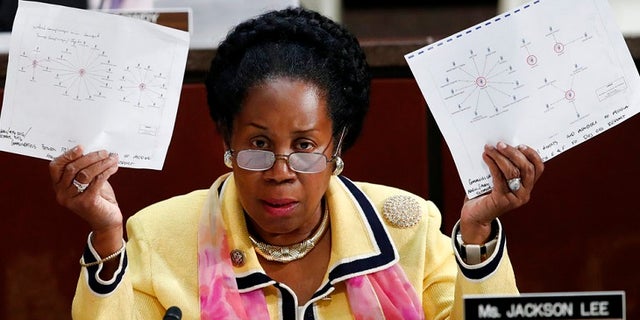 Rep. Sheila Jackson Lee, R-Texas, re-upped legislation this week to create a commission to examine slavery and reparations.
(AP)
"Though some have tried to deflect the importance of these conversations by focusing on individual monetary compensation, the real issue is whether and how this nation can come to grips with the legacy of slavery that still infects current society," she said. "Through legislation, resolutions, news, and litigation, we are moving closer to making more strides in the movement toward reparations."
The new House Democratic Leader, Hakeem Jeffries of New York, said in November he supports the idea of a commission because of the lingering effects of slavery and ongoing discrimination against Black Americans.
"We're not going to move on because after slavery, [there was] Jim Crow and the rise of the KKK," Jeffries said in 2021. "And the lynching epidemic. And Plessy v. Ferguson. And Black Wall Street in 1921 destroyed."
Jackson Lee said that while progress has been made, including through the election of a Black president, "the legacy of slavery lingers heavily in this nation." She said monetary compensation needs to be part of the discussion because slavery created an economic impact on Black Americans that can still be felt today.
DEMOCRATS PRESSURE BANKS TO ATONE FOR SLAVERY-ERA ACTIVITIES TO 'REDRESS PAST WRONGS'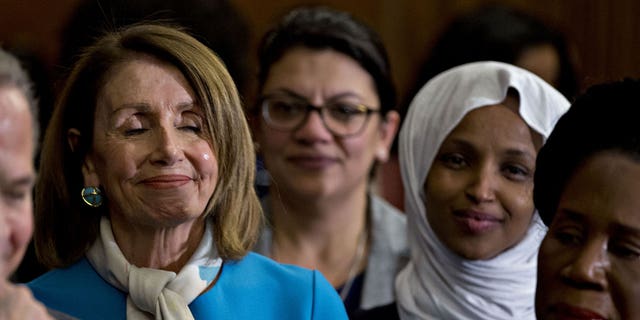 Legislation on reparations advanced in the Democrat-led House in the last Congress, but is unlikely to move in the GOP-led House.
(Photographer: Andrew Harrer/Bloomberg via Getty Images)
"These economic issues are the root cause of many critical issues in the African American community today, such as education, healthcare and criminal justice policy, including policing practices," she said. "The call for reparations represents a commitment to entering a constructive dialogue on the role of slavery and racism in shaping present-day conditions in our community and American society."
The bill makes no recommendation on what kind of payment and should be offered or how a national apology would be issued but leaves it to the Commission to Study and Develop Reparation Proposals for African Americans. Aside from examining the ways the federal government promoted slavery, the commission would examine the "lingering negative effects of the institution of slavery… on living African Americans."
The commission would examine how to provide "full reparations" for slavery, who would be eligible for compensation, how the federal government would offer a "formal apology" for slavery, and how to eliminate those lingering effects of slavery.
HAKEEM JEFFRIES, PELOSI'S LIKELY REPLACEMENT, SUPPORTS COMMISSION TO STUDY SLAVERY REPARATIONS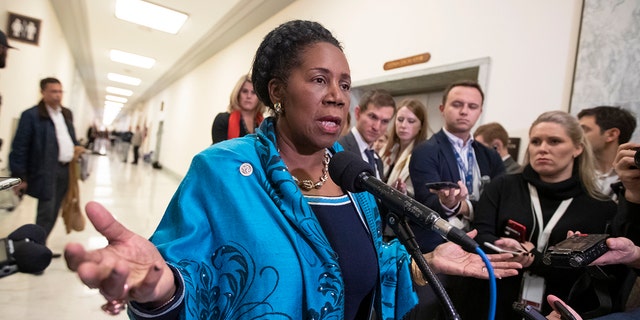 Rep. Sheila Jackson Lee, D-Texas, says a commission is needed not just to recommend monetary compensation, but to help American "come to grips" with the legacy of slavery.
(AP Photo/J. Scott Applewhite, File)
Jackson Lee noted that the legislation was first developed by former House Member John Conyers of Michigan in 1989, and the idea has been offered in the years since he first proposed it. She said the bill is more relevant than ever given what she called the "over-criminalization and policing of black bodies."
CLICK HERE TO GET THE FOX NEWS APP
"The principal problem of slavery continues to weigh heavily on this country," she said. "A federal commission can help us reach into this dark past and bring us into a brighter future."