close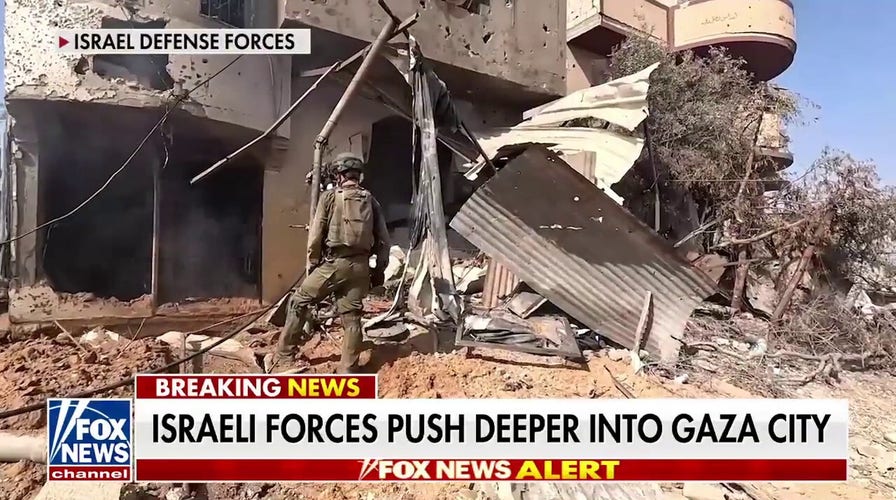 Video
IDF says it destroyed a Hamas command center, recovered missiles
FOX News' Trey Yingst provides updates on Israeli forces' efforts to press into Gaza and ramp up pressure on Hamas after Prime Minister Netanyahu rejected calls for a cease-fire. 
As the Israeli military shores up its strategic positions in northern Gaza, preparing to enter deeper into Hamas' stronghold of Gaza City, one of the key points of battle, the army has indicated, is likely to be the Palestinian enclave's largest medical center: al-Shifa Hospital.
According to declassified intelligence materials shared with the media in recent weeks by IDF spokesman Rear Admiral Daniel Hagari, even as the hospital treats a growing number of wounded Gazans, Hamas terrorists operate beside it and beneath it in a labyrinth of tunnels that form the group's military headquarters.
"Hamas uses hospitals as terror infrastructures," said Hagari, showing satellite imagery of the compound highlighting the areas where the IDF believes Hamas has forged tunnel shafts and hidden weapons. "Hamas has turned hospitals into command and control centers and uses it as hideouts for terrorists and commanders."
"Above ground, Al-Shifa is a hospital but below ground is something else," Itamar Yaar, a former deputy head of Israel's National Security Council and a retired IDF colonel, told Fox News Digital.
300 MILES OF HAMAS SUBTERRANEAN TERROR TUNNELS THE NEXT BIG CHALLENGE FOR IDF: 'GAZA METRO'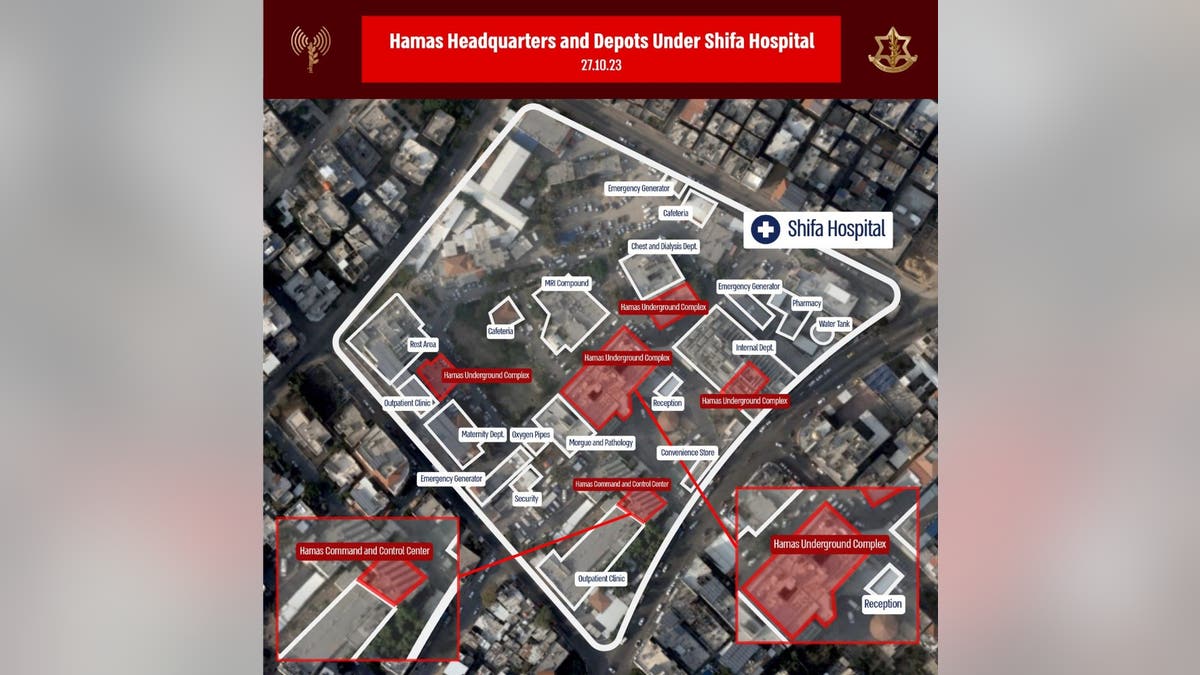 An infographic produced by the Israeli Defense Force shows where officials claim Hamas has created a command center under al-Shifa hospital. (Israeli Defense Force)
He said al-Shifa had now become a stark "symbol" of the battle between Israel and Hamas.
"The leaders of Hamas are no longer there, they've escaped to other places, but it is still crucial for Israel to capture the place itself and to dismantle the entire information systems there," said Yaar, pointing out that the IDF had already been in contact with the hospital's director telling him to evacuate patients.
On Tuesday, the IDF shared video footage of hundreds of Gaza civilians walking what they said was a humanitarian corridor to the southern part of the Gaza Strip, an area that has seen fewer Israeli airstrikes over the past month.
"It is only a matter of time before Israeli forces will take control of this site," said Yaar, adding, "that does not mean it will destroy it, it just means it will take control of the site and all its buildings."
While Yaar – and the other military experts interviewed by Fox News Digital – agreed that it was unlikely Israel would carry out a full-scale airstrike on the hospital, all said they believed that it would be a bloody battle.
ISRAEL'S HUNT FOR HAMAS TERROR GROUP LEADER YAHYA SINWAR: 'DEAD MAN WALKING'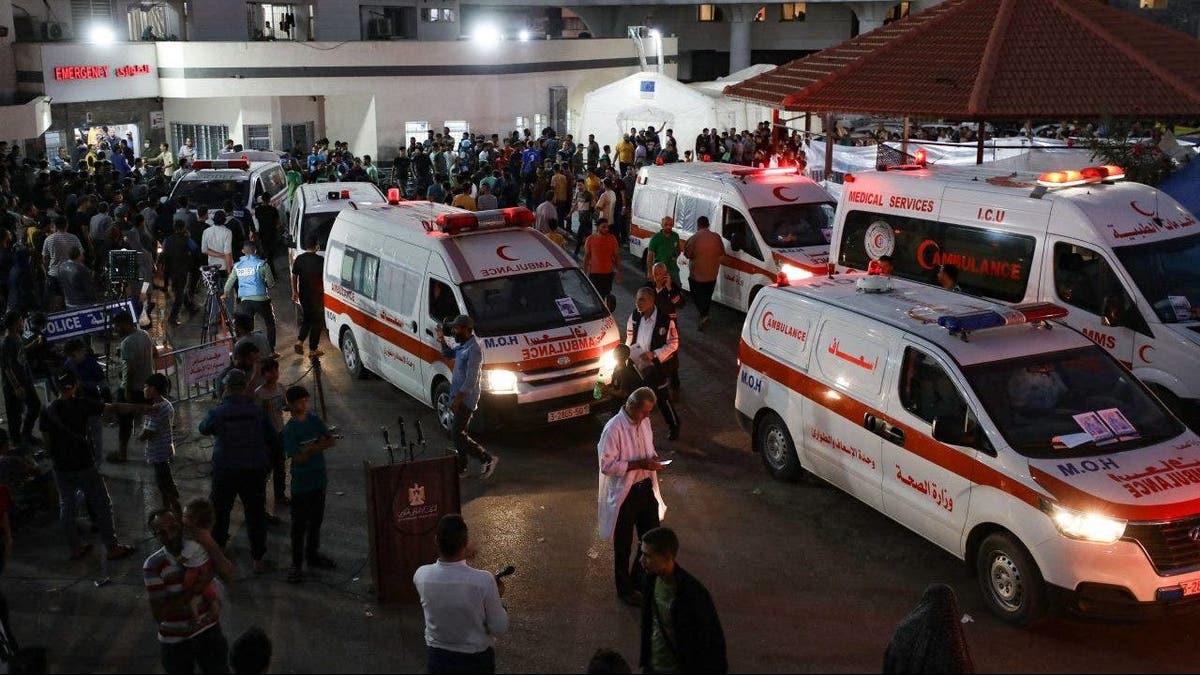 Ambulances carrying victims of Israeli strikes crowd the entrance to the emergency ward of the Al-Shifa hospital in Gaza City on Oct. 15, 2023. (Dawood Nemer/AFP via Getty Images)
"Israel does not have any interest in seeing casualties within a hospital but a hospital is not some kind of insurance document for a terror group to build its command and control center beneath it," said Yaar.
According to information online, the hospital began as a British Army barracks but by 1946 the government of British Mandatory Palestine, which ruled the Strip, had transformed the building into a health care facility.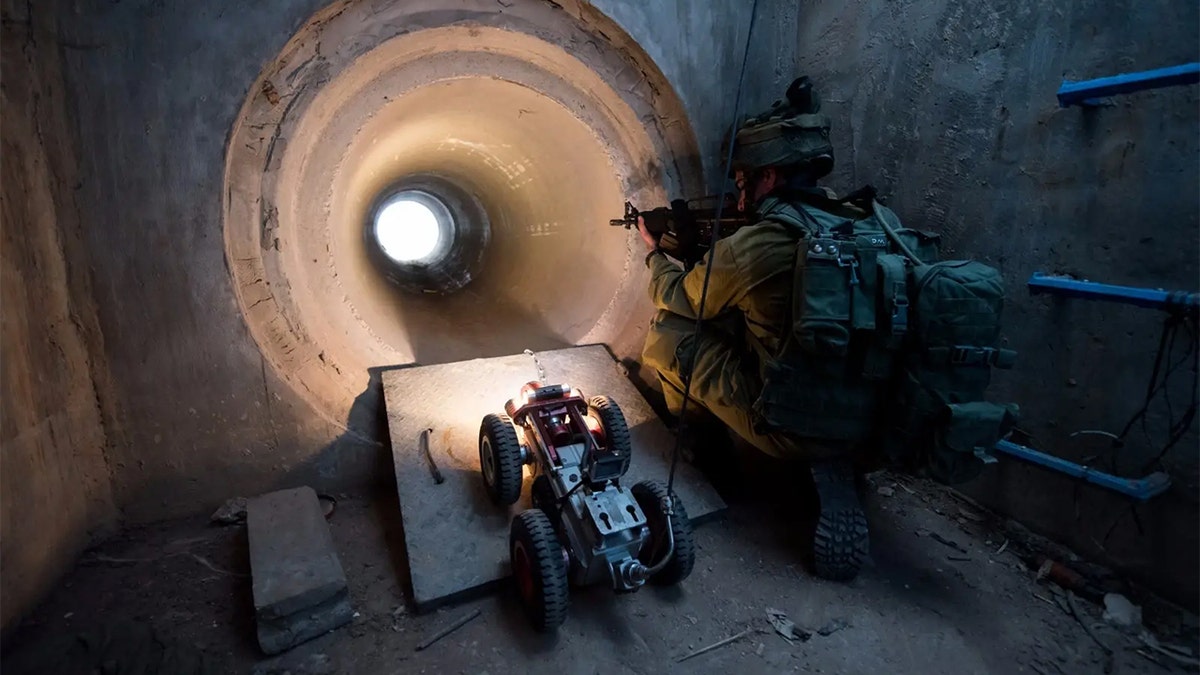 The IDF's Yahalom unit is part of its Combat Engineering Corps that specializes in underground warfare. (IDF Spokesman's Unit)
Today, the five-story building, which is surrounded by several pavilions, is said to be treating an estimated 2,500 patients, despite containing only 1,500 beds, with some 4,000 medical staff on the premises. In addition, aid agencies believe that there are an additional 20,000-30,000 civilians – those who have fled their homes since Israeli fighter jets began bombarding Gaza following Hamas' brutal terror attack on Oct. 7 – are also sheltering there.
Al-Shifa has often found itself at the heart of the conflict between Israel and the terror group, which governs the Strip. In the 2014 conflict Israel fought against Hamas, the terror group often used the premises to brief international journalists and a later report by Amnesty International found that Hamas terrorists had used areas of the hospital to abduct, torture and kill Palestinians accused of collaborating with Israel.
IDF SAYS SOLDIERS TOOK CONTROL OF HAMAS MILITARY STRONGHOLD AS ISRAEL-HAMAS WAR CONTINUES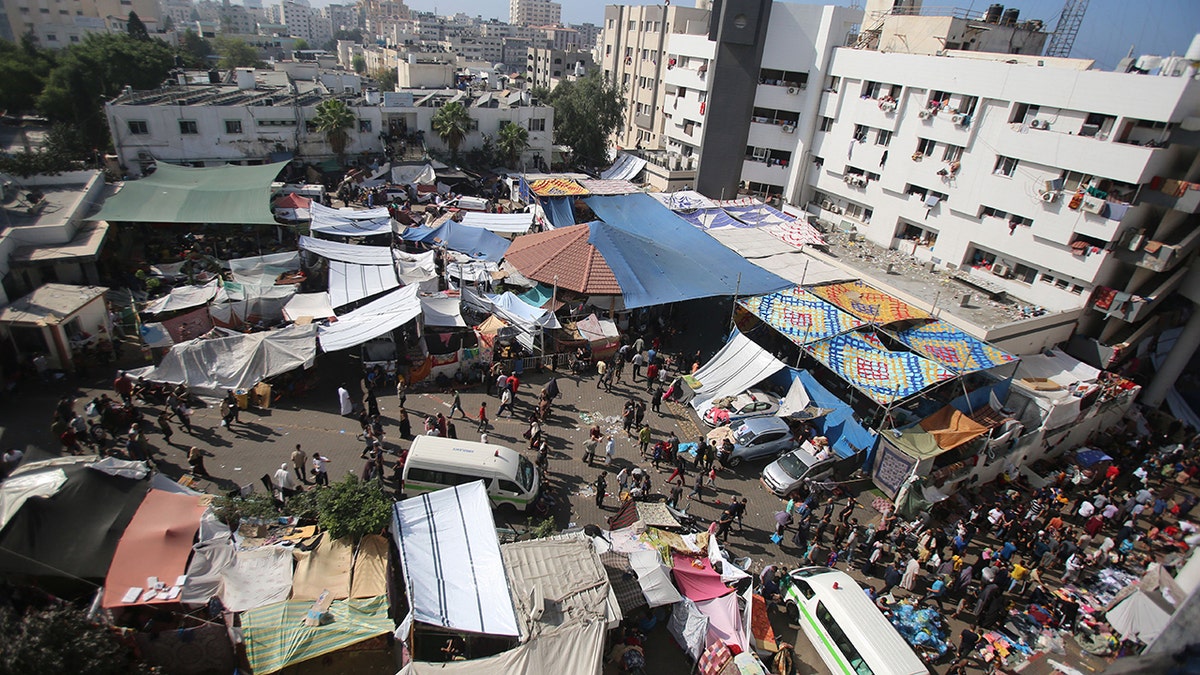 An aerial view shows the compound of al-Shifa hospital in Gaza City on Nov. 7, 2023. (Bashar Taleb/AFP via Getty Images)
In addition to a hideout for Hamas terrorists, IDF spokesman Hagari also warned that Hamas was using the medical facility to store its fuel and ammunition.
"There is no way for the army to go into this elegantly or gently and, if they do go in, there is going to be bloodshed," Michael Milshtein, head of the Palestinian Studies Forum at the Dayan Center in Tel Aviv University, told Fox.
"The entire world is watching this place, and they all know this is Hamas' headquarters," he said. "If Israel does go in they could end up being so much international pressure to stop that it will end the war completely."
Milshtein said maybe the army would find a solution to bypass the hospital as it continues wiping out Hamas terror infrastructure, which allowed the group to perpetrate the worst terror attack in Israel's history. Some 1,400 people were brutally killed on Oct. 7 and 240 people were taken as hostages in Gaza.
HAMAS TERROR BASE IS HIDDEN BENEATH GAZA'S LARGEST HOSPITAL, ISRAEL ALLEGES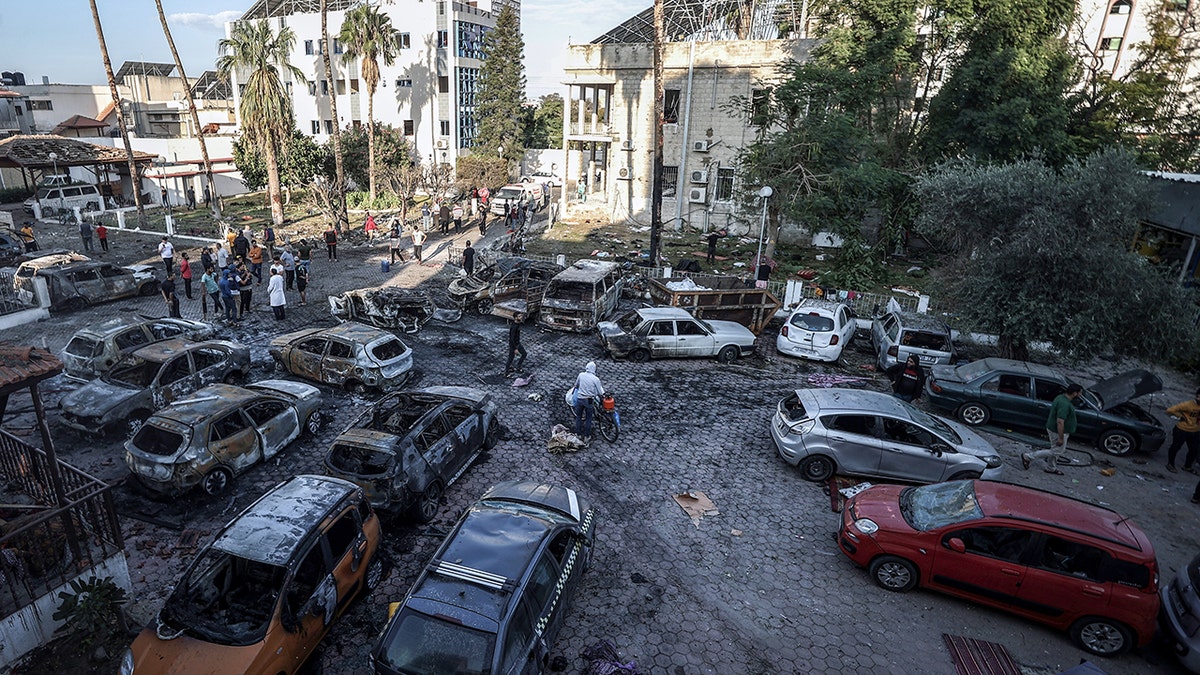 A view of the area near Al-Ahli Baptist Hospital after it was hit by a Palestinian rocket in Gaza City, Gaza, on Oct. 18, 2023. (Ali Jadallah/Anadolu via Getty Images)
He said there was also a possibility that some of those hostages were being treated in al-Shifa or being held captive beneath the hospital.
Yossi Melman, a Tel Aviv-based journalist who specializes in Israeli military intelligence, said it was unlikely Israel would carry out a full-scale strike on al-Shifa, but rather work around it strategically.
"They need to move the civilians who are sheltering there," he said. "Then they can work inside the hospital, moving the patients and the staff aside as they head down to the basement to find Hamas' control and command center."
Melman said the assessment that the vast tunnel system believed to be beneath the medical compound was filled with fuel and ammunition, as well as thousands of Hamas fighters, which could create a lethal situation for the Israeli military. Most classic military doctrines recommend against sending soldiers into tunnels to fight the enemy and Israeli military experts believe Hamas' underground network is likely to be highly booby-trapped as the terrorists have been anticipating a rapid military approach.
MEDIA RUNNING HAMAS NARRATIVE ON GAZA HOSPITAL 'DIRECTLY CONTRIBUTED' TO ENDANGERING US EMBASSIES ABROAD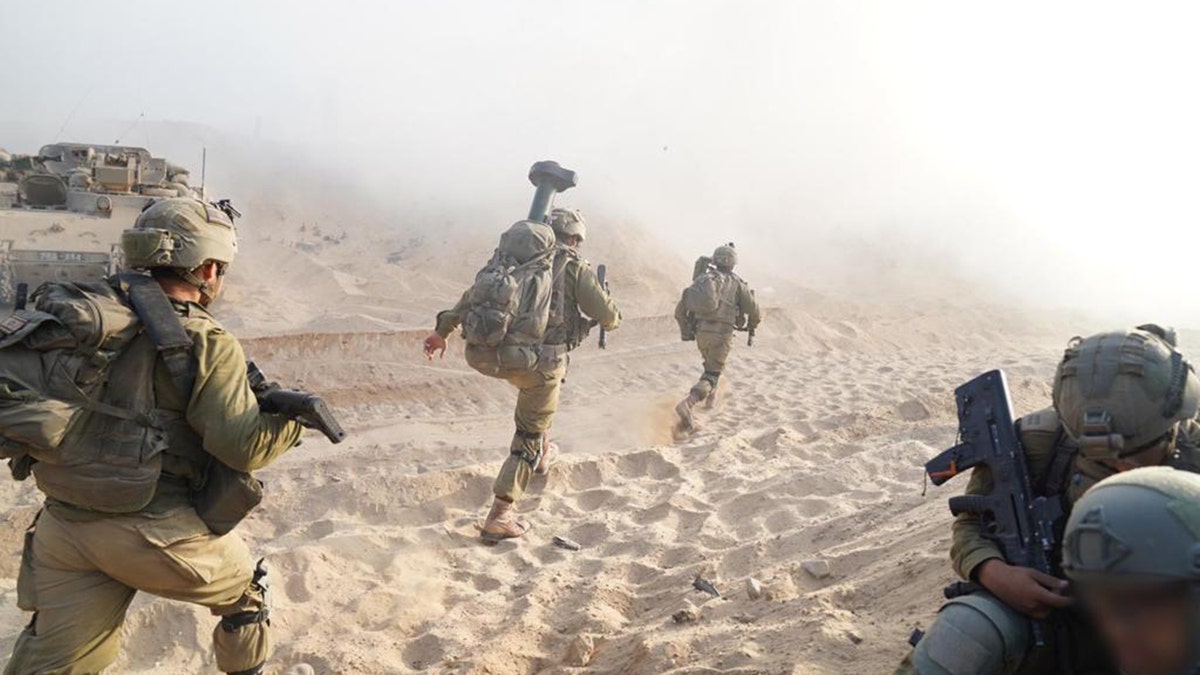 Israel's military has said it has divided Gaza into two parts – north and south – as it roots out Hamas from the territory. (IDF)
"Israel faces a real dilemma," said Milshtein. "If you want to clean all of Hamas' military infrastructure from Gaza, then you cannot do it without going into al-Shifa – al-Shifa is at the core of this battle."
Milshtein added that Israel's military intelligence on the hospital – and the subterranean bunkers and hardware that sit below it – was ironclad.
"It is common knowledge in Gaza, this is not something that Hamas denies," he said, warning that he would also not put it past Hamas' leader, Yahaya Sinwar, to use the stored weapons and fuel to destroy the entire hospital.
Killing its own civilians, said Milshtein, "was a tactical move to defeat Israel."
"They have no ethical problem to blow up the hospital and say that Israel caused it," said Milshtein.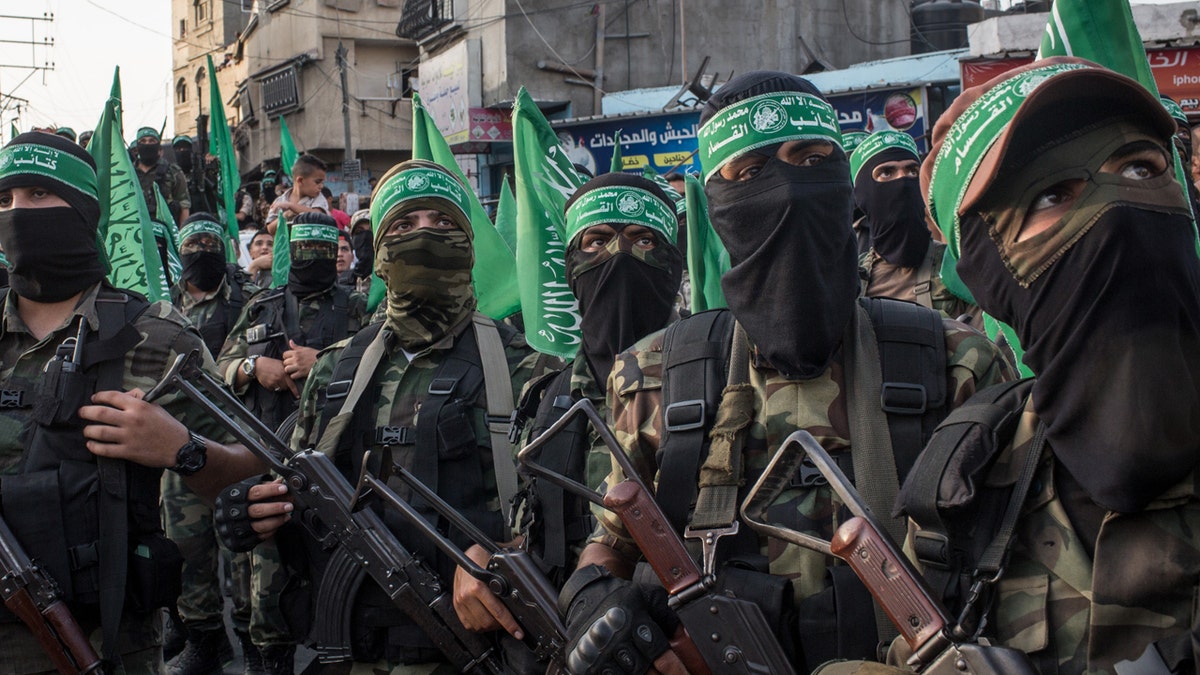 Hamas terrorists are seen during a military show on July 20, 2017, in Gaza City. (Chris McGrath/Getty Images)
Israel has already drawn international criticism for strikes on hospitals and ambulances in Gaza over the past 32 days, even though, in some cases, it was later revealed that Israel was not responsible.
A strike on the courtyard of the Al-Ahli Baptist Hospital on Oct. 17 sparked worldwide headlines and accusations that Israel bombed the hospital, killing some 500 Palestinians. Evidence shared by the IDF showed that the strike was caused by a Palestinian Islamic Jihad rocket that had misfired and fallen short, landing inside the Gaza Strip, next to the hospital.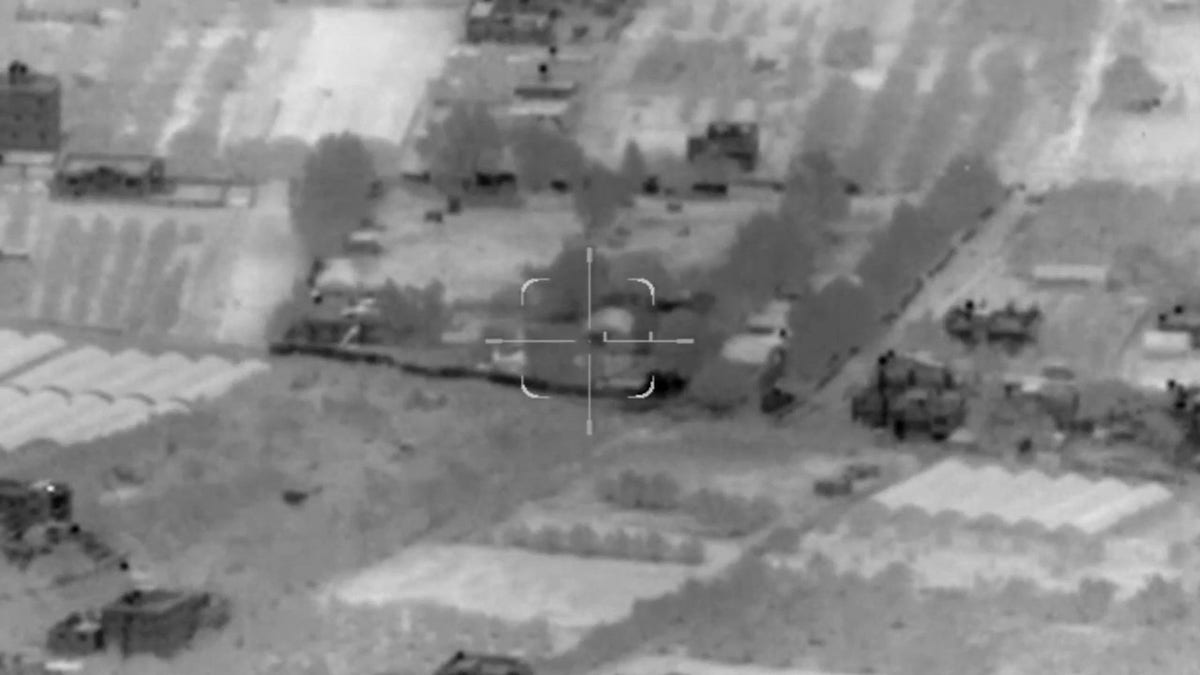 Israeli Defense Forces (IDF) conducted a "wave of strikes" to hit several Hamas-affiliated targets, which included striking a senior Hamas operative. (Israeli Defense Forces)
CLICK HERE TO GET THE FOX NEWS APP
On Saturday, Israeli fighter jets hit an ambulance traveling outside al-Shifa Hospital, with the Hamas-run health ministry saying at least 15 people were killed and an additional 50 were wounded. Footage shared from the scene showed dozens of bodies lying on the ground.
While Israel took responsibility for that strike, Hagari said every Israeli hit was carried out based on intelligence information and that like hospitals, Hamas had also been using ambulances for military purposes. A New York Times article on Friday quoted a Biden administration official as saying that efforts to get Americans and other foreign nationals out of the Strip had initially been held up because Hamas was using ambulances to transport its wounded fighters.
Ruth Marks Eglash is a veteran journalist based in Jerusalem, Israel. She reports and covers the Middle East and Europe. Originally from the U.K, she has also freelanced for numerous news outlets. Ruth can be followed on Twitter @reglash