close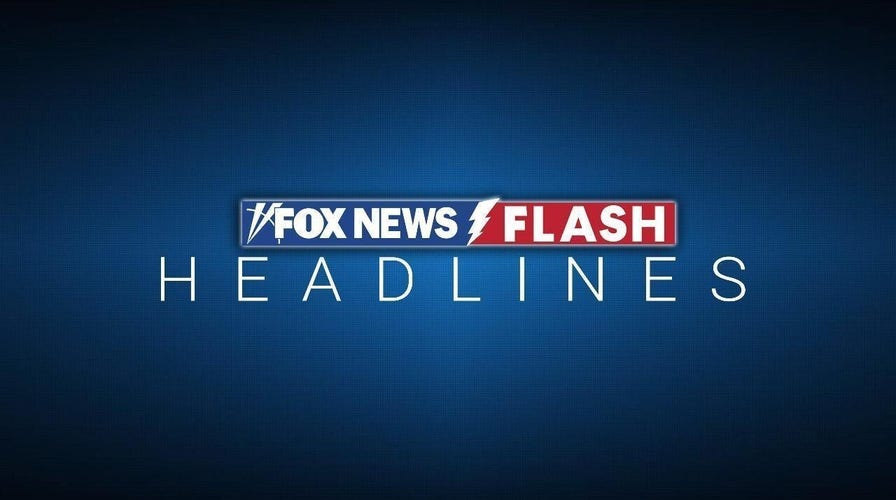 Video
Fox News Flash top headlines for February 23
Fox News Flash top headlines are here. Check out what's clicking on Foxnews.com.
Russia's Balkan ally Serbia is taking yet another step toward inching closer to Europe and away from Moscow as Belgrade looks for French fighter jets and European Union infrastructure money.
President Aleksander Vucic announced that Serbia would increase defense spending in an effort to modernize its military, with much of its inventory reliant upon old Soviet equipment. Serbia has shown interest in French jets since 2022 in the hopes of replacing outdated Soviet MIGs.
Serbian negotiations with France remain ongoing, according to Serbian media.
Serbia, which has close cultural and political ties with Russia, has received significant military hardware from Moscow. In recent years, Russia sent Serbia 6 MiG-29 fighters, 30 T-72 tanks, 30 armored vehicles, the Pantsir S1 air-defense system and Kornet anti-tank missiles, according to the German Marshall Fund.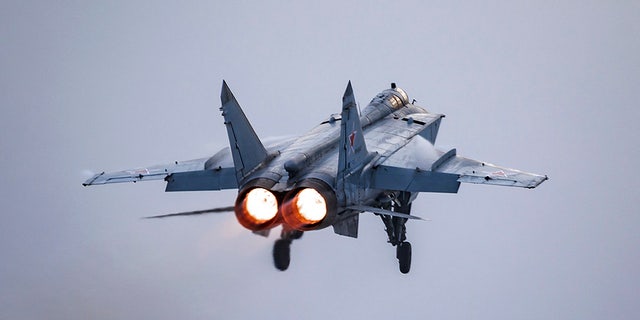 A MiG-31 fighter of the Russian air force takes off at an air base during military drills in Tver region, Russia, Feb. 14, 2022. (Russian Defense Ministry Press Service via AP)
A turn toward France could signal that Serbia is at least partially comfortable with a modest pivot away from Russia in order to solidify EU membership.
SERBIA, CAUGHT BETWEEN EUROPE AND RUSSIA, COULD MOVE ONE STEP CLOSER TO NORMALIZING RELATIONS WITH KOSOVO
"Serbia will not sever all ties with Russia but replacing Russian jets with French jets would show that Belgrade is tilting more westward, particularly since, for the last four years, France has emerged as Serbia's primary political partner in the West," Vuk Vuksanovic, senior researcher at the Belgrade Center for Security Policy, told Fox News Digital.
Serbia is also in line to receive its largest EU funding package worth 600 million Euros to reconstruct the Belgrade railway by 2029. The project would help connect western and Eastern Europe to Eurasia and Turkey.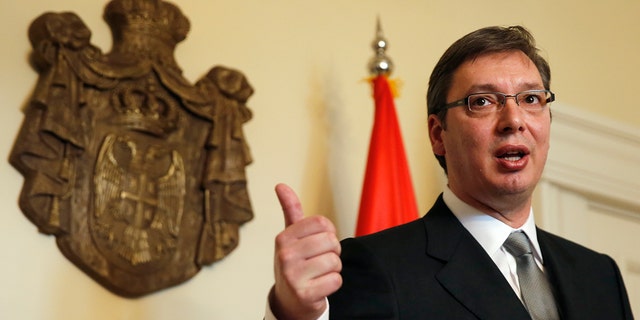 Serbian Prime Minister Aleksander Vucic holds a press conference in Belgrade, Serbia, Jan. 14, 2016. (REUTERS/Marko Djurica)
Vucic has always tried to balance his relations with Belgrade's traditional patron Russia while also trying to remain in the good graces of Europe. Serbia officially applied for EU membership in 2009, and its ongoing dispute with former province Kosovo, backed by Russia, remain key points of contention for its path to the EU. Recently, nationalist protesters took to the streets in opposition of an EU proposed plan to normalize relations with Kosovo.
SERBIAN POLICE ARREST 5 SUSPECTS WHO WERE ALLEGEDLY CALLING FOR A VIOLENT OVERTHROW OF THE COUNTRY'S PRESIDENT
A possible pivot aside, Serbia has not been completely on board with the EU's commitment to helping defend Ukraine in its war against Russia.
"Until Serbia imposes sanctions against Russia, which is very unlikely to happen, no political move will be enough to satisfy the West," Helena Ivanov, associate fellow at the Henry Jackson Society, told Fox News Digital.
While it makes political and practical sense for Vucic to purchase more advanced fighter jets from France and accept EU aid, it is still likely not enough to fully ingratiate Serbia with EU leaders.
CLICK HERE TO GET THE FOX NEWS APP
Many observers expect Serbia to continue making good faith efforts to stabilize relations with the EU, but up to a point.
"We can certainly expect many more coming from the Serbian government as they try to maintain the balancing act, nevertheless, with the exception of sanctions, I don't think any of these will be enough in the long-term," Ivanov cautioned.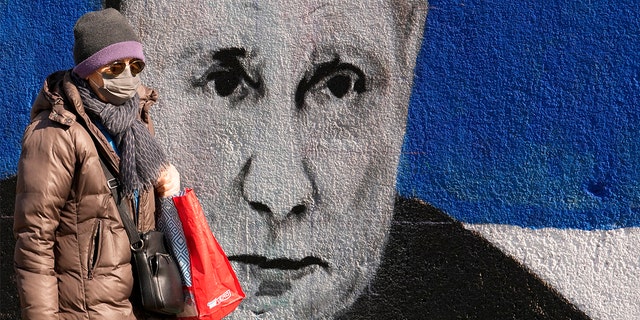 A woman passes by a mural depicting the Russian President Vladimir Putin in Belgrade, Serbia, Saturday, March 12, 2022. (AP Photo/Darko Vojinovic)
EUROPEAN UNION RENEWS ECONOMIC SANCTIONS AGAINST RUSSIA THROUGH 2022
Although Serbia has not gone as far as joining western sanctions on Russia, Serbia joined U.N. resolutions condemning Russia's invasion of Ukraine, the referendums annexing territory in the eastern Donbas region, and voted to boot Russia from the U.N. Human Rights Council. Vucic also notably declared that Crimea is Ukraine, which Putin considers Russian territory and any efforts to retake it could lead to a dramatic escalation of the war by Russia.