Dorothy R emailed us about her experience with AirTags. Here's what she had to say:
"Kurt, I think I saw you on FOX N Friends when you suggested buying APPLE Air Tags. I followed your advice & gave an AirTag to both of my daughters for our trip to South Africa over the Xmas holiday. It was a lifesaver. One bag was left in Chicago O'Hare's Terminal 1 while we were in Cape Town. Neither United or Lufthansa wanted to know about it.
Three days later, the bag was over the Atlantic Ocean, 200 miles south of Greenland. We had only one more night in Cape Town. Time was running out. Our next notification said the suitcase was in Munich. We could only pray that it made the flight to Cape Town.
With 9 hours to go, our final notification said it was at the Cape Town airport.
HOW TO SCHEDULE A FREE PERSONAL SESSION WITH APPLE SUPPORT
The airline didn't want to give us the suitcase b/c they wanted their courier to deliver it. Begging took place & we got the suitcase. You are the bomb!!!! Thx! – Dorothy R"
CLICK TO GET KURT'S CYBERGUY NEWSLETTER WITH QUICK TIPS, TECH REVIEWS, SECURITY ALERTS AND EASY HOW-TO'S TO MAKE YOU SMARTER
Rumors were flying around back in October of 2022 that some airlines like Lufthansa would be banning travelers from having AirTags in their checked luggage due to what they thought would be safety hazards.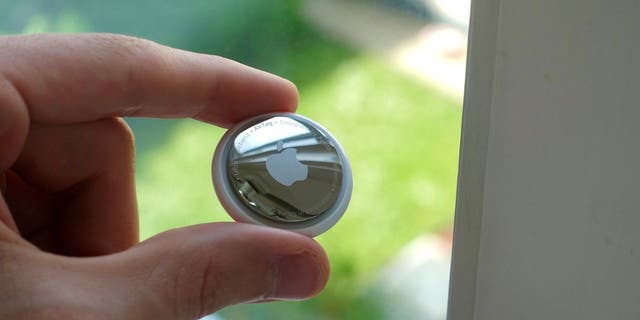 Image of a person's hand holding up an Apple AirTag. (CyberGuy.com)
So what do airlines have against Apple AirTags? 
The main thing that airlines may dislike about AirTags is that the trackers can potentially do a better job at locating a lost bag, as proven by Dorothy's situation we mentioned above.
Lufthansa created all sorts of unnecessary confusion after it initially banned AirTags out of concern that they are powered by a lithium battery and could emit radio signals and potentially interfere with aircraft navigation.
The FAA put an end to those baseless concerns saying, "Luggage tracking devices powered by lithium metal cells that have 0.3 grams or less of lithium can be used on checked baggage".   The Apple AirTag battery is a third of that size and poses no risk to aircraft operation.
Luckily, there was no legit reason that airlines could find to ban AirTags completely, so passengers can once again pack them in their checked luggage and carry-on bags.
10 WAYS TO TRAVEL LIKE A PRO FOR A WORRY-FREE TRIP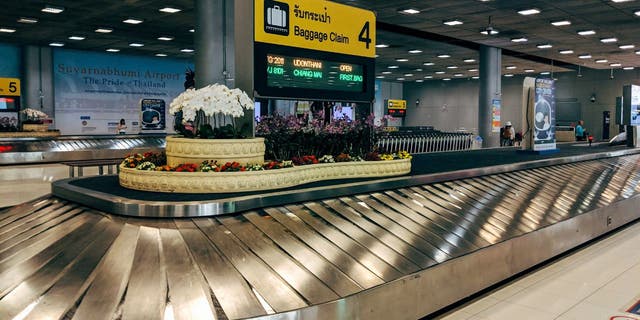 Baggage claim 4 in Suvarnabhumi Airport in Thailand.  (CyberGuy.com)
Why should I travel with an AirTag? 
As mentioned in Dorothy's story above, AirTags can help you locate lost items. This is because it operates through Apple's Find My Network, which is the same network used to locate other missing Apple devices like iPhones and macOS laptops.
If your AirTag is registered to your Apple ID and iPhone, you should be able to locate the missing item that your AirTag is traveling with.
Pro Tip:  Rather than attaching on the outside of your bag, place an AirTag deep inside luggage where it is difficult to locate and remove.
At the time of publishing, the Apple AirTag has over 98,000 global ratings with 84% giving the product 5 stars on Amazon.
SEE HOW YOUR IPHONE TRACKS YOUR WHEREABOUTS 24/7 – TURN IT OFF
Get an Apple AirTag here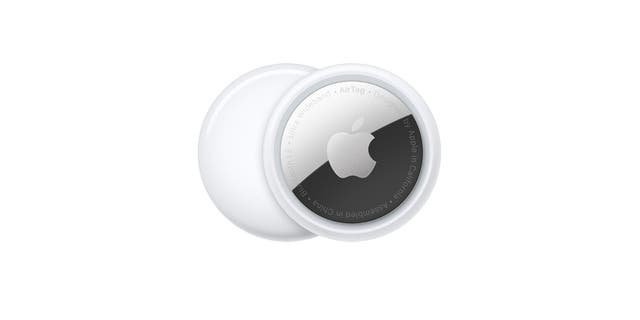 Display image of the Apple AirTag. (Apple)
How to set up an AirTag 
Make sure that your device is ready for setup and is running the latest iOS software, and your Apple Id is signed in
If your AirTag is new, remove the wrap around the product and pull out the tab to activate the battery – your AirTag will play a sound
Hold your AirTag near your iPhone, iPad, or iPod touch, and it should automatically detect it
Tap Connect. If you have multiple AirTags and see "More than one AirTag detected," make sure that only one AirTag is near your device at one time
Select an item name from the list, or select Custom Name to name your AirTag and choose an emoji
Tap Continue
To register your AirTag with your Apple ID, tap Continue again
Tap Done
If you want to share the location of your AirTag with someone else, you can add them as a contact and give them access to your AirTag's location.
Once you've completed the setup process, your AirTag is ready to use. You can attach it to your keys, bag, or any other item you want to track, and you can use the Find My app to locate it if it gets lost.
Have you used an AirTag to find a lost item? Tell us about your experience.
CLICK HERE TO GET THE FOX NEWS APP
For more of my tips, subscribe to my free CyberGuy Report Newsletter by clicking the "Free newsletter" link at the top of my website.
Copyright 2023 CyberGuy.com.  All rights reserved.  CyberGuy.com articles and content may contain affiliate links that earn a commission when purchases are made.