Life after starring in a major movie franchise can be tricky, but the stars of the "Harry Potter" films remain close as they've navigated their futures.
Rupert Grint, who played Ron Weasley alongside Daniel Radcliffe's Harry Potter and Emma Watson's Hermione Granger, spoke about his and his co-stars unique situation in a new GQ Hype interview.
"We're still trying to figure out what life looks like on the other side of this massive cultural thing," Grint admitted.
 

 
 

 
 
View this post on Instagram
 

 
 
 

 
 

 
 
 

 
 
The 34-year-old explained that the cast is in a WhatsApp group chat together. His co-star Tom Felton, who played bully Draco Malfoy, told the magazine their chat is called "The Potterheads."
Grint also shared that he's only rewatched the first film in the series, "Harry Potter and The Sorcerer's Stone" (known as "Harry Potter and The Philosopher's Stone" in the U.K.), because he felt "detached enough" from it. He told the outlet it was "like watching a home movie. It was my childhood, after all. I didn't go to school; I lost touch with a lot of old friends. I missed out on a lot of shared experiences."
HARRY POTTER BOOKS STRIPPED OF J.K. ROWLING'S NAME ARE THEN RESOLD BY 'BOOKBINDER ARTIST'
The actor scored the coveted role in the adaptation of J.K. Rowling's books at age 11, and starred in all eight movies in the franchise, concluding in 2011 with "Harry Potter and the Deathly Hallows: Part 2."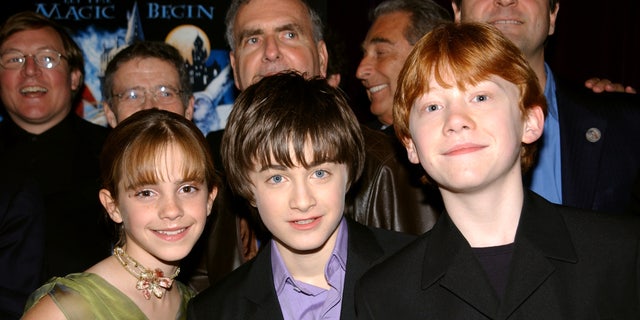 Emma Watson, Daniel Radcliffe and Rupert Grint at the 2001 premiere of "Harry Potter and the Sorcerer's Stone." 
(Richard Corkery/NY Daily News Archive via Getty Images)
Rowling has come under fire for comments that have been considered to be transphobic in the LGBTQ+ community. Grint declined to comment on the author's continuing controversies, telling the outlet, "I don't have anything else to add."
CLICK HERE TO SIGN UP FOR THE ENTERTAINMENT NEWSLETTER
Grint's co-star, Radcliffe, wrote an open letter to The Trevor Project, an organization that aims to prevent suicide among LGBTQ+ youth, denouncing Rowling's comments.
Rupert Grint declined to comment on "Harry Potter" author J.K. Rowling's past controversies.
(Dia Dipasupil)
Despite the controversy, there are continuing conversations about potentially rebooting the franchise.
Warner Bros. Discovery CEO David Zaslav said in an earning call in November of last year that the company was looking to focus on franchises and possibly doing more with Rowling in the future.
CLICK HERE TO GET THE FOX NEWS APP
Whether any of the original cast is to be involved remains to be seen.
Grint shared his thoughts on a reboot, saying he feels "protective" of Ron Weasley. "I could relate to him so much, and then I was picked to bring him to life. That's hard to let go. But it would be nice to, as well."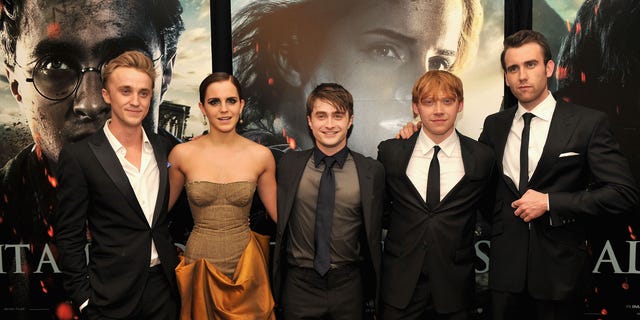 (L-R) Tom Felton, Emma Watson, Daniel Radcliffe, Rupert Grint and Matthew Lewis attend the New York premiere of "Harry Potter And The Deathly Hallows: Part 2" at Avery Fisher Hall, Lincoln Center on July 11, 2011 in New York City.
(Stephen Lovekin/Getty Images)
Since his time in the "Harry Potter" universe, Grint has worked in a variety of film and television roles, most notably "Servant" on Apple TV+, executive produced by M. Night Shyamalan.
Grint also stars in Shyamalan's latest movie, "Knock at the Cabin," in theaters on Feb. 3.