close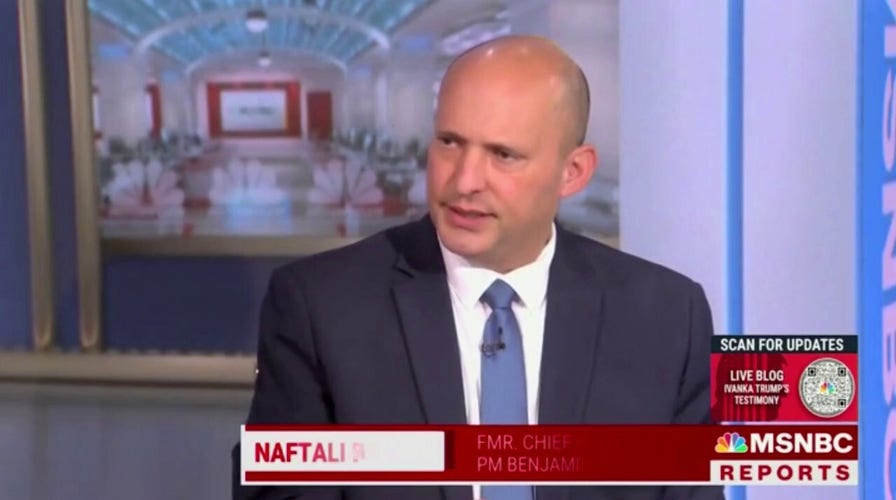 Video
Former Israeli PM Bennett rejects pitch for 3-day pause in Israel-Hamas war: 'Very bad idea'
During an MSNBC interview with anchor Andrea Mitchell, Bennett – who also served as Chief of Staff for current Prime Minister Benjamin Netanyahu – criticized the proposal of a three-day pause as a "very bad idea."
Top leaders of Hamas admitted the group's desire to engage in a permanent war in Israel to prop up the Palestinian cause while showing no interest in governing the Gaza Strip or improving the lives of its 2 million residents, the majority of whom live in dire poverty, according to media reports.
In a series of interviews with the New York Times, Khalil al-Hayya, a member of Hamas' highest leadership body, defended the terror group's surprise multi-pronged Oct. 7 attack on Israeli civilians, triggering Israel to respond militarily.
"We succeeded in putting the Palestinian issue back on the table, and now no one in the region is experiencing calm," he told the newspaper from Qatar.
ISRAEL KILLS TOP HAMAS WEAPONS DEVELOPER, IDF SAYS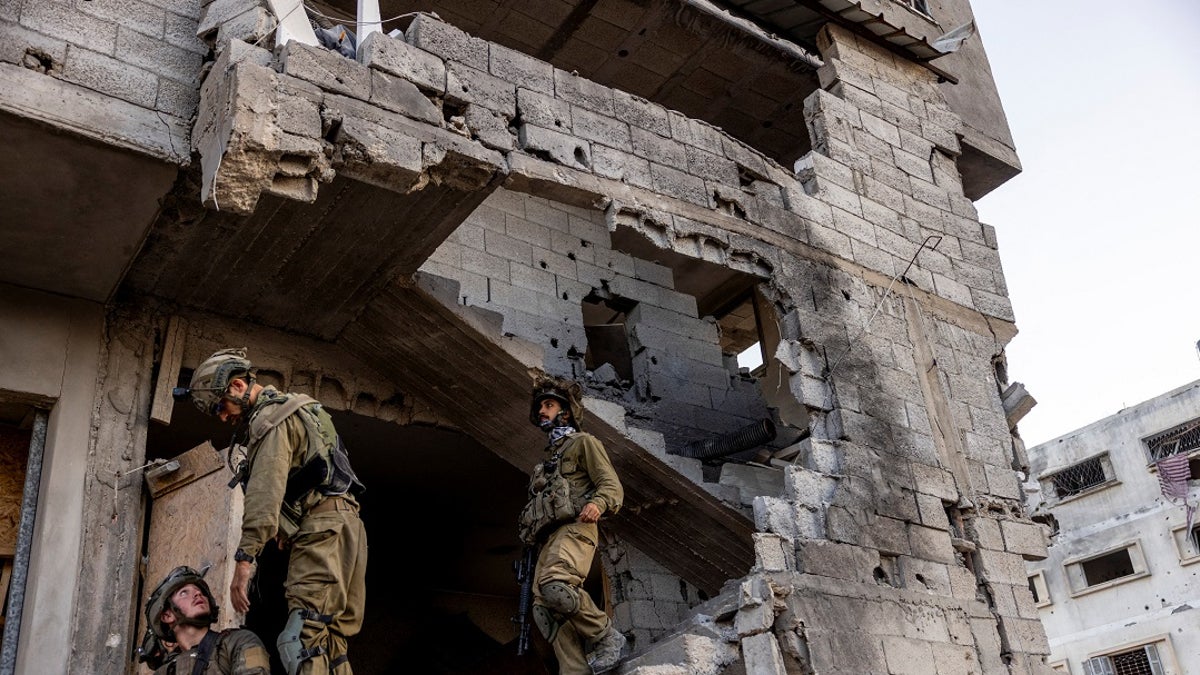 Israeli soldiers operate amid the ongoing ground invasion against Palestinian Islamist group Hamas in the northern Gaza Strip on Wednesday. Hamas leaders have admitted to wanting to wage a permanent war with Israel, according to media reports.  (Reuters/Ronen Zvulun)
Hamas' top brass also expressed little desire to govern Gaza or provide essential services to its people, according to the report.
"I hope that the state of war with Israel will become permanent on all the borders and that the Arab world will stand with us," said Taher El-Nounou, a Hamas media adviser. He added that its goal is "not to run Gaza and to bring it water and electricity and such."
"Hamas, the Qassam and the resistance woke the world up from its deep sleep and showed that this issue must remain on the table," he said. "This battle was not because we wanted fuel or laborers. It did not seek to improve the situation in Gaza. This battle is to completely overthrow the situation."
ISRAEL-HAMAS CONFLICT HITS 1-MONTH MARK; IDF SAYS HAMAS HAS 'WAGED WAR ON HUMANITY'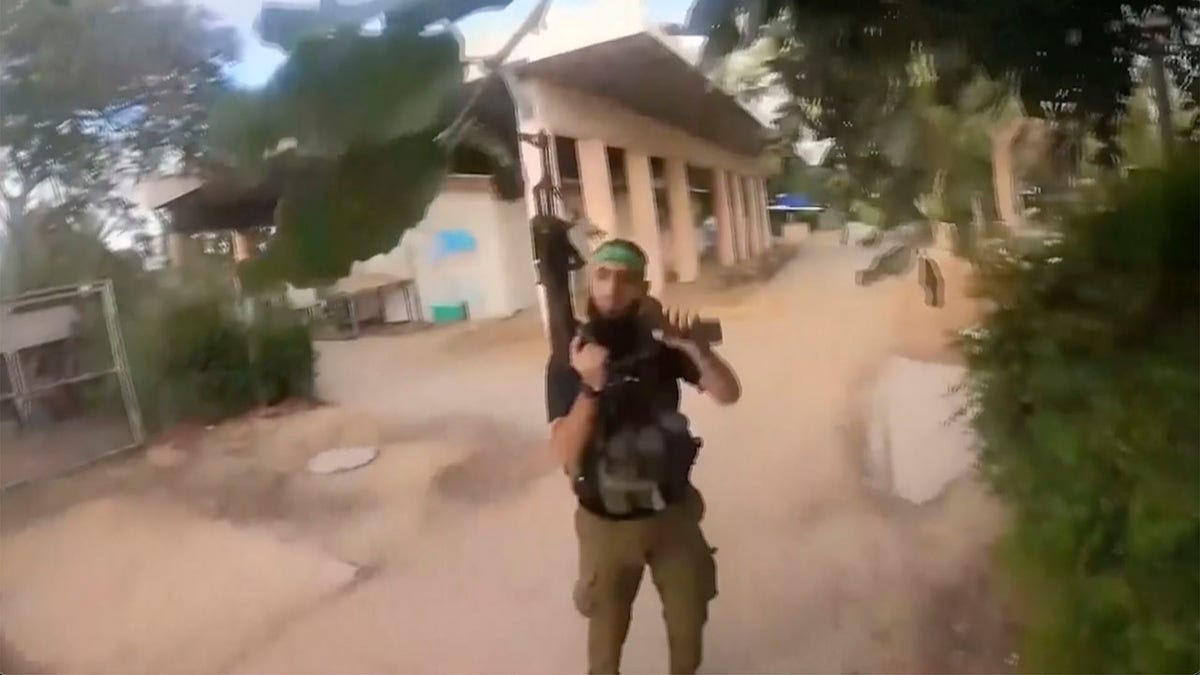 An image made from undated bodycam video footage taken by a downed Hamas terrorist and released by Israel Defense Forces shows a Hamas terrorist walking around a residential neighborhood at an undisclosed location in southern Israel. (Israel Defense Forces via AP)
The Israel Defense Forces (IDF) has responded heavily to the Hamas attack one month ago, with continuous airstrikes that have killed thousands in Gaza. Israeli officials have refused to discuss a ceasefire until hostages kidnapped by Hamas are returned.
While Gazans live in poverty, Hamas' top leaders are apparently living a life of luxury. Israeli officials say Hamas leaders are amassing an overwhelming jackpot of terror money for themselves in the billions od dollars.
"It's just really the numbers that are shocking, looking at the sheer amount of money that some of these terror chiefs have been able to sock away," Jonathan Schanzer, senior vice president for research at The Foundation For Defense of Democracies told Fox News.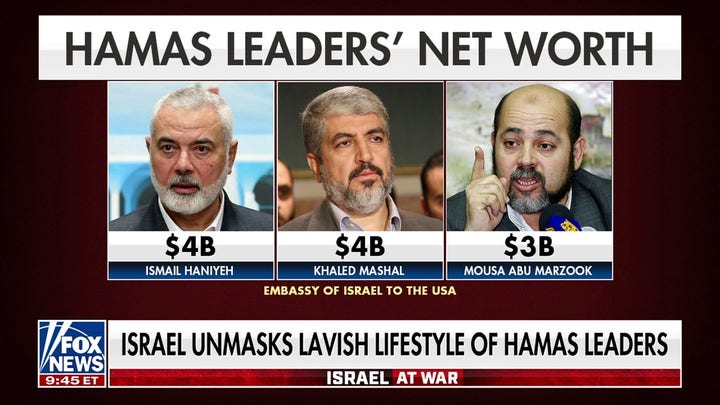 Video
CLICK HERE TO GET THE FOX NEWS APP
Hamas bosses Khaled Mashaal and Ismail Haniyeh are worth an estimated $4 billion each, and political bureau leader Mousa Abu Marzouk is worth $3 billion. The group itself is estimated to earn more than $1 billion a year from a global network that includes cryptocurrency, real estate, legitimate business and taxing and extorting Gaza residents.
Fox News' Eric Shawn contributed to this report.
Louis Casiano is a reporter for Fox News Digital. Story tips can be sent to [email protected].