close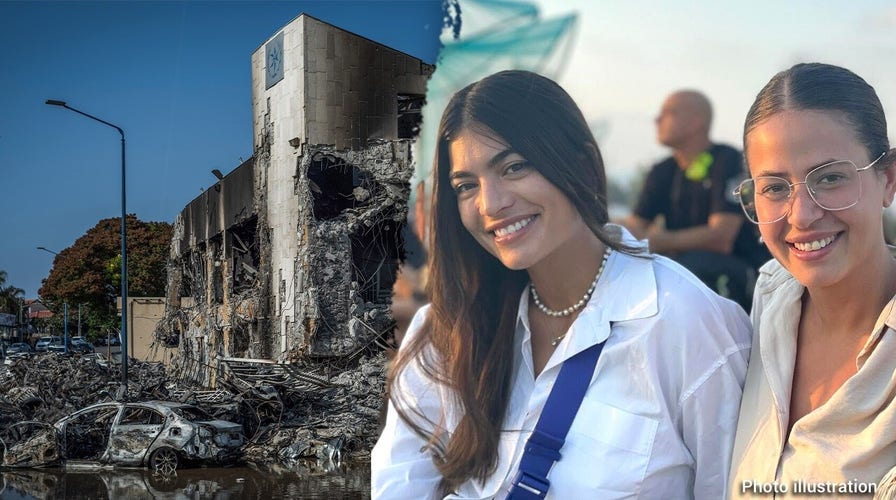 Video
GRAPHIC VIDEO: Hamas attack traps women in Israel bomb shelter for 36 hours
Two young Israeli women spent around 36 hours huddled in their bomb shelter, helpless as Hamas terrorists marched through Sderot, gunning down civilians and police.
The missile siren's eerie wail woke Sabina Elayev early Saturday morning in Sderot, a small Israeli town about a mile from Gaza. She thought the sound was a dream. Instead, it was the beginning of a nightmare that would force her to shelter for nearly two days as gunmen opened fire on her neighbors outside.
"Whole families were disappeared, and during this whole time, you just sit in the shelter waiting for someone to tell you it's over, and it's not over," Elayev, 31, told Fox News. "Every gunshot … it's a person killed, murdered, butchered."
WOMAN TRAPPED IN BOMB SHELTER FOR 36 HOURS AS HAMAS ATTACKED HER HOMETOWN: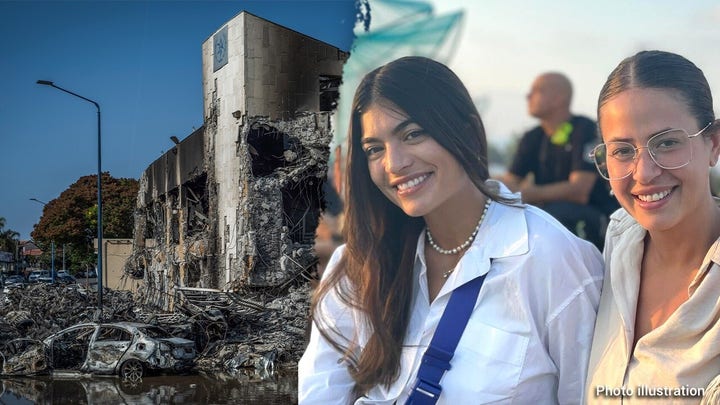 Video
WATCH MORE FOX NEWS DIGITAL ORIGINALS HERE
Sderot was one of the first cities targeted by Hamas terrorists as they launched their attack on Israel. Men rolled into the city in pickup trucks, at least one of which carried a mounted machine gun, The New York Times reported. They shot residents in their cars, on motorcycles and at a bus stop. At least 20 civilians were killed, according to the Times.
Elayev, who was born and raised in Sderot, was confused when she heard the sirens. Although the town of about 30,000 is frequently targeted by rockets, she hadn't heard the warning sound recently. Once she made sense of the noise, she ran to wake up her niece, knowing that it takes between 10 and 15 seconds from the time sirens blare until a rocket hits or is taken out by Israel's Iron Dome.
By the time she reached her niece, Elayev said she could already hear multiple rockets in the sky.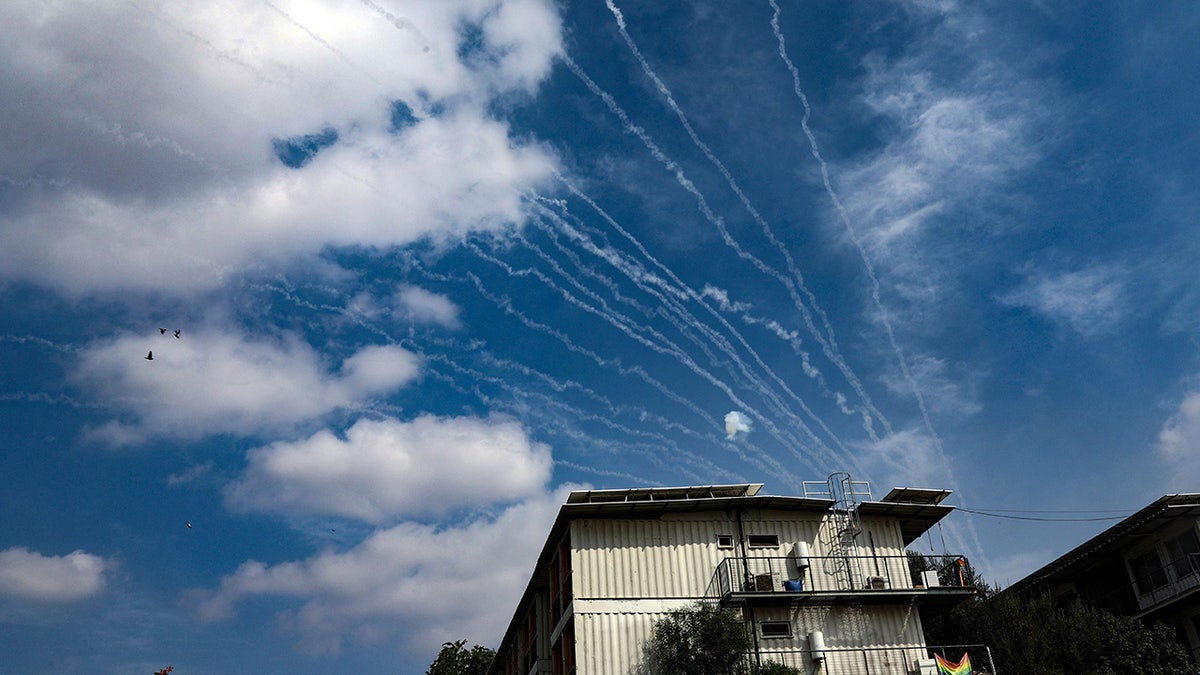 Rockets fired by terrorists in Gaza are intercepted by Israel's Iron Dome missile defense system over Sderot on Oct. 8, 2023. (Jack Guez/AFP via Getty Images)
The two women raced to Elayev's bomb shelter, hands held over their heads defensively. They expected to stay inside for a few minutes like in the past.
"Then we started to hear gunshots," said Elayev, who served more than 10 years in the Israel Defense Forces but recently started a new career in digital marketing. "Not even in the worst dream we would imagine terrorists will come to the city."
They didn't fully understand what was happening until they started getting messages about terrorists invading the city.
"And then we heard screams and more shooting and more shooting," she said, trembling.
Hamas fighters overran the police station about 700 meters from Elayev's home, killing around a dozen soldiers, police and firefighters, the Times reported.
Meanwhile, Elayev and her niece sat together in darkness for hours. Sometimes they had cell signal, and sometimes they didn't. Sometimes they got messages that people had been kidnapped, burned out of their homes, slaughtered in the streets. And sometimes they had only the sound of bullets echoing through the city to remind them that Israel was under attack.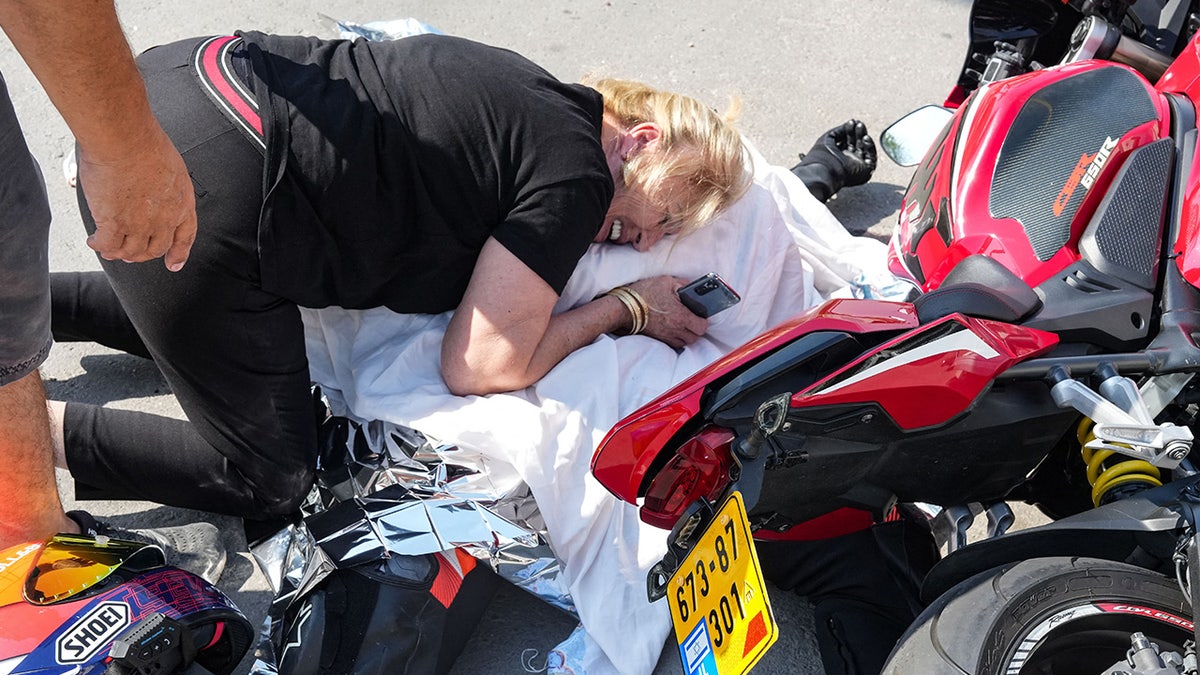 A woman weeps over the covered corpse of her nephew who was shot dead in the southern city of Sderot on Oct. 7, 2023.  (Baz Ratner/AFP via Getty Images)
LIVE UPDATES: ISRAEL AT WAR WITH HAMAS AFTER SURPRISE ATTACKS, MORE THAN 1,200 ISRAELIS DEAD
Elayev is tormented by the videos and images circulating on social media of Hamas' acts, which have been compared to those of the Islamic extremist group ISIS. She can't get the pictures out of her head.
"Dancing on bodies, parading them, kidnapping kids," she said, wiping tears from her eyes. "How can you look a person in the eye and just shoot them dead?"
More than 2,000 people have been killed since Hamas fired thousands of rockets into Israel, including around 1,200 in Israel. Saturday's attack on the Tribe of Nova Trance music festival, which left more than 260 concertgoers dead, is believed to be the worst civilian massacre in Israeli history
"Why would they hate us so much?" Elayev asked. "This isn't freedom fighting."
Her voice shook as she recalled reading comments online "saying that we deserve this."
"No one who's human deserves being butchered in front of their child or killed just for being Jewish," she said, shaking her head. "No. No."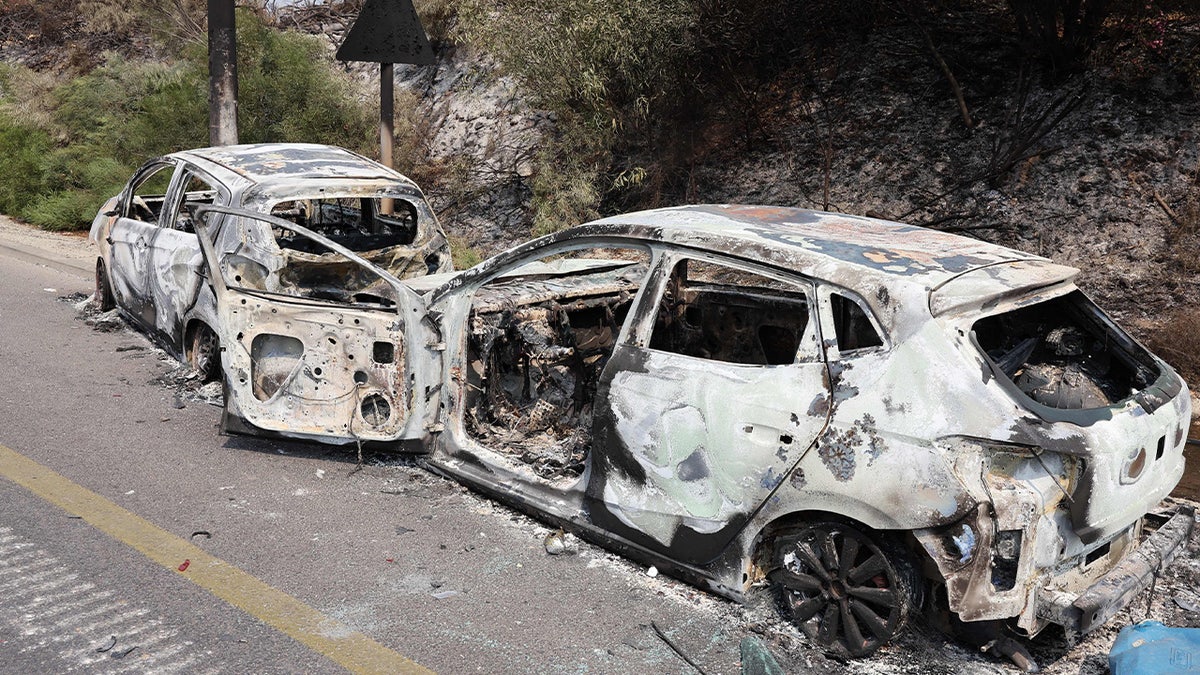 Cars burned during a terrorist infiltration sit on the side of a road near the southern city of Sderot. Israeli forces battled holdout Hamas members and pounded targets in the Gaza Strip on Oct. 8. Prime Minister Benjamin Netanyahu warned of a "long and difficult" war ahead after Hamas' massive surprise attack. (Jack Guez/AFP via Getty Images)
ISRAELI MUSIC FESTIVAL SURVIVOR DESCRIBES HORROR OF HAMAS-LED ATTACK THAT LEFT 260 DEAD
The women lost track of time in the bunker, a small room Elayev usually uses as her office. The only furniture was a desk, but Elayev couldn't have slept anyway as she desperately awaited more news.
Eventually, a missile struck near the neighboring house. The impact shattered Elayev's door and chunks of the ceiling began to rain down on the two women.
They had to leave.
Elayev said the women waited for gaps of quiet between missile blasts, then darted out of the shelter to throw what they could into bags. Two shirts, a pair of shoes, and food.
Then they crept to the front door and looked at each other, not knowing whether terrorists were still outside.
"Are you ready?"
"No."
"Okay, let's go."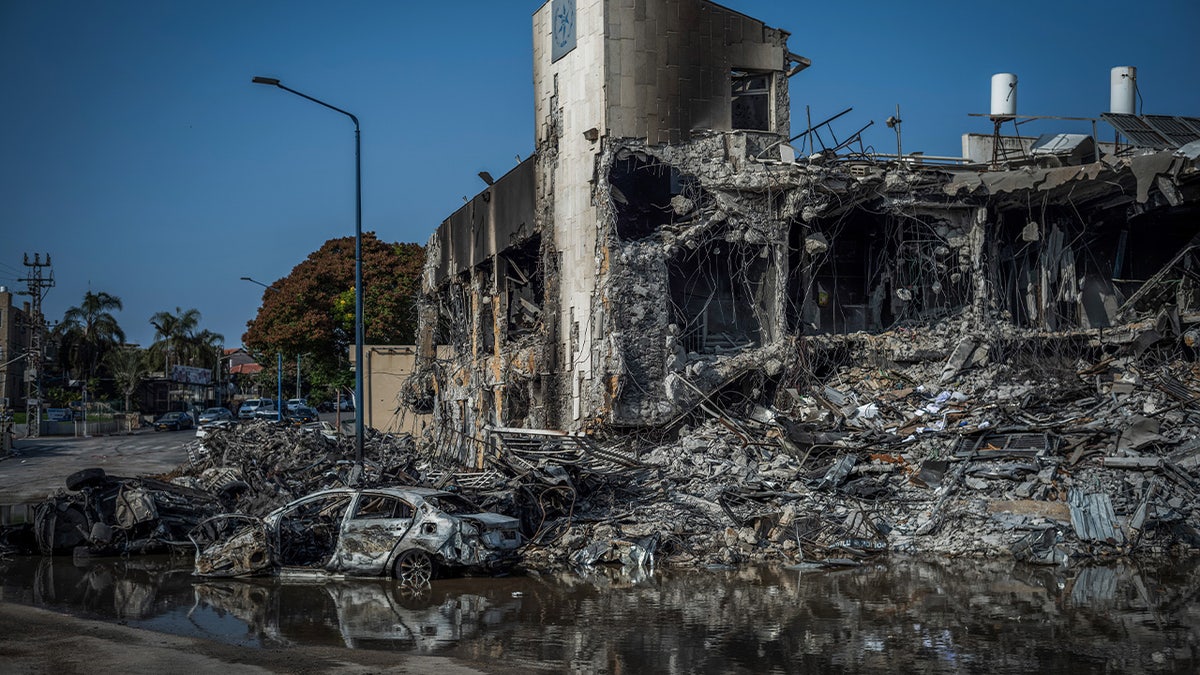 Hamas terrorists launched a surprise attack on Sderot Oct. 7, 2023, killing at least 20 civilians and taking over the city's police station. As of Oct. 11, Israeli forces have retaken the city and continue to shell Hamas fighters in Gaza. (Ilia Yefimovich/picture alliance via Getty Images)
'NO MERCY': PRO-ISRAEL SUPPORTERS GATHER IN BOSTON COMMON, CALL FOR HAMAS TO BE DESTROYED
As they sprinted to the car, a neighbor yelled at them through the window, asking if they were running away.
"Yeah, you should too," Elayev responded. But the other woman said she was too afraid to leave.
Elayev started the car and drove through streets, empty save for broken glass, mangled missile parts, burnt out vehicles and other debris. She avoided areas she knew from online chatter that people had been murdered.
"I chose the different path just not to see the—to cause more trauma to my niece because I know she is my age but I still feel the obligation to protect her," Elayev said. "She is also my best friend."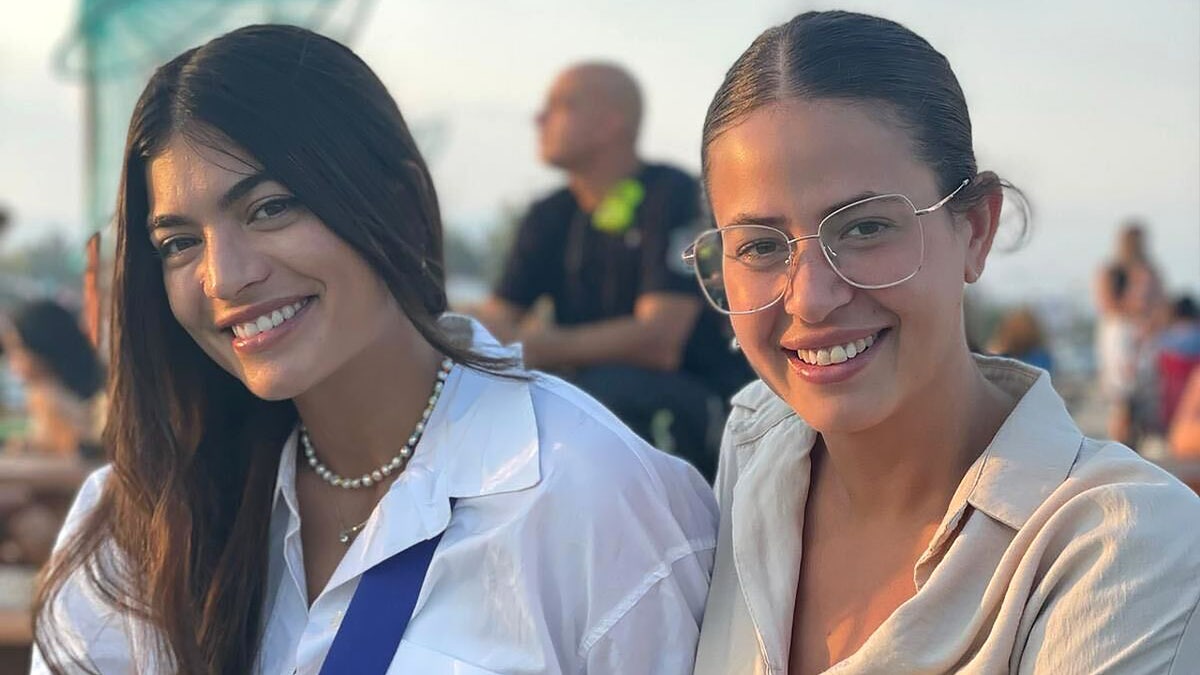 Sabina Elayev, left, and her niece hid in a bomb shelter in Sderot, Israel, for more than a day as Hamas attacked the city. (Courtesy Sabina Elayev)
CLICK TO GET THE FOX NEWS APP
Elayev is now safe, staying with friends in Tel-Aviv. She's still processing her 36 hours in the bunker and doesn't know whether to cry now or wait for the stories of carnage and terror she knows are yet to come.
"People need to know what happened here," she said. "There are still people missing."
Ramiro Vargas contributed to the accompanying video.
Hannah Ray Lambert is an associate producer/writer with Fox News Digital Originals.