close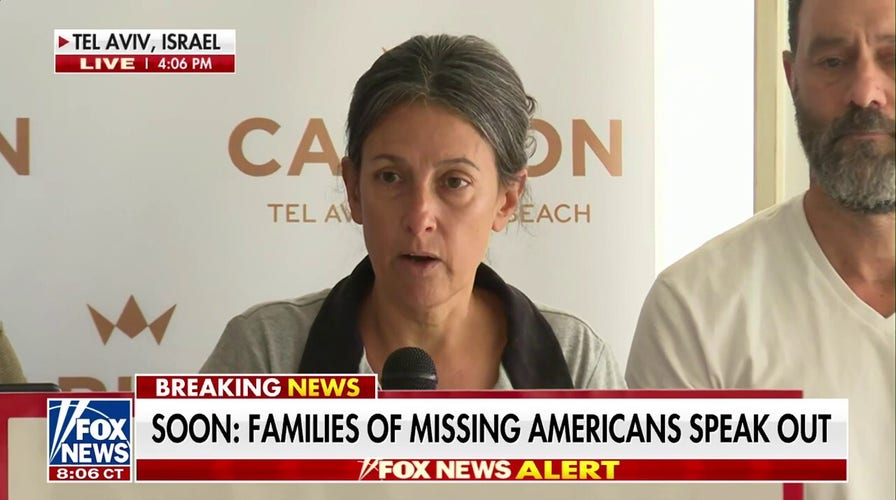 Video
Families of missing Americans beg White House for help in Israel
The families of missing Americans held a press conference in Tel Aviv Tuesday asking the Biden administration for help to bring their loved ones home.
Since the surprise attack on Israel by Hamas terrorists Saturday, hundreds of civilians, including babies, the elderly, and soldiers have been killed, wounded or captured. Israel retaliated against Hamas by firing missiles into Gaza.
A terror attack by Hamas at a music festival in Israel claimed the lives of at least 260 concert-goers with many others kidnapped and injured. Those abducted — including American citizens — are still being held hostage in Gaza.
"We now know that American citizens are among those being held by Hamas," President Biden said in a press conference Tuesday afternoon.
Below are the most recent numbers related to the war. Fox News Digital will continue to inform on fatalities, hostages, death toll and more as they are reported and confirmed by officials.
next Image 1 of 5

Cars are on fire after they were hit by rockets from the Gaza Strip in Ashkelon, Israel, on Saturday, Oct. 7, 2023. Palestinian militants in the Gaza Strip infiltrated Saturday into southern Israel and fired thousands of rockets into the country while Israel began striking targets in Gaza in response.  (AP Photo/Ohad Zwigenberg)

prev next Image 2 of 5

Israeli forces establish heavily armed control points along the border as Israel tightens measures by the army, police and other security forces after Hamas launched Operation Al-Aqsa Flood in Sderot, Israel over the weekend.  (Mostafa Alkharouf/Anadolu Agency via Getty Images)

prev next Image 3 of 5

A smoke rises and ball of fire over a buildings in Gaza City on October 9, 2023 during an Israeli air strike. (Photo by Sameh Rahmi/NurPhoto via Getty Images)

prev next Image 4 of 5

A smoke rises over a buildings in Gaza City on October 9, 2023 during an Israeli air strike. (Photo by Sameh Rahmi/NurPhoto via Getty Images)

prev Image 5 of 5

An Israeli soldier directs armoured vehicles heading towards the southern border with the Gaza strip on October 8, 2023 in Sderot, Israel. On Saturday, the Palestinian militant group Hamas launched the largest surprise attack from Gaza in a generation, sending thousands of missiles and an unknown number of fighters by land, who shot and kidnapped Israelis in communities near the Gaza border. The attack prompted retaliatory strikes on Gaza and a declaration of war by the Israeli prime minister. (Amir Levy/Getty Images)
AT LEAST 22 AMERICANS, OVER 1,200 ISRAELIS DEAD IN HAMAS WAR
At least 1,200 Israelis have died
At least 4,250 Palestinians are wounded
At least 2,700 Israelis are injured
At least 830 Palestinians have been killed
At least 22 Americans are reported dead
At least 150 soldiers and civilians are being held hostage in Gaza
At least 155 Israeli soldiers have been killed
At least 4,500 rockets have been fired by Hamas terrorists
At least 1,500 Hamas terrorists have been found dead
At least 260 died at the Tribe of Nova music festival
At least 70 terrorists invaded Kfar Aza
At least 200 Israelis were found dead in Kfar Aza
At least 30 missing persons have been located and rescued at a kibbutz
The population of Gaza is 2,000,000
The population of Israel is 9,795,000
72 hours of silence from President Joe Biden until he first addressed the Israel-Hamas war on Tuesday, October 10
4 days of war as of Tuesday, October 10
CLICK HERE TO GET THE FOX NEWS APP
Ashlyn Messier is a writer for Fox News Digital.