Gwyneth Paltrow, who has been accused of promoting a "starvation diet" in the past, gave fans a glimpse into her refrigerator this week, which included a variety of milks and moisturizers along with some food.
The 50-year-old actress said she had recently gotten a lot of questions about what she keeps in her fridge during "ask me anything" sessions on social media.
"This is really the kind of stuff I have in my fridge," the Goop founder said in a video posted to the company's Instagram page on Friday, admitting that she had "cleaned" it up before opening it to public scrutiny.
The "Emma" star first pointed out heavy cream, half-and-half, regular milk and almond milk inside the fridge.
GWYNETH PALTROW SLAMS IDEA WOMEN SHOULD BE 'FROZEN IN TIME': 'DEFINITELY A DOUBLE STANDARD'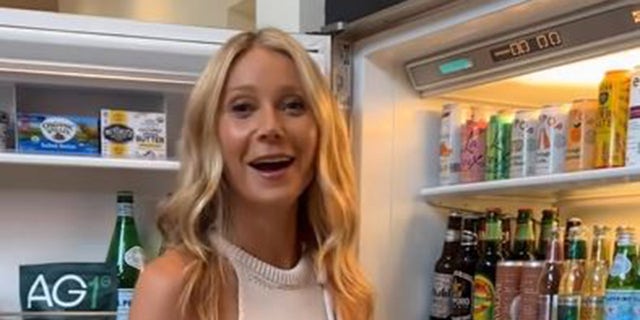 Gwyneth Paltrow's fridge had several types of milk, iced teas, coconut water and yogurt, leftover foods and skincare products.  (Goop/Instagram)
We "span the spectrum of milks here in the old Paltrow-Martin family," she noted.
She also said she had some of her "favorite" drinks in there, including iced teas, tinctures, wine and coconut water, which she said her son loves.
As far as food, there was coconut yogurt, "which I love" and "some leftover butter chicken, some leftover veggie burgers from lunch" and zucchini fritters from what she called "boyfriend breakfast."
TOM BRADY, OPRAH, GWYNETH PALTROW DIETS ANALYZED: EXPERT REVEALS 'EMOTIONAL ROLLERCOASTER' WITH FAD DIETING
          View this post on Instagram                      
APP USERS CLICK HERE FOR POST
Paltrow revealed she often eats bone broth for lunch and mostly veggies for dinner in a March podcast. After being accused of promoting starvation, Paltrow explained herself on Instagram. "I eat full meals," she insisted. "I also have days where I eat whatever I want, French fries or whatever. My baseline has been to try to eat healthy and try to eat foods that really calm the system down."
The beauty maven also had an abundance of space saved in the fridge to store her creams and lotions.
CLICK HERE TO SIGN UP FOR THE ENTERTAINMENT NEWSLETTER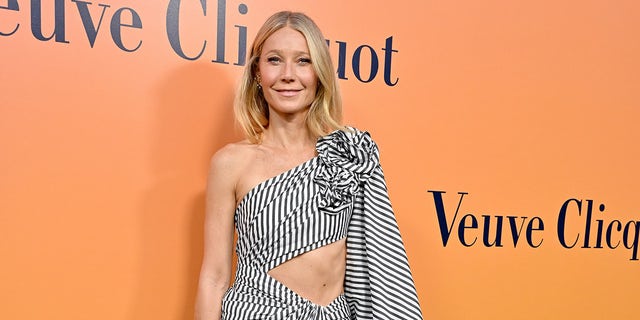 Gwyneth Paltrow defended herself against accusations of promoting a "starvation diet" earlier this year, saying she eats full meals.  (Axelle/Bauer-Griffin/FilmMagic)
"This is a great hack to store your eye masks in the fridge," she offered. "It just feels amazing and cool and helps with the depuffing."
She continued, "Incredible peptide serum, of course. I put this on in the morning and then in the evening before I go to bed. And this is new, I started doing is moisturizer in the fridge. Feels amazing."
CLICK HERE TO GET THE FOX NEWS APP
She concluded, "So that wraps up my fridge tour. Do you feel like you've gotten to know me any better?"
A couple of lucky fans could get more than a glimpse of the inside of Paltrow's fridge in September, when the "Shakespeare in Love" actress will welcome two guests for one night at her Montecito property via Airbnb.
Fox News Digital's Lauren Overhultz contributed to this report.