The National Rifle Association warned this week that the new wave of demands from the gun control lobby reveal that their aim is to use the recent wave of mass shooting events to remove the rights of Americans to own a firearm.
The NRA's warning came after a coalition of 117 groups sent a letter to President Biden Monday that demanded a series of actions to limit rising levels of gun violence. There have been more than 1,500 non-suicide deaths from guns since new year, along with 52 mass shootings and six mass murders, according to the Gun Violence Archive.
Amy Hunter, the director of media relations for the NRA, said the groups pressuring Biden will continue to so until the rights of law-abiding Americans are stripped away.
"Biden is more than happy to do the bidding of gun control groups, as he has already proven. They are applying additional pressure because more is never enough," Hunter told Fox News Digital. "Their ultimate goal is a country where citizens are stripped of their Second Amendment freedoms and the government has total control."
BIDEN SLAMMED AFTER ANNOUNCING OFFICIAL END TO COVID-19 EMERGENCY: 'TRYING TO AVOID EMBARRASSMENT'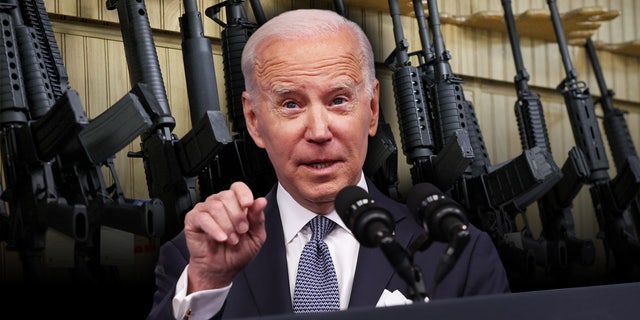 The National Rifle Association said President Biden continues to face pressure from the gun control lobby because they are confident he is subject to their demands.
(Kevin Dietsch, Michael Macor/The San Francisco Chronicle via Getty Images)
Hunter said if Biden and gun control groups were serious about law and order, they would focus more on how to counter violent crime.
"If they were interested in a safer America, they would support policies that put criminals behind bars and protect the rights of law-abiding citizens to defend themselves and their families," she said. "This is why all Americans must stay vigilant and elect candidates who will defend freedom — not erode it."
Biden received $8.5 million in donations from gun control groups in 2020. In their letter to Biden, the groups called for a national emergency declaration on gun violence, the creation of a federal office of gun violence prevention, a $5 billion fund for community violence intervention programs, an enforcement of the ban on foreign-made weapons, tighter Federal Trade Commission regulations on firearm marketing, education campaigns on gun safety, and a detailed plan on the enactment of the Safer Communities Act passed last year.
"Unfortunately, gun deaths and injuries continue to ravage our country, impacting Asian American, Black and Brown communities, and neighborhoods all across the country," the groups wrote to Biden. "While Congress must continue to prioritize gun violence prevention, you have the opportunity to act boldly by announcing a comprehensive plan of action to reduce gun deaths at the State of the Union on February 7, 2023."
BIDEN MOCKED FOR REPEATING DEBUNKED AMTRAK STORY ONCE AGAIN: 'THIS IS DISTURBING STUFF'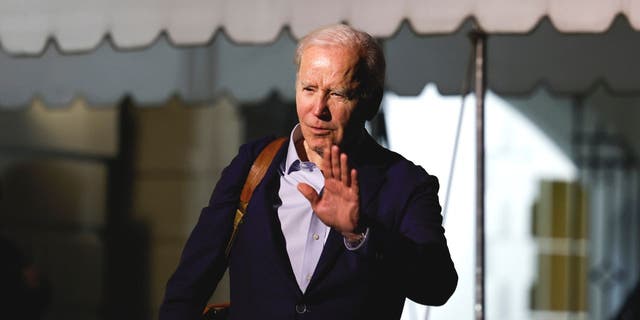 A coalition of 117 groups sent a letter to President Biden Monday that demanded a series of actions to limit rising levels of gun violence. 
(Anna Moneymaker)
The Safer Communities Act passed the Democrat-controlled Congress with some Republican support to tighten background checks and red flag laws nationwide.
The demands to the president come amid a new Congress with a Republican majority in the House, which makes legislation unlikely but could prompt Biden to take executive action. So far, his administration has focused efforts on community-based interventions that use billions in federal funds to launch mental health initiatives that counter gang violence.
Gun control advocates said more action must be taken from the White House to counter the new GOP majority in the House.
BIDEN TOUTS ELECTRIC VEHICLE TAX CREDITS WITH PICTURE OF HIM IN LUXURY HUMMER THAT DOESN'T EVEN QUALIFY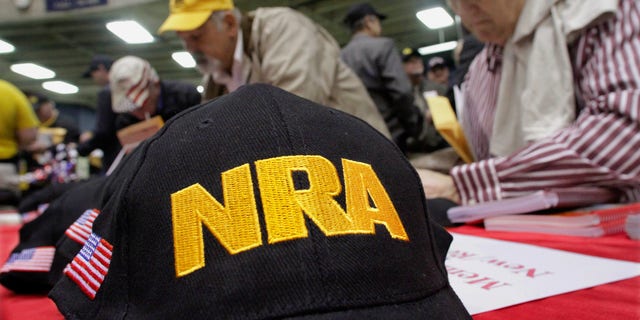 The NRA mocked President Biden as he faced pressure from gun control lobby.
(AP)
"The growing gun violence crisis and the stated intention of the new leadership in the House of Representatives to block life-saving legislation demands a higher level of leadership from your White House," the groups wrote to Biden. "We urge you to lay out a concrete plan of action for saving lives at the State of the Union."
CLICK HERE TO GET THE FOX NEWS APP
The White House did not respond to a request for comment.