Americans are increasingly skeptical of President Biden's massive weapons packages for Ukraine, according to new polling.
The number of Americans who say the U.S. is giving too much aid to Ukraine has risen to 25%, up from 19% in September, according to Pew Research. Meanwhile, 31% of Americans say the U.S. is giving the correct amount of aid, down significantly from the fall. Another 20% said they would like to see the U.S. give more aid, while 20% also said they were not sure.
Pew Research conducted the poll from Jan. 18-24, surveying 5,152 U.S. adults, according to the Washington Post.
Biden's administration has delivered tens of billions worth of military support to Ukraine since Russia invaded the country in February 2022. He announced last week that the Pentagon would deliver 31 M1 Abrams tanks to the country in the latest package.
UKRAINE-RUSSIA WAR: GERMANY AGREES TO SEND 2 BATTALIONS OF LEOPARD 2 TANKS AFTER HEAVY PRESSURE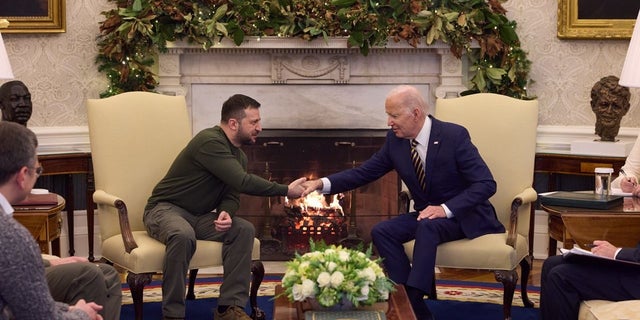 President Joe Biden and Ukraine's Volodymyr Zelenskyy meet at the White House in Washington, D.C.
(Ukrainian Presidency/Handout/Anadolu Agency via Getty Images)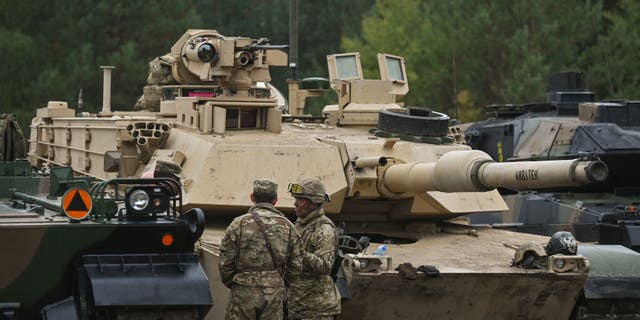 British soldiers chat next to U.S. Abrams tanks during joint military exercises in Nowa Deba, Poland, on Sept. 21, 2022. (Artur Widak/Anadolu Agency via Getty Images)
GERMANY 'NOW APPRECIATING THE MOMENT' AS IT FINALLY AGREES TO SEND TANKS TO UKRAINE, GRAHAM SAYS
The U.S. has already supplied thousands of combat vehicles, including 1,700 Humvees, and pledged earlier this month to send another 500 armored vehicles of various types.
Support for Ukraine aid has remained high among lawmakers of both parties, though House Speaker Kevin McCarthy, R-Calif., said last year that he does not support giving Ukraine a "blank check."
Biden's White House, however, stated that the aid will keep flowing to Ukraine for "as long as it takes."
The new rush of aid last week comes as Russia's invasion of Ukraine nears the one-year mark. Russia has also announced plans to expand the size of its military to 1.5 million troops in the coming years with a series of conscriptions.
US TRANSFERS MILITARY WEAPONS STOCKPILE FROM ISRAEL TO UKRAINE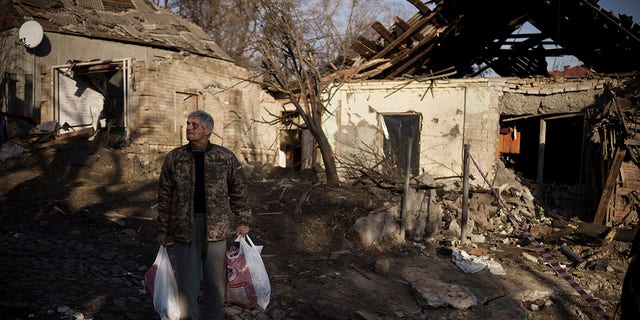 Anatolii Kaharlytskyi, 73, stands near his house, heavily damaged after a Russian attack in Kyiv, Ukraine, on Jan. 2, 2023. Kaharlytskyi was injured and his daughter-in-law Iryna died in the attack on Dec. 31, 2022. (AP Photo/Renata Brito)
Defense Minister Sergei Shoigu announced the troop increase on Tuesday, and it is expected to be completed by 2026, according to Russian state news agency TASS.
"Only by strengthening the key structural components of the Armed Forces is it possible to guarantee the military security of the state and protect new entities and critical facilities of the Russian Federation," Shoigu said, according to Reuters.
Russia's military has around 1 million troops, and it is difficult to estimate how many have been killed in the fighting with Ukraine.
CLICK HERE TO GET THE FOX NEWS APP
The Kremlin previously considered the size of its armed forces as sufficient, but that changed after hopes for a quick victory over its neighbor were shattered by a fierce Ukrainian resistance.
Fox News' Caitlan McFall contributed to this report.