The 2023 Grammy Awards are here.
Trevor Noah is set to host, Beyoncé is leading the nominations, Luke Combs is performing and Shania Twain is set to present.
Here's what else to know about music's biggest night:
How to watch
This year, the awards show will air on Sunday at 8:00 p.m. ET on CBS, and will stream live and on-demand on Paramount+.
Host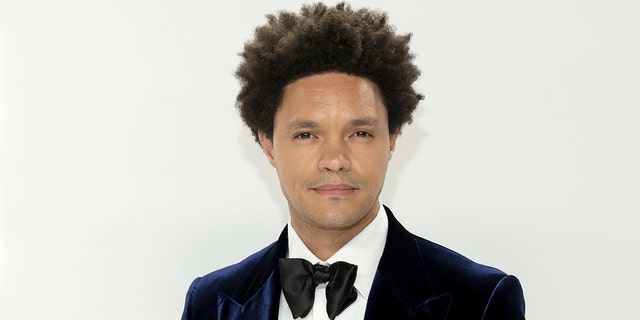 Trevor Noah is set to host the Grammy Awards this year for the third time in a row.
(Dimitrios Kambouris/Getty Images)
The host for the Grammy Awards this year is comedian and former "Daily Show" host Trevor Noah. Noah is no stranger to hosting, as he emceed music's biggest night the previous two years.
"It is thrilling. For me, it's a cheat code because I'm a fan of almost all the people who are there. It has also been interesting because of the journey," Noah told Billboard. "The first one was [during] COVID-19, and it was a completely different way to make the show. And then the next one was in Las Vegas because of the restrictions [in Los Angeles], and that was a different type of show. Now it's exciting [because] it'll be the first one for me back in L.A. — that's hopefully not just normal, but different for the right reasons."
Nominees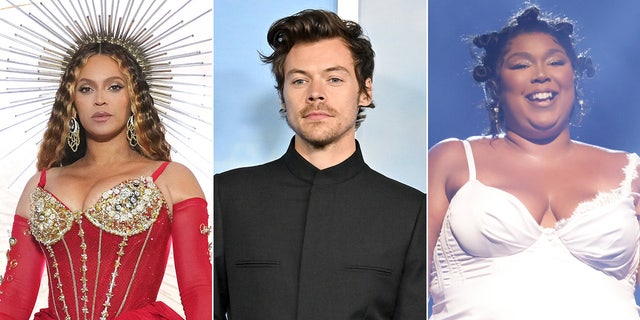 Beyoncé, left, leads the pack in Grammy nominations this year, and is up against Harry Styles and Lizzo for the coveted best album award.
(Getty Images)
Beyoncé has the most nominations at the Grammys this year. She has also achieved the status of being the artist nominated for the most Grammys ever, tied for the title with her husband, rapper Jay-Z. With nine nominations at this year's awards show, the singer now has a career total of 88 Grammy nominations.
The songstress is up for record of the year for "Break My Soul," album of the year for "Renaissance," song of the year, best R&B performance, best R&B song for "Cuff It" and others. In the album of the year category, she is up against ABBA for "Voyage," Adele for "30," Bad Bunny for "Un Verano Sin Ti," Harry Styles for "Harry's House," Kendrick Lamar for "Mr. Morale & the Big Steppers" and Lizzo for "Special."
Lamar follows Beyoncé in second place for most nominations with eight this year, including for record of the year, song of the year and best rap performance, all for "The Heart Part 5." Tied for third place are Adele and Brandi Carlile with seven nominations each.
Performers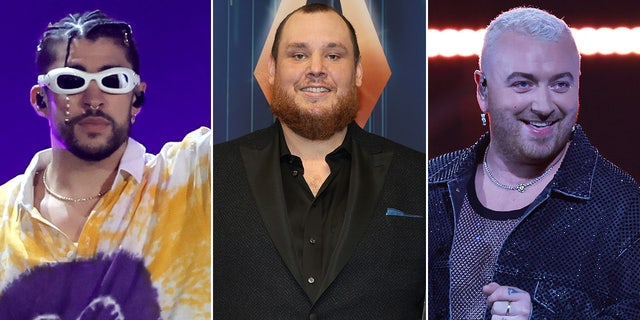 Performers include, from left, Bad Bunny, Luke Combs and Sam Smith, who are all nominated for Grammys this year.
(Getty Images)
Many of the performers at this year's Grammy Awards ceremony are also nominees in at least four of the biggest categories of the night. Performers include Bad Bunny, Sam Smith and Combs, who are nominated for album of the year, best pop duo/group performance and best country song, respectively.
Album of the year nominees Mary J. Blige, Brandi Carlile, Lizzo and Styles will also be taking the stage Sunday night. The show will also feature performances by Kim Petras and Steve Lacy.
There will also be tributes to the many musical icons who passed away this year, including country music superstar Loretta Lynn, Migos rapper Takeoff and Fleetwood Mac keyboardist and singer-songwriter Christine McVie.
The tribute to Lynn will be performed by Kasey Musgraves, who will sing one of Lynn's most iconic songs, "Coal Miner's Daughter"; Quavo and the Maverick City Music will pay tribute to Takeoff with a performance of "Without You"; and Sheryl Crow, Mick Fleetwood and Bonnie Raitt will come together to perform a tribute to McVie with the tune "Songbird."
Presenters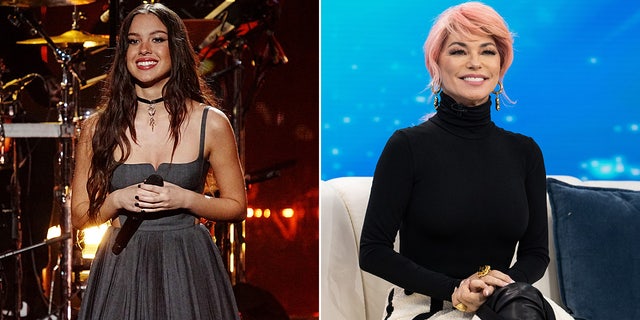 Olivia Rodrigo, left, and Shania Twain are presenting at this year's Grammy Awards.
(Getty Images)
On top of the legendary nominees and performers who will be in attendance at Crypto.com Arena in Los Angeles, many stars will take the stage as presenters at the ceremony.
Presenters for this year's awards show include first lady Jill Biden, Grammy winner Cardi B, James Corden, Dwayne "The Rock" Johnson and current Grammy nominees Billy Crystal and Viola Davis. Joining them as presenters are three-time Grammy winner Olivia Rodrigo and five-time winner Twain.
CLICK HERE TO SIGN UP FOR THE ENTERTAINMENT NEWSLETTER
Honorees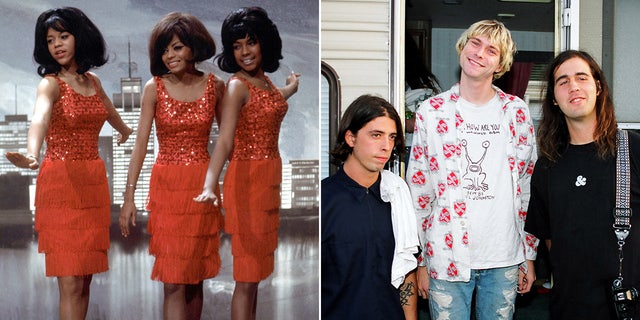 The artists being honored at this year's Grammy Awards include The Supremes, left, and Nirvana.
(Getty Images)
The recipients of the 2023 Grammy Lifetime Achievement Awards include performers who, throughout their careers, have made a significant impact on the music industry.
This year's honorees include Bobby McFerrin, Nirvana, Ma Rainey, Nile Rodgers, Slick Rick "The Ruler," The Supremes and Ann and Nancy Wilson of Heart.
CLICK HERE TO GET THE FOX NEWS APP
"The Academy is proud to celebrate this diverse slate of influential music people spanning numerous genres and crafts as our 2023 Special Merit Awards honorees," Recording Academy CEO Harvey Mason Jr. said. "Each creator on this list has made an impact on our industry — from technical to creative achievements — representing the breadth of music's diverse community. We're excited to celebrate this group of legends next month that continues to inspire and shape the music world."