Mississippi Republican Gov. Tate Reeves is working toward the "complete elimination" of the income tax in his state, saying if he is re-elected this year there is "a path to do so."
In a recent interview with Fox News Digital, Reeves, who filed paperwork last week to run for re-election, said he is committed to continuing his work in the state and looks to expound on a number of promises and goals he has made since he took office.
"I'm seeking a second term to be the governor of the state of Mississippi because we've made such tremendous progress over the last three years pushing conservative values and ensuring that we do a fantastic job of investing in our people," Reeves said. "We've been very successful at seeing our economy grow. We've stressed freedom in difficult times, and our people have responded."
Touting the state's unemployment rate as the lowest in Mississippi's history, Reeves, who was first elected to serve as governor in 2019, said things are "going well" in the state and that there is "more work to do" as he prepares to win over voters for a second term.
2023 ELECTIONS: CHICAGO CHOOSES A MAYOR, STATES VOTE ON LEGISLATURES IN CONTENTIOUS UPCOMING RACES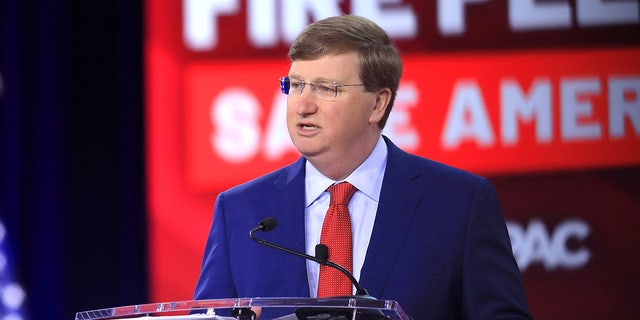 Tate Reeves, governor of Mississippi, speaks during the Conservative Political Action Conference in Dallas, Texas, Aug. 5, 2022.
(Dylan Hollingsworth/Bloomberg via Getty Images)
Should he win a second term in the governor's mansion, Reeves, who signed into law the state's largest income tax cut in April, said he is looking to further his work on the elimination of the income tax in Mississippi.
"The No. 1 example of what I want to continue working on in the second term is the complete elimination of the income tax in our state," Reeves said. "In 2016, we passed the largest tax cut in Mississippi history. Last year, I signed into law an even bigger tax cut for the people of Mississippi. We've reduced our income tax. There are 41 states across America that have a personal income tax. Today, Mississippi has the fifth-lowest. I want Mississippi to join those nine states that have no income tax, and we have a path to do so."
Reeves said the notion behind the elimination of the income tax in the state has earned support from voters.
"I believe that the voters of Mississippi are with us," he said. "They understand that government doesn't have anything that doesn't first take from somebody else. "And if we could eliminate our income tax, we could become more competitive economically with Texas, with Florida, with Tennessee. And I think the voters of Mississippi are strongly supportive of that."
Asked about his message to voters ahead of the state's primary election scheduled for Aug. 8, Reeves suggested they should "simply look at my record."
"When I ran in 2019, I made promises to voters on what I was going to work on, and the last four years we've worked every day to fulfill those promises. I think that's what politicians ought to do. They ought to tell the voters what they want to do, and then they ought to go out and actually do it," Reeves said.
"When I think about one of the messages that's going to certainly reach the forefront, I have to think about the fact that Mississippi led the way in overturning Roe v. Wade. In fact, I would argue that that's one of the — if not the — biggest accomplishments in the conservative movement in my lifetime."
MISSISSIPPI GOV. TATE REEVES 'ECSTATIC' OVER SUPREME COURT ABORTION RULING, SAYS IT'S A 'WIN FOR LIFE'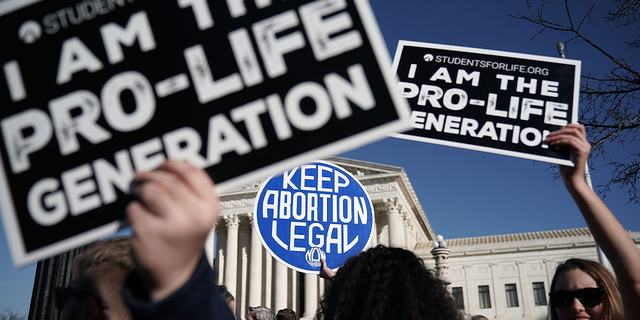 Pro-life activists try to block the sign of a pro-choice activist during the 2018 March for Life Jan. 19, 2018, in Washington, D.C.
(Alex Wong/Getty Images)
Asked about potential rivals who could pose a challenge to his re-election bid, Reeves said he expects "those on the other side" to find someone to run against him.
"The great thing about living in America is anybody can run for anything they want to run for," he said. "I've been on the ballot numerous times over the years. You know, there's an old saying that there are only two ways to run for public office, scared or unopposed.
"I'd like to try that second option one time, but it's never happened in my career, and I don't expect it's going to happen this year. The fact is, when you do big things, when you're willing to take on the status quo, when you push and fight for a conservative message, it tends to make those on the other side of the aisle uncomfortable."
Earlier this month, Bill Waller Jr., who forced Reeves into a runoff election in the state's 2019 GOP gubernatorial primary election, said he is "strongly considering" a run for governor of Mississippi in 2023.
Asked whether he is concerned about a potential rematch with Waller, Reeves insisted GOP primary voters are going to favor the conservative in the race. And he began to list a number of policies he has worked to implement that reflect the conservative agenda.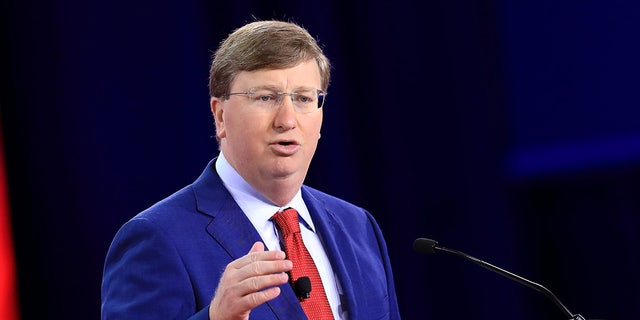 Tate Reeves, governor of Mississippi, speaks during the Conservative Political Action Conference in Dallas, Texas, Aug. 5, 2022.
(Dylan Hollingsworth/Bloomberg via Getty Images)
"Well, I would tell you that Republican primary voters are going to vote for a conservative," Reeves said. "I have a record of returning money back to the taxpayers, of creating jobs, of having the strongest economy in our state's history, of having the lowest unemployment rate in our state's history, of having more people working in our state than any time in our state's history.
"Our educational attainment levels are improving, our fourth grade reading and fourth grade math results are up, our high school graduation rates are up," he added. "We are fighting for our conservative values. We led the charge to overturn Roe. We are fighting to protect the young girls in our state by saying that we're going to let boys play boy sports and … we're going to let girls play girl sports. We're fighting the radical transgender agenda, particularly amongst those under the age of 18. And we will continue to do so."
One factor that could have an impact on Reeves' re-election bid is last year's water crisis in Jackson, the state's largest and most populous city.
Residents in Jackson lost water service for more than a week over the summer in 2022, resulting in a lawsuit from the Department of Justice and claims the water could be further contaminated if issues were not corrected.
Noting the state's quick response to the water issues in Jackson last summer, Reeves said it is now the responsibility of the federal government to deliver clean water to Jackson residents after the federal lawsuit.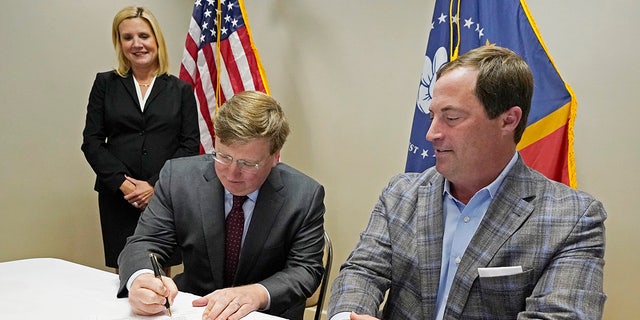 With wife Elee Reeves, left, and party Chairman Frank Bordeaux witnessing, Mississippi Gov. Tate Reeves, center, signs his qualifying papers to run for re-election at the party headquarters in Jackson Jan. 3, 2023.
(AP Photo/Rogelio V. Solis)
"On August the 29th, we declared a state of emergency. The state of Mississippi went in and took over the management of the water distribution system in the city of Jackson. We were in charge of it for some 90 days. It took us approximately two days to get water pressure restored and less than two weeks to get clean water back to the citizens of the state of Mississippi," Reeves said.
"The EPA and the Biden administration in the city of Jackson have negotiated a federal lawsuit in which today it's the federal judicial branch that's running the city of Jackson's water system. They have hired a conservator to run it, and it is their responsibility to deliver clean water to the city of Jackson.
CLICK HERE TO GET THE FOX NEWS APP
"We're hopeful that they will correct these problems that they're having, but during just less than 90 days that the state of Mississippi was in charge, we delivered clean water to the people of the state."
The general election for governor of Mississippi is scheduled for Nov. 7.