FIRST ON FOX: Rep. Max Miller, R-Ohio, was hit with an ethics complaint related to his public condemnation of a pro-life activist's Christian social media post.
The American Accountability Foundation (AAF), a conservative government watchdog group, filed the complaint with the Office of Congressional Ethics on Monday, asking for an immediate investigation into Miller. On Aug. 15, Miller accused former Ohio GOP employee Lizzie Marbach of bigotry following her post stating, "There's no hope for any of us outside of having faith in Jesus Christ alone."
ALL EYES ON THE GOP PRESIDENTIAL PRIMARY DEBATE! SIGN UP NOW TO STREAM LIVE.
"Freedom of religion and freedom of speech are foundation to the American way of life. To conservatives, these principles are non-negotiable," AAF President Tom Jones told Fox News Digital in a statement. "Especially today, as these Constitutionally guaranteed rights are being assaulted by the left, it is outrageous to see a supposedly conservative lawmaker joining the assault."
"For Congressman Miller to demand that an American citizen 'delete' her statement of faith is completely inappropriate and raises serious ethical questions," he continued. "The House of Representatives as a body needs to officially condemn his behavior."
FAR-LEFT 'SQUAD' COMMITTEE ADVISER ACCUSES ISRAEL OF COMMITTING 'GENOCIDE' AGAINST PALESTINIANS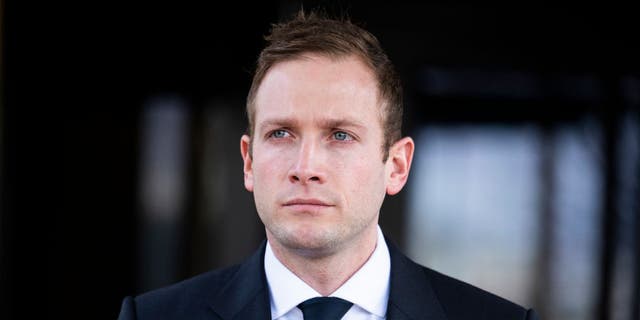 Rep. Max Miller, R-Ohio, leaves a meeting of the House Republican Conference on Feb. 28, 2023. (Tom Williams/CQ-Roll Call, Inc via Getty Images)
After Marbach's Christian post, Miller, who is Jewish, fired back saying it was "one of the most bigoted tweets" he had ever seen, called for it to be deleted and said religious freedom applies to every religion and that Marbach had "gone too far."
Five minutes later, Miller posted another reply to Marbach, adding: "God says that Jewish people are the chosen ones, but yet you say we have no hope. Thanks for your pearl of wisdom today."
In the complaint filed Monday, Jones wrote that Miller's comments, made from an account officially recognized as belonging to a government official, were "unbecoming" of a member of Congress and brought discredit upon the House. Jones added Miller's post may have the effect of creating a chilling effect on public expressions of faith.
US CATHOLIC CHURCH UNDER EXPLICIT ATTACK, ARCHBISHOP WARNS — BUT SAYS THERE'S HOPE
"Ms. Marbach's comments are clearly both protected speech as well as protected religious expression. Her post is unquestionably a profession of the traditional understanding of Christian faith," Jones wrote to the Office of Congressional Ethics. "Further her post extends beyond mere speech, because most Christians seeing themselves as enjoined to proclaim the Gospel as a core element of their faith."
"A Member of Congress publicly calling for a fellow citizen to effectively suppress her own views by deleting a profession of religious faith is not an appropriate role for such a prominent public official," Jones continued.
After he was roundly criticized by conservatives and even some Democrats like Rep. Ilhan Omar, D-Minn., Miller eventually apologized hours after his original post.
CLICK HERE TO GET THE FOX NEWS APP
"I posted something earlier that conveyed a message I did not intend," he posted on X. "I will not try to hide my mistake or run from it. I sincerely apologize to Lizzie and to everyone who read my post."
"Max, I accept your apology 100%. However the truth is that it is not me from whom you need forgiveness, but God himself," Marbach responded. "I genuinely pray you seek Him and find salvation!"
Miller's office didn't immediately respond to a request for comment.