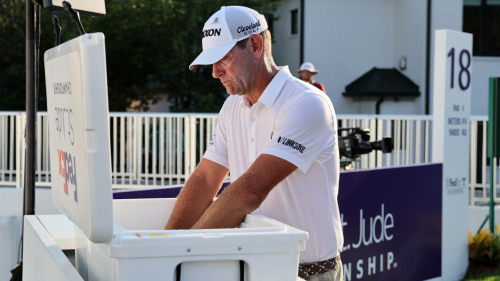 Golfer Lucas Glover cools off in the ice on the 18th tee during the final round of the FedEx St. Jude Championship at TPC Southwind on August 13, 2023 in Memphis, Tennessee. Andy Lyons/Getty Images CNN —
T-shirt and trousers drenched with sweat, it looked like Lucas Glover had fallen into a water hazard.
Locked in late contention under a searing Memphis sun at the FedEx St. Jude Championship on Sunday, the heat was on in every sense of the phrase for the American golfer. Yet for the second time in a week, the 43-year-old kept his cool to emerge victorious.
As temperatures peaked at 43 degrees Celsius (109F), Glover edged compatriot Patrick Cantlay on the first playoff hole at TPC Southwind to make it back-to-back wins on the PGA Tour after triumph at the Wyndham Championship last week.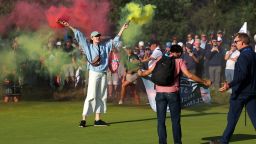 Protestors make their way onto the 17th green during the final round of the AIG Women's Open at Walton Heath Golf Club in Tadworth, England. Andrew Redington/Getty Images
Level with Cantlay at 15-under par overall as he arrived at the 18th tee, Glover lifted the lid on a nearby water cooler and dunked his hands in. It was a lesser-spotted pre-shot routine, but there was a method to the madness.
"It's a way to keep my hands from sweating," Glover explained to reporters Sunday.
"If you leave them in there as long as you can stand it and then wipe them off real quick, it closes your pores up for 10, 15 minutes. So I do that if there's any water in the coolers when it's like this, since I don't wear a glove. It literally stops them from sweating for a little while."
Suitably chilled, Glover held his nerve to par the hole and force a playoff, signaling a return to the 18th tee. With World no. 3 Cantlay only able to bogey, Glover repeated the feat to clinch his sixth PGA Tour win and – on his 513th start – become the first player over 40 years old to win back-to-back Tour titles since Vijay Singh in 2008.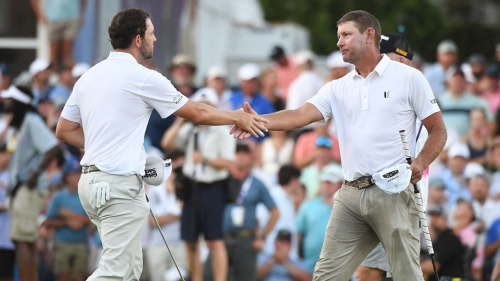 Cantlay shakes hands with Glover (right) after the playoff. Christopher Hanewinckel/USA TODAY Sports/Reuters
It continues a sensational return to form for the 2009 US Open champion, who began the year by missing the cut at five of his first six PGA Tour events. In his last six Tour appearances, he has won twice, and finished inside the top-six or better at three others.
"If you would have told me this three months ago, I'd tell you you're crazy," said Glover, who secured a $3.6 million winner's share of the $20 million prize purse.
"But at the same time, if you asked me legitimately did I think I was capable, I'd say yes, even then. It's just one of those sad ways athletes are wired – we always believe in ourselves no matter how bad it is.
"I never gave that up, but [in the] middle of May, it was hard to go to the range some days and hard to work. But we pushed through and did it anyway."
Victory rockets Glover up 45 places to fourth in the FedEx Cup rankings ahead of the second of three FedEx Cup playoff events at the BMW Championship in Illinois on Thursday. Jon Rahm, who finished tied-37th, remains in the lead ahead of Scottie Scheffler and Rory McIlroy, who placed tied-31st and tied-third respectively.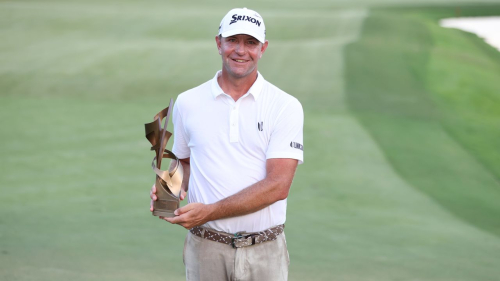 It's been a remarkable last month for Glover. Gregory Shamus/Getty Images
Sweltering
Glover wasn't the only golfer feeling the heat in Memphis.
Friday's sweltering second round saw temperatures skyrocket to a heat index of 111 degrees, according to the PGA Tour, a season-high. Glover insisted he didn't get as wet when showering on the morning of the round.
The conditions "humbled" three-time major champion Jordan Spieth, who was left to immediately regret telling his caddie that conditions during the week were "nothing."
"It felt like it was just coming off the ground," the Dallas-born golfer told reporters after shooting two-under 68 on Friday.
"I'll bring two shirts from now on and change at the turn because I was struggling a bit early in the round. I had some goosebumps – it was something that shouldn't happen.
"I just was taken aback a little bit … . My shirt made me weigh five more pounds today."
Second round temperatures forced Harris English's caddie Eric Larson to seek medical attention, where he received an IV and was treated for heat illness, the American golfer told Golf Channel.
English, who described it as "the hottest, muggiest day" he'd ever played on, advised Larson to seek help on the 11th hole after he looked like he was about to fall. Larson's duties were assumed by a member of the crowd, local club pro Andrew Argotsinger.
He helped four-time PGA Tour winner Harris go one-under through the final eight holes of the round to card one-over 70, and was gifted $100 by Larson as a thank you for his efforts, according to Golf Digest.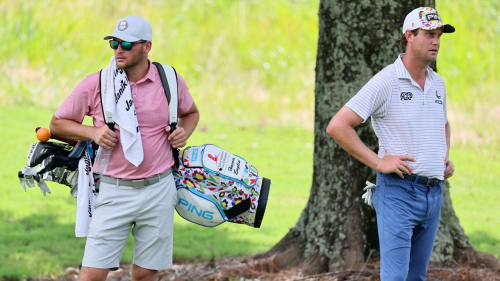 Argotsinger carries the bag for English. Andy Lyons/Getty Images
"It was pretty surreal," Argotsinger told Golf Digest.
"How many guys get to walk inside the ropes and talk to these guys during a PGA Tour round? It was a pretty incredible day."