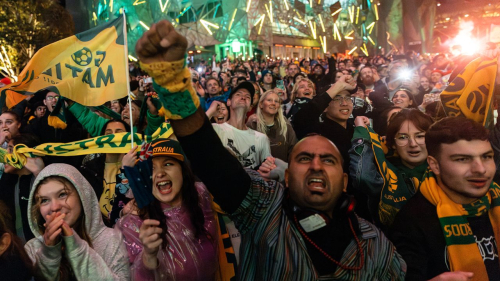 In Melbourne, fans crammed Federation Square to cheer the Matildas' win against France. Diego Fedele/Getty Images Sydney CNN —
Two matches stand between Australia and a historic Women's World Cup win, and the nation – perhaps prematurely – is debating the pros and cons of a national holiday should the squad defeat Spain on Sunday.
Soccer mania has swept the country in a culture where rugby, cricket and the local "Aussie Rules" football usually dominates. And while the nation paused to soothe shredded nerves after an extended penalty shootout against France, eyes are now firmly fixed on dispatching England on Wednesday night.
The match airs at 8 p.m. on Australia's east coast but clashes with a workday in the home of the Lionesses – and it's showing even earlier along the United States east coast, where eager soccer fans can catch the game over the breakfast.
In Australia, more than four million people tuned into watch the Matildas' ulcer-inducing 7-6 win over the Les Bleues on Saturday, according to official free-to-air viewing figures, and Wednesday's semifinal is expected to draw an even bigger crowd.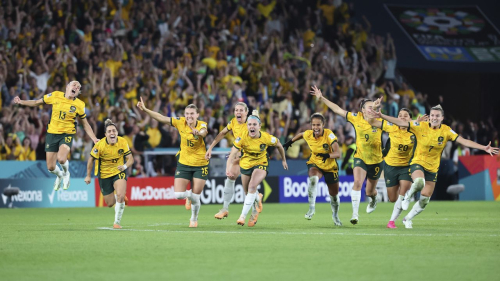 Australia players celebrate after winning their quarterfinal match against France in Brisbane, August 12. Tertius Pickard/AP
Stadiums that may otherwise sit dark and empty on a weekday night are switching on their lights and screens for Australia's clash against its traditional sporting rival.
In Sydney, two stadiums with an extra 75,000 capacity will open to absorb spillover from the main venue, Stadium Australia, which itself will seat more than 75,000 people. Thousands more will be at the official FIFA Fan Festival site and a dozen public screens will show the match for free, not including pubs and clubs.
And that's just in one city.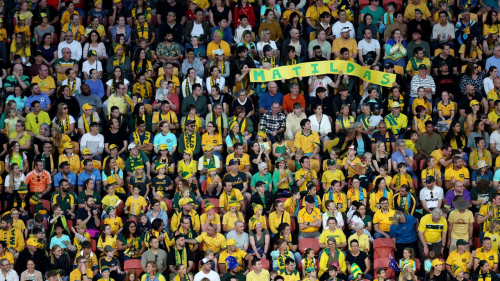 Green and gold dominated the crowds in Brisbane for the clash against France on Saturday, August 12. Asanka Brendon Ratnayake/Reuters
Sporting heroes
Elsewhere around the country, diaries are being cleared and extra catering ordered for a night the nation wants to remember as a seismic moment in World Cup history.
Other sporting codes are stepping aside – Basketball Australia has pulled the Boomers' clash with Brazil forward by more than two hours "so everyone can catch @TheMatildas in their semi final," it tweeted.
That might be a smart move. On Saturday, the AFL (Australian Football League) paid the price of unfortunate scheduling when fans in the stands began watching the Matildas' game on their devices rather the match being played in front of them.
Passengers on planes tuned in on the backs of seats – and one lucky soccer fan did the rounds of local media after star striker Sam Kerr gave her her sweaty playing kit after Saturday's match.
"I was yelling 'please Sam Kerr, give me your jersey' and then she did!" said Zara Borcak, who plays for the under 10s.
"I am so happy," the grinning 9-year-old told the Australian Broadcasting Corporation.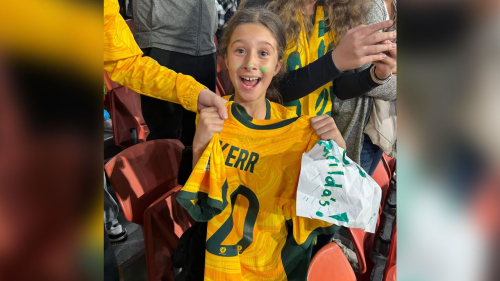 Zara Borcak beams as she holds the jersey Sam Kerr gave her after Saturday's match against France, August 12, 2023. Selma Borcak
Officially, they're the Matildas, but most Australians now casually refer to them as the "Tillies," and as the slogan goes, they're there "Tilits done."
Prime Minister Anthony Albanese has thrown his weight behind team, in between frustrating small businesses and much of the strained health sector with talk of a national holiday should they win the World Cup.
When asked if he was putting too much pressure on the squad, Albanese told one radio broadcaster: "There's an old saying in AFL and NRL … 'keep a lid on it'. The lid got blown off this a long time ago."
The lid has definitely blown off – and Australians are loving it.
Maybe it's because the last time the country came together to fight a common cause, they were desperately trying to stay apart. Just a few years ago, the idea of being in a crowded stadium, singing loudly – gasp – unmasked would have been unthinkable.
Now for some, the unthinkable is: 'What if they don't win?'"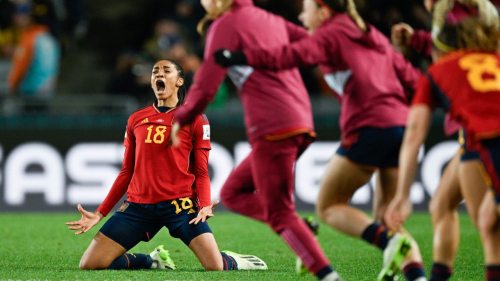 Australia faces a formidable opponent in Spain who defeated Sweden at Eden Park in Auckland on Tuesday. Andrew Cornaga/AP
Just breathe
For professional mentor and mindset coach, Ben Crowe, that's the wrong question – it's about redefining success.
"On so many levels, the event and the experience has already been a success," said Crowe, founder of the Mojo mindset app.
"The Matildas have taught the country, or reminded the country, that the future belongs to those who believe in the power of their dreams, to steal a beautiful quote from Eleanor Roosevelt. They remind us to set big goals and dreams and genuinely believe in them. And then to work together as a team," he said.
Crowe has worked with an impressive list of clients in both the sporting and business world, including the Australian men's and women's cricket teams, Wimbledon winner Ash Barty and the Richmond AFL football club, among others.
He says Australians are captivated by this World Cup because they suddenly realize their team is challenging football heavyweights in a country that doesn't typically rank at the top of soccer leaderboards.
"To feel that we belong on the global stage is pretty cool," he said. "Because the performance has been so strong, and it's been in our own country, I think we are celebrating and appreciative and really proud of that."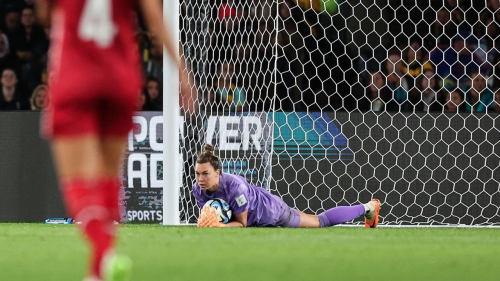 Mackenzie Arnold of Australia in action during the FIFA Women's World Cup match between Australia and Denmark. Norvik Alaverdian/NurPhoto/Getty Images
Crowe says in some ways it's harder to be a spectator than an athlete because, as much as they can yell, cheer and vent, fans have no control over the outcome of the game. His advice to anyone watching Wednesday's game – on both sides – is, very simply, to "breathe."
"Belly breathing is the quickest mind tap to tell the brain everything's going to be okay. And then tell their brain to be calm. And to be present, knowing that you can't control the outcome," he said.
"If you tap into appreciation, that's often the antidote to expectation. Appreciate the opportunity, and watch with no expectations because that's how the Matildas are going to play."
That's easier said than done, and pressure is building on the team as millions around the country and abroad count down the hours until Wednesday's kick-off.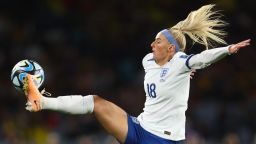 Soccer Football – FIFA Women's World Cup Australia and New Zealand 2023 – Quarter Final – England v Colombia – Stadium Australia, Sydney, Australia – August 12, 2023 England's Chloe Kelly in action REUTERS/Carl Recine Carl Recine/Reuters
Players are doing their best to focus, despite the distractions.
After being told that residents of one Melbourne street had renamed their road after her, goalkeeper Mackenzie Arnold gave a glimpse of the honesty and humility that has won over Australians.
"The last couple of days have been a pretty big whirlwind for me," she told reporters on Tuesday.
"(It's) probably the first time I've received attention like that, but at the same time, I just tend to block it out because I know to be honest, if I play like s**t tomorrow, it could be a whole different attention on me."