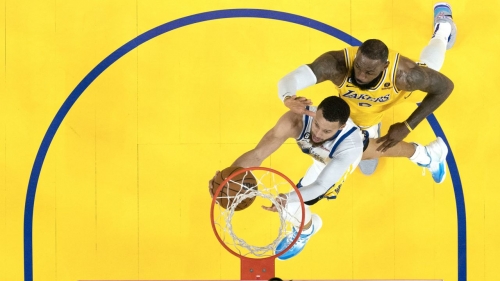 Stephen Curry shoots against Los Angeles Lakers forward LeBron James during the second half of Game 5.
Kyle Terada/USA TODAY Sports/Reuters

CNN
—
The Golden State Warriors beat the Los Angeles Lakers 121-106 in Game 5 of their Western Conference semifinals playoff series to keep their season alive.
Steph Curry spearheaded the reigning champions with 27 points and eight assists as the Warriors moved to within a game of the Lakers in their best-of-seven series at 3-2.
Andrew Wiggins added 25 points while Draymond Green chipped in with 20 points and 10 rebounds as Golden State staved off elimination and forced Game 6.
Coming back from 3-1 down in a playoff series is unlikely, but as the team showed in the opening round of the playoffs overcoming a 2-0 deficit against the Sacramento Kings, Golden State has the mentality to fight back.
"We're champions, so there's pressure every time you step on the floor," Green told reporters afterwards.
"You go out there, you don't win people are ready to crush you. People forget about the things that you've done in the past."
A late explosion in the second quarter, including a long three-pointer at the buzzer from Curry, gave the Warriors a big lead at halftime and they never relinquished that advantage.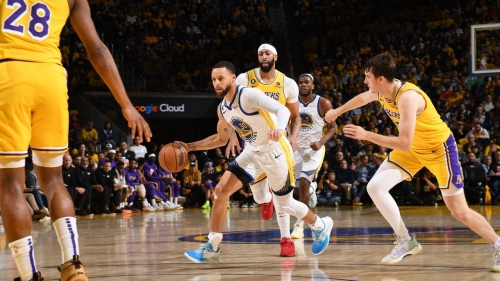 Curry dribbles the ball during Game 5
Noah Graham/NBAE/Getty Images
Los Angeles' Austin Reaves did hit a three-pointer with under six minutes to play to cut the lead to single digits as nerves crept in at Chase Center, but Curry settled any anxiety with a scoring spurt of his own to put the game away.
"The fact that we can control a game from the jump the way we did, handle that run the way we did and then close out the fourth quarter strong was exactly how we expect to play," Curry said afterwards.
"And it's just a matter of can we take it on the road and win a must-win game on Friday."
'He took a shot to the head'

LeBron James led the way for the Lakers with 25 points while Anthony Davis added 23.
The scariest moment of the game came in the fourth quarter when Davis took an inadvertent elbow from Warriors center Kevon Looney and appeared to be in a great deal of pain.
After leaving the game, Davis didn't return to the court, with reports suggesting he needed a wheelchair to go to the locker-room.
Lakers coach Darwin Ham remained positive about Davis appearing in Friday's Game 6 in Los Angeles.
"He took a shot to the head. He seems to be doing really good already. That's where he's at and the status of it right now," Ham said.
The two teams will go now toe-to-toe in Game 6 at Crypto.com Arena as the hotly-contested series rumbles on and James is confident of an improved performance all-round from his team.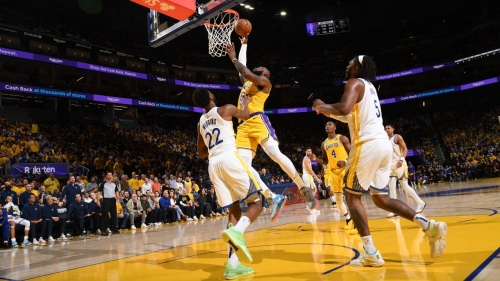 James shoots the ball during Game 5.
Noah Graham/NBAE/Getty Images
"Obviously they played exceptionally well here tonight, and we had some good moments, but not as close to 48 minutes as we needed to be, but we've got another opportunity on Friday, and we look forward to the matchup again," James said.
"We didn't handle our business tonight, so I look forward to seeing our fans for another game in the second round."