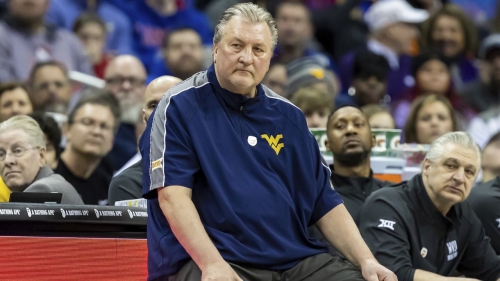 Bob Huggins has been the West Virginia men's basketball coach for the last 16 years.
Nick Tre. Smith/Icon Sportswire/AP

CNN
—
West Virginia University (WVU) head men's basketball coach Bob Huggins has had his salary reduced $1 million per year, given a three-game suspension and will be required to participate in sensitivity training following his "abhorrent" comments made while appearing on a Cincinnati radio show on Monday.
After his appearance, Huggins apologized and admitted there was no excuse for his hurtful language.
Before his docked pay was announced on Wednesday, Huggins' annual salary was due to be $4.15 million before incentives, according to a school spokesperson.
Huggins' suspension includes the Mountaineers' upcoming first three regular season games.
A graduate of WVU and the school's head men's basketball coach for the last 16 years, Huggins also had his multi-year contract amended to a year-to-year deal.
'Words matter'

WVU president E. Gordon Gee described the long-time Mountaineers coach's language as " inexcusable" and "offensive."
"We will never truly know the damage that has been done by the words said in those 90 seconds. Words matter and they can leave scars that can never be seen," Gee said Wednesday.
"But words can also heal. And by taking this moment to learn more about another's perspective, speak respectfully and lead with understanding, perhaps the words 'do better' will lead to meaningful change for all."
The school says Huggins and all athletics department will also "partner with WVU's LGBTQ+ Center to develop annual training sessions that will address all aspects of inequality including homophobia, transphobia, sexism, ableism and more."
"I deeply regret my actions," Huggins said Wednesday. "I also regret the embarrassment and disappointment it has caused our Athletics family, members of our campus community and the state of West Virginia.
"I am sorry for the hurt and distress I have caused our students and our student-athletes. I represent more than just our University and our basketball program, and it pains me to know that I have let so many people down.
"I am looking forward to working with WVU's LGBTQ+ Center and other state organizations to learn more about the issues facing the community," added Huggins. "As a leader, I am eager to use my platform to take what I learn and share it with a broader audience."