A mugshot of Rudy Giuliani was released Wednesday after the former New York City mayor turned himself in at an Atlanta jail on charges connected to alleged efforts to overturn the results of the 2020 presidential election in Georgia.
Giuliani, 79, was indicted last week along with Trump and 17 others. Fulton County District Attorney Fani Willis said they participated in a wide-ranging conspiracy to subvert the will of the voters after the Republican president lost to Democrat Joe Biden in November 2020.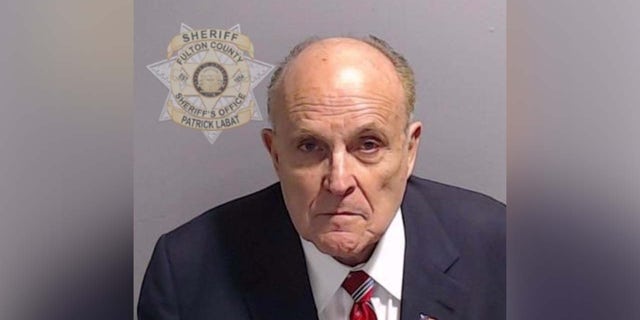 A mugshot of former New York Mayor Rudolph Giuliani. (Fulton County Sheriff)
Giuliani is accused of spearheading Trump's efforts to compel state lawmakers in Georgia and other closely contested states to illegally appoint electoral college electors favorable to Trump.
2 TRUMP CO-DEFENDANTS BOOKED IN FULTON COUNTY JAIL
Bond for Giuliani, who was released after booking like the other defendants, was set at $150,000, second only to Trump's $200,000.
Other high-profile defendants also surrendered Wednesday, including Jenna Ellis, an attorney who prosecutors say was involved in efforts to convince state lawmakers to unlawfully appoint presidential electors, and lawyer Sidney Powell, accused of making false statements about the election in Georgia and helping to organize a breach of voting equipment in rural Coffee County.
Georgia was one of several key states Trump lost by slim margins, prompting the Republican and his allies to claim the election was rigged in favor of his Democratic rival Biden.
Giuliani is charged with making false statements and soliciting false testimony, conspiring to create phony paperwork and asking state lawmakers to violate their oath of office to appoint an alternate slate of pro-Trump electors.
CLICK HERE TO GET THE FOX NEWS APP
The Associated Press contributed to this report.