Wildlife photographers in Florida's Everglades National Park recorded a wild video of a massive Burmese python slithering across a road earlier this month.
Kym Clark was with friends when they came upon the snake laying in the middle of the road before the reptile began sidewinding its way into the grass away from the group.
"No, Siri, we don't want to proceed to the route!" Clark joked in a caption on the Instagram post, estimating that the predator was at least 15 feet long.
Clark said the photographers pinned the python's location and reported it to authorities since the reptiles "are a huge threat to our ecosystem."
FLORIDA MAN CAPTURES 28 BURMESE PYTHONS TO WIN TOP PRIZE IN STATE'S ANNUAL CHALLENGE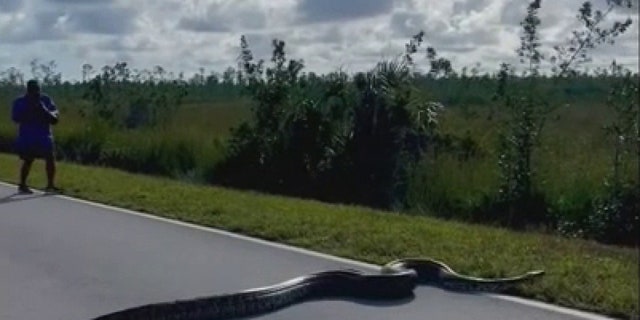 Clark estimated that the Burmese python was at least 15 feet long.
(Kymberly Clark via Storyful)
Social media users questioned why Clark didn't kill the giant snake herself by various means, including running it over with her car.
Clark responded that the snakes "must be killed humanely with guns. I don't own a gun. Running it over would have put many humans in danger. Not a smart move."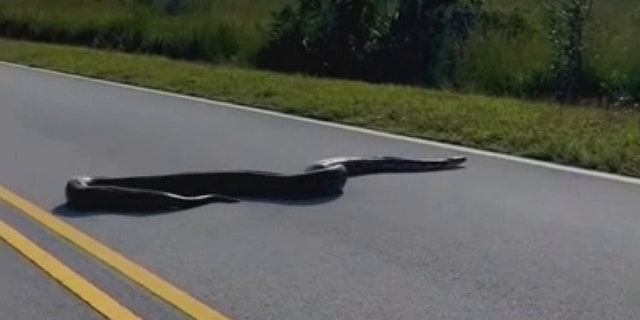 Clark said she captured video of the giant snake at Florida's Everglades National Park on Jan. 2.
(Kymberly Clark via Storyful)
The snake began appearing in the Everglades more than 20 years ago when the reptiles were imported as pets, according to the U.S. Department of Agriculture. Many were believed to have escaped or were released into the wild.
DEER SMASHES THROUGH DOORS OF MINNESOTA BUTCHER SHOP
The apex predator has caused severe declines in mammal populations in the Everglades, including endangered species, according to the Everglades Cooperative Invasive Species Management Area.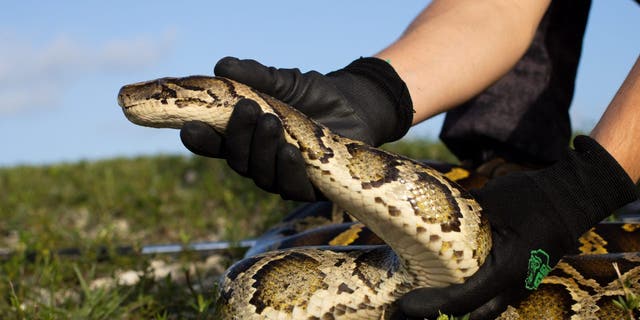 A Burmese python is a nonnative species in Florida that is damaging the ecosystem.
(FWC photo by Andy Wraithmell, File)
Wildlife officials encourage the removal or humane killing of the Burmese python to reduce its impact on the environment. The pythons can be killed at any time throughout the year and no permit is required, according to the Florida Fish and Wildlife Conservation Commission.
CLICK HERE TO GET THE FOX NEWS APP
The snakes can reach a length of over 25 feet and weigh as much as 200 pounds. The average size of a python removed in Florida is usually between 8 and 10 feet, the agency said.