close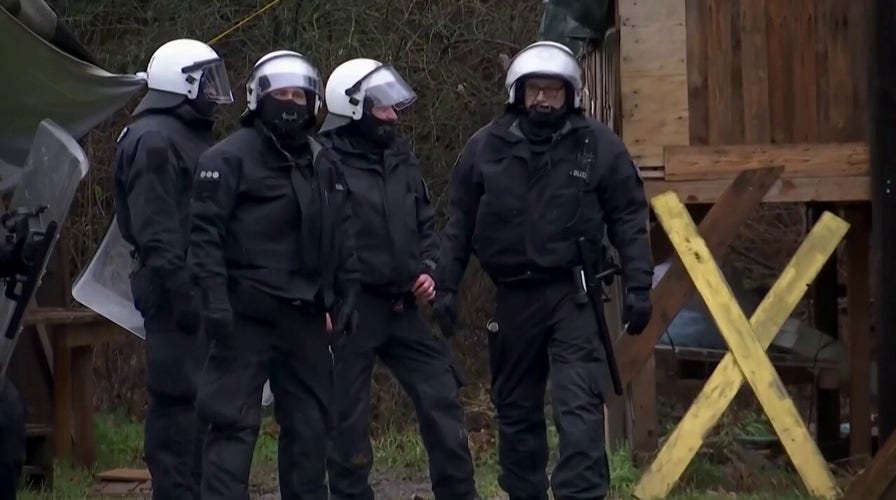 Video
German police remove climate protesters from abandoned village
Hundreds of police started to clear climate protesters in a confrontation over a mine in Luetzerath, Germany. (Reuters)
German police continued a crackdown on anti-coal protesters who are camped out in an abandoned town slated to be demolished for the expansion of coal production.
A large force of German police surrounded the western German town of Luetzerath on Wednesday and continued blocking any new protesters from coming into the village. The police then moved in to continue forced evacuations of anti-coal protesters encamped there, according to a report from France 24.
"They took the first aid team out of the camp by force," said Mara Sauer, a spokesperson for the activists, according to France 24. "Only some were able to stay in hiding."
GERMANY'S RELATIONSHIP WITH IRAN UNDER FIRE AS WEAK LINK AGAINST REGIME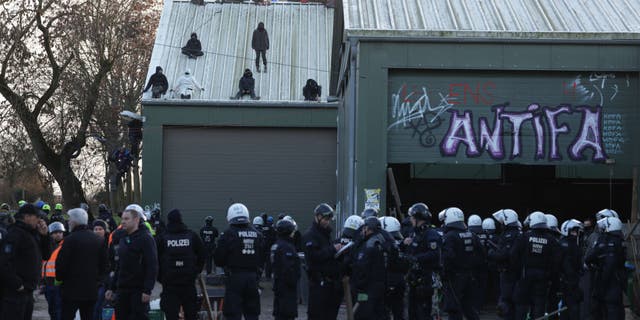 Activists who barricaded themselves in a barn sit on its roof after police entered the building at the settlement of Luetzerath in Germany.
(Sean Gallup/Getty Images)
The village has become a flashpoint for anti-coal protesters in Germany, who have grown frustrated by the country's lack of ability to transition away from the fossil fuel source to greener forms of energy.
The encampment of protesters once numbered about 2,000, but police efforts to root them out have dwindled their numbers to around 200 as of Wednesday.
Activists sounded alarms as police began to push into the encampment Wednesday, with some demonstrators clinging to trees while others built structures in high spaces in an attempt to evade officers.
Protesters led chants against police from loudspeakers while some began an impromptu violin concert from the rooftops of an abandoned house in an attempt to encourage their fellow remaining protesters. Others tied themselves inside metal barrels and resisted attempts by police to talk them out.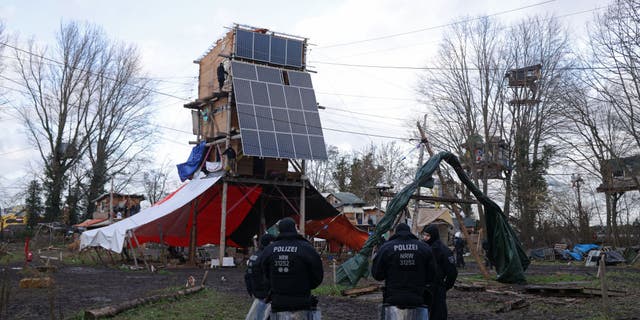 Riot police stand next to a multi-story wooden structure built and still occupied by activists at the settlement of Luetzerath in Germany.
(Sean Gallup/Getty Images)
GERMAN CLIMATE ACTIVISTS PROTEST THE DEMOLITION OF AN ABANDONED VILLAGE THAT'S SET TO BE TURNED INTO A MINE
"We can't untie them, not today anyway. For that, we need special shears" a police officer said.
"We have other things to do at the moment, one thing at a time," another added.
Police said Wednesday that the operation to clear the remaining protesters could take weeks, while a German government spokesman told France 24 that the government understood that the debate over the town is "very emotional."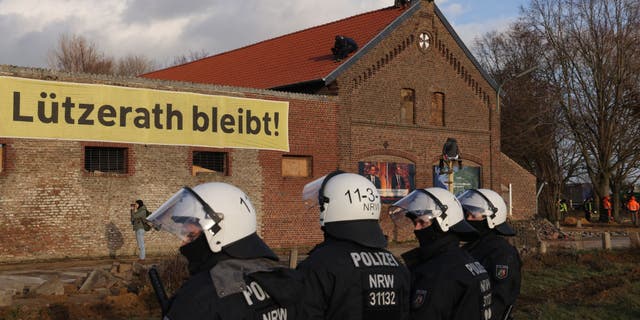 Riot police stand outside a farmhouse in which activists barricaded themselves at the settlement of Luetzerath in Germany.
(Sean Gallup/Getty Images)
Despite that, the spokesperson argued that there is a "clear legal situation" allowing for the town to be dug up to mine coal, and he encouraged demonstrators to respect the law.
"This is part of our democratic understanding, it is part of an agreement, and this is the law in force. The government, therefore, expects the law to be respected, and the police are there to enforce the law," the spokesperson said, adding that police would have "no sympathy" for violence.
GERMAN POLICE DETAIN IRANIANS ACCUSED OF PLOTTING 'ISLAMIST-MOTIVATED ATTACK' AFTER US TIP
Police have also warned against violence, taking to social media to urge demonstrators to "cease and desist throwing Molotov cocktails."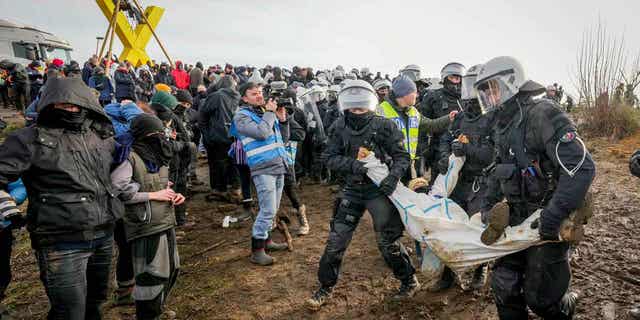 Police carry a demonstrator to clear a road at Luetzerath, Germany, on Jan. 10, 2023.
(AP Photo/Michael Probst)
But reporters and witnesses on the ground near the town have said the majority of protesters have been peaceful, with one protester saying she has not seen any violence from police or demonstrators.
"Everything happened calmly, we were singing carols, then one of my comrades was picked up, and I was pulled with him," said Eire, a college student in her 20s.
Police have promised that those detained in the clearing operation will not be arrested, but they also noted that the protesters will be removed from the town and prevented from returning.
CLICK HERE TO GET THE FOX NEWS APP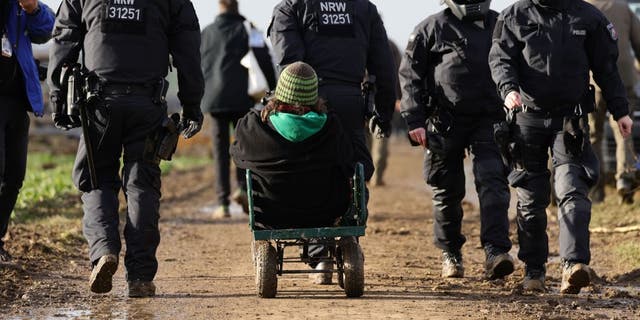 Police carry away activists at the settlement of Luetzerath, Germany, on Jan. 11, 2023.
(Andreas Rentz/Getty Images)
The show of force was made necessary as a result of an agreement that RWE, the energy company that owns the neighboring mine, would expand its operations into Luetzerath to mine for coal, necessitating that the rest of the abandoned town be demolished.
On Wednesday, the company took to social media to urge protesters to cooperate with efforts to clear the town, arguing that the expansion of coal mining in the area is needed amid Russia's invasion of Ukraine and the resulting energy crisis in Germany.
"Luetzerath coal is needed… during the energy crisis and thus use less gas in electricity generation," the company wrote.
Michael Lee is a writer at Fox News. Follow him on Twitter @UAMichaelLee