close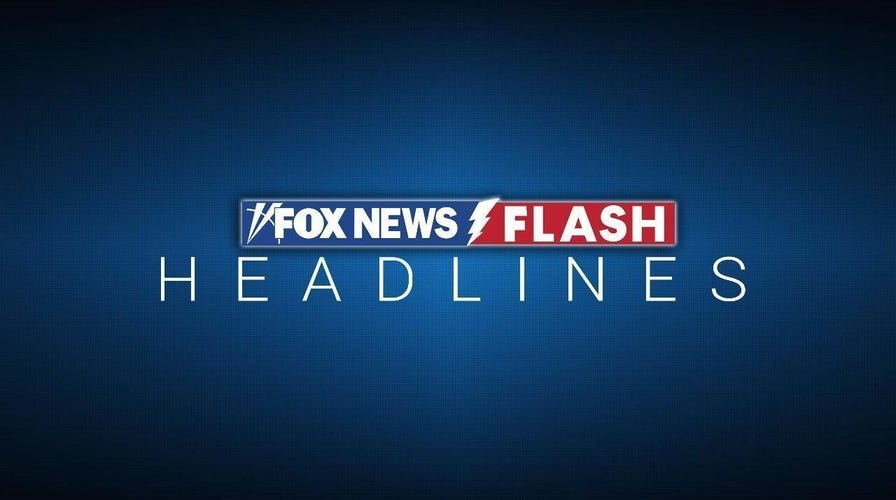 Video
Fox News Flash top headlines for April 5
Fox News Flash top headlines are here. Check out what's clicking on Foxnews.com.
German Chancellor Olaf Scholz's spokesman on Wednesday defended Berlin's record on delivering arms to Ukraine after the vice chancellor, a rare prewar advocate of providing Kyiv with weapons, said this week he was "deeply ashamed" that it took Germany so long to shift its position.
Vice Chancellor Robert Habeck, who is also Germany's economy minister and responsible for energy, took a business delegation to Ukraine this week on his first trip to the country since Russia launched its full-scale invasion last year.
In May 2021, Habeck — then a co-leader of Germany's Green party, which was in opposition — visited Ukraine and called for the delivery of "defensive weapons." His comment drew widespread criticism at the time, even within his own party.
GERMAN CLIMBER FATALLY FALLS DOWN MOUNTAIN PASS NEAR SWISS RESORT OF ZERMATT
A video clip of his Monday meeting with President Volodymyr Zelenskyy, posted on the Ukrainian leader's Telegram channel, showed Habeck saying of Germany's weapons deliveries to Ukraine, "We changed our position, but it took too long and was too late."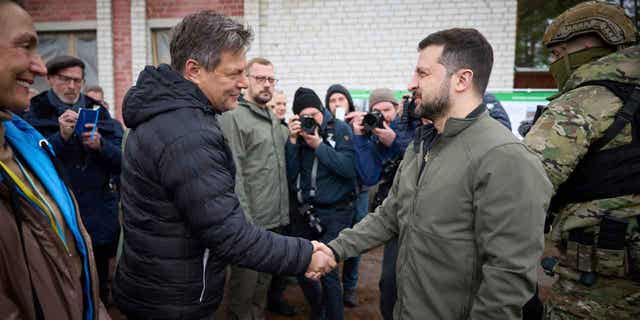 Ukrainian President Volodymyr Zelenskyy, right, shakes hands with German economy and climate minister Robert Habeck in the Chernihiv region of Ukraine, on April 3, 2023. Olaf Scholz's spokesman on April 5, 2023, defended his country's record on delivering arms to Ukraine after Habeck, a pre-war advocate of providing Ukraine with arms, said this week he was "deeply ashamed" that it took Germany so long to do so. (Ukrainian Presidential Press Office via AP, File)
"I think not all of the German politicians would say the same, but I feel deeply ashamed," Habeck said. He stressed that part of his job over the past year has been "to help delivering weapons as fast and as many as we could, and this is an ongoing promise."
GERMAN PENSIONS WILL RISE SIGNIFICANTLY THIS SUMMER FOR THE SECOND CONSECUTIVE YEAR
Scholz's government, which took office in December 2021, started giving Ukraine weapons shortly after Russia invaded the country. Although Germany has become continental Europe's biggest supplier of arms to Ukraine, the German government and Scholz have continued to face periodic criticism for perceived reluctance to step up aid — notably ahead of a decision in January to supply battle tanks.
Scholz's spokesman, Steffen Hebestreit, on Wednesday defended the government's approach.
CLICK HERE TO GET THE FOX NEWS APP
"The chancellery is still firmly of the opinion that we have done exactly the right thing, always at the right time," he told reporters in Berlin. Hebestreit pointed to the German leader's oft-repeated principles of supporting Ukraine as strongly as possible, preventing a direct conflict between Russia and NATO, and acting in coordination with allies, "above all with our American partners and friends."
Hebestreit said he didn't want to comment on Habeck's words, which "stand for themselves."