Fulton County District Attorney Fani Willis is expected to start presenting her election case against former President Trump and allies before a grand jury as soon as Monday.
The Atlanta Journal-Constitution reported that Willis' prosecutors are to begin Monday morning at the courthouse in Atlanta, noting how former Georgia Lt. Gov. Geoff Duncan and independent journalist George Chidi separately confirmed over the weekend that they were notified they will testify before a 23-person grand jury on Tuesday.
The case could result in the second indictment against Trump in two weeks over alleged efforts to overturn the 2020 election results. Trump has been charged federally in connection with the alleged plot as a result of Special Counsel Jack Smith's Jan. 6 investigation.
Willis could pursue racketeering charges against Trump and his allies, according to the Journal-Constitution. It has taken her between one and two days to present past RICO cases.
GEORGIA COURTHOUSE RAMPS UP SECURITY AHEAD OF POTENTIAL 4TH TRUMP INDICTMENT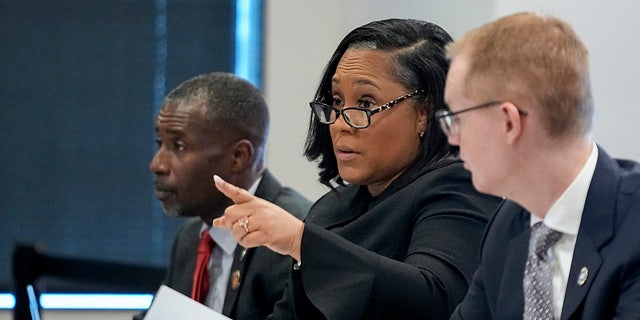 Fulton County District Attorney Fani Willis speaks in court in the Fulton County Courthouse, July 11, 2023, in Atlanta. (AP Photo/Brynn Anderson, File)
When asked during a Sunday appearance on "ABC News" if he had been called to testify this week, Gabe Sterling, a top official in the Georgia Secretary of State's Office, said, "My lawyer said I couldn't talk about this too much one way or another, but if I am called, when I am called, I will go and do what I did before: I will tell the truth, answer honestly."
Sterling answered questions before a separate special grand jury last summer.
Trump took aim at Willis in a TRUTH Social post Sunday.
"Why is 'Phoney' (Like in PERFECT 'PHONE' CALL, get it?) Fani Willis, the severely underperforming D.A. of Fulton County … leaking my name in regard to a Grand Jury pertaining to Election Fraud & Irregularities that I say took place in Georgia," Trump posted. "I made a PERFECT PHONE CALL OF PROTEST. What does Phoney Fani have to do with me? She should instead focus on the record number of murders in Atlanta!"
"The only Election Interference that took place in Fulton County, Georgia, was done by those that Rigged and Stole the Election, not by me, who simply complained that the Election was Rigged and Stolen," Trump wrote in a second post. "We have Massive and Conclusive Proof, if the Grand Jury would like to see it. Unfortunately, the publicity seeking D.A. isn't interested in Justice, or this evidence."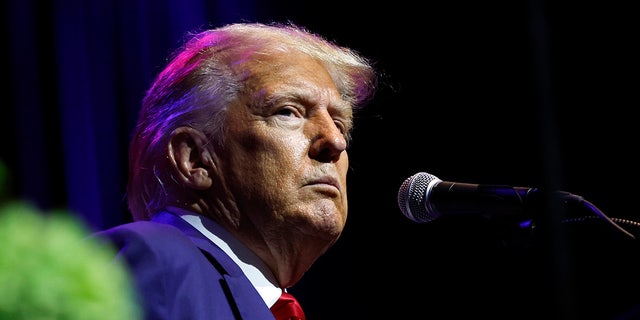 Former President Trump speaks at a fundraiser event for the Alabama GOP, Friday, Aug. 4, 2023, in Montgomery, Alabama. Trump could face a possible fourth indictment out of Fulton County, Georgia, this week. (AP Photo/Butch Dill, File)
LEGAL EXPERTS SLAM JACK SMITH FOR BRINGING 'LOUSY' CASE AGAINST TRUMP: 'DISINFORMATION INDICTMENT'
Willis has not confirmed that an indictment will come this week, though her previous comments and security preparations around the Fulton County Courthouse suggest that action could be imminent. She is widely expected to use Georgia's Racketeer Influenced and Corrupt Organizations, or RICO, law to charge not only the former president but also a collection of his allies for alleged participation in a wide-ranging conspiracy.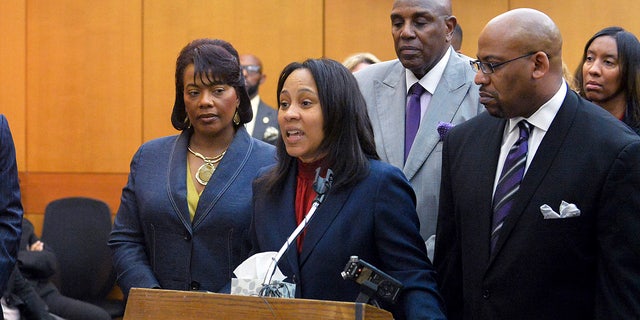 Fulton County Chief Senior Assistant District Attorney Fani Willis speaks during a news conference on April 14, 2015 in Atlanta. Willis' most prominent case as an assistant district attorney was a RICO prosecution against a group of Atlanta public school educators. She might bring RICO charges against former President Trump. (Kent D. Johnson/Atlanta Journal-Constitution via AP, Pool)
CLICK HERE TO GET THE FOX NEWS APP
Of the 3,571 people in custody in Fulton County on Friday, 1,683, or 47%, had not yet been indicted. Critics suggest that Willis' office should move more quickly to indict people facing serious charges. Trump has recently called Atlanta a "crime-ridden" city where "people are afraid to walk outside."
While it is true that Atlanta saw a spike in violent crime in recent years, the city police department data shows those levels have improved. As of Aug. 5, homicides were down 25%, rapes had dropped by 56% and aggravated assaults had decreased by 22% compared with the same time last year, according to The Associated Press.
The Associated Press contributed to this report.