Embattled Rep. George Santos, whose fate in Congress will be determined by the outcome of a House Ethics probe into alleged campaign finance law violations, claimed in a resurfaced 2020 podcast interview that he met Jeffrey Epstein and said he believes the disgraced financier was "murdered."
Santos, who admitted to fabricating easily verifiable details on his resume regarding a Jewish heritage, college degree and successful career at two Wall Street firms, was interviewed on The Rory Sauter Show, a conservative political podcast, on Aug. 12, 2020. At the time, he was only a Republican candidate running to represent New York's 3rd congressional district.
Maxwell, who would eventually be convicted for her role in a scheme to sexually exploit and abuse multiple minor girls with Epstein over the course of a decade, had just been charged by the Justice Department a month before and was placed on suicide watch at a Brooklyn jail despite her attorneys saying their client was not suicidal and solitary confinement prevented her from prepping for court.
"I'm not a conspiracy theorist here, but I know she holds the key to a lot of careers being obliterated, and that goes from politicians to businessmen and other influential people in this country," Santos told the podcast at the time, referring to Maxwell. "She should not be in custody in the United States. She should be in the UK or anywhere else in the world if she's granted protection. Maybe the U.K. is bad idea because the prince is there. But you get the picture."
GEORGE SANTOS ALLEGES HE SUFFERED 'ASSASSINATION ATTEMPT' IN INTERVIEW WITH BRAZILIAN PODCASTER: REPORT
Jeffrey Epstein mugshot (left). Rep. George Santos leaves a GOP caucus meeting on Capitol Hill on January 25, 2023 in Washington, DC. (right)
(Getty Images)
It appears Santos was referencing Prince Andrew, who would later settle with Epstein sexual abuse accuser Virginia Giuffre in February 2022.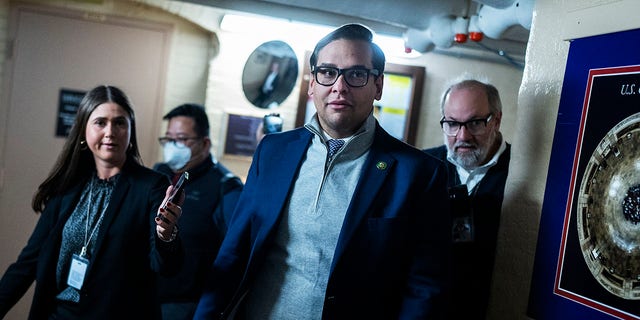 Rep. George Santos, R-N.Y., is seen outside a House Republican Conference Committee meeting in the U.S. Capitol on Tuesday, January 10, 2023.
( Tom Williams/CQ-Roll Call, Inc via Getty Images)
The Duke of York has denied the allegations that he raped and sexually abused Giuffre when she was 17, but a photo of him, Giuffre and Maxwell together at Maxwell's London apartment in 2001 was submitted as part of court documents. Now serving a 20-year prison sentence in Florida, Maxwell claimed in her first-post-conviction interview the photo is a "fake."
In the interview, Maxwell also said she wishes she "never met" Epstein, saying she also believes he was "murdered."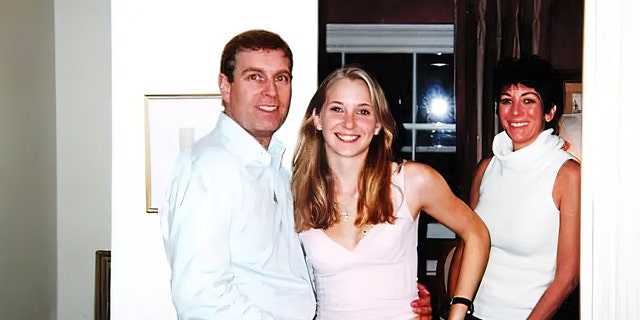 Photo from 2001 that was included in court files shows Prince Andrew with his arm around the waist of 17-year-old Virginia Giuffre who says Jeffrey Epstein paid her to have sex with the prince. Andrew has denied the charges. In the background is Epstein's girlfriend Ghislaine Maxwell. 
(U.S. Second Circuit Court of Appeals)
Epstein was charged in Manhattan federal court in July 2019 with the sex trafficking of a minor. He was later found dead in August 2019 in his New York City cell from an apparent suicide, according to the Justice Department.
"I just have a feeling we're going down the same path as Epstein, and we're gonna kill and silence a lot of justice by allowing this woman to be murdered," Santos continued in the 2020 interview.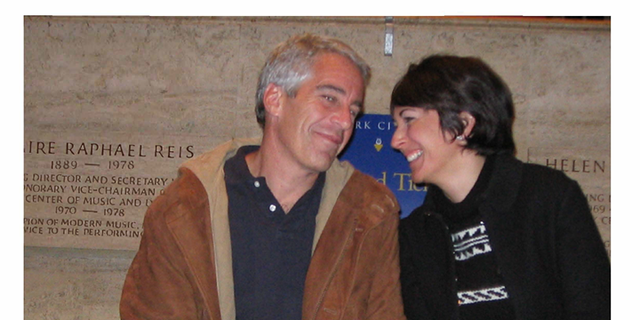 Jeffrey Epstein and Ghislaine Maxwell in an undated photograph.
(Justice Department)
The host then said he personally believed Epstein could still be alive and was secretly granted immunity.
"I believe he's dead, and I believe he was murdered. That's my conclusion," Santos countered.
"I met Epstein at a couple private equity conferences," Santos said. "I've never dealt with him personally, but I've met him, I've seen him. I'm 6' 2″ and the guy was taller than me. There's just no way you can hang yourself off of a bunk bed at that height. I can't hang myself off a bunkbed because human instinct kicks in and the first thing you do is stand up…"
CLICK HERE TO GET THE FOX NEWS APP
"The whole story is just so skewed. He didn't hang himself. He was murdered. And yes, he's dead – what proceeds to be my opinion," he said. "Hey look, it's 2020. I've seen the most bizarre, unthinkable, and unimaginable happen this year from the world economy crashes to New York City becoming a ghost town for three months. From looting and rioting being praised and law and order being literally demonized, I wouldn't put it past me, Rory, I wouldn't put it past me that he's still walking around and we're all like, 'Oh my God, the guy's alive.' You can't tell."