President Biden remained silent Wednesday as reporters pelted him with questions about the classified documents found at his home and the recent disclosure from former Vice President Mike Pence that he identified classified documents in his possession as well.
Biden announced Wednesday that the U.S. will send 31 Abrams M1 tanks to Ukraine, pledging continued support for Ukrainian President Volodymyr Zelenskyy for "as long as it takes" to repel Russia's invasion of the country. At the conclusion of his remarks, Biden ignored shouted questions from members of the press about Pence's recent disclosure concerning classified documents found at his home.
"Mr. President, any response to the Pence disclosures of classified documents," one reporter said.
"Sir, are the searches of your homes completed?" another said.
"Mr. President, when is Jeff Zients starting as your next chief of staff?" a reporter asked.
"Will they search Rehoboth?" asked another.
On Tuesday, Pence informed Congress that he found a small number of documents bearing classified markings from his time as vice president at his residence in Carmel, Indiana, on Jan. 16. The former vice president's legal team handed over the documents to the National Archives on Jan. 18, and the archives subsequently informed the FBI, per standard procedure.
Pence's revelations came after four separate batches of classified documents were found in Biden's possession, three at his home in Wilmington, Delaware, and one at his old office at the Penn Biden Center in Washington, D.C.
GOP SENATORS CAUTION AGAINST BIDEN IMPEACHMENT FOR CLASSIFIED DOCS: 'I THINK THE COUNTRY WILL FATIGUE OF THAT'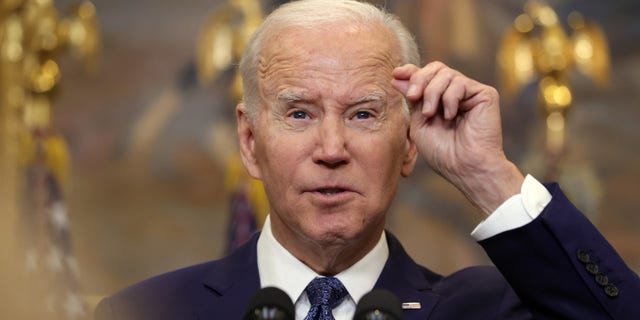 President Biden makes an announcement on additional military support for Ukraine in the Roosevelt Room of the White House on Jan. 25, 2023, in Washington, D.C. 
(Alex Wong/Getty Images)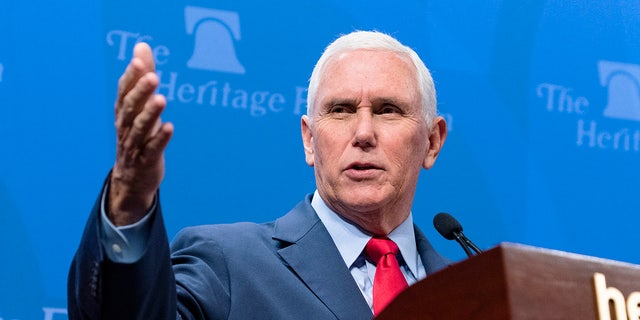 Former Vice President Mike Pence delivers a speech at The Heritage Foundation titled The Freedom Agenda and America's Future, in Washington, D.C., on Wednesday, Oct. 19, 2022.
(Tom Williams/CQ-Roll Call, Inc via Getty Images)
FORMER VICE PRESIDENT MIKE PENCE DISCOVERED CLASSIFIED DOCUMENTS IN INDIANA HOME
Attorney General Merrick Garland appointed a special prosecutor to investigate Biden's handling of classified documents. Another special prosecutor is investigating former President Donald Trump after more than 300 documents with classified markings were retrieved from Mar-a-Lago by the FBI in a highly controversial search and seizure last summer.
Republicans and Democrats have thrown around accusations of the other side holding double standards regarding the handling of classified material by Biden and Trump, respectively.
MIKE PENCE 'TROUBLED' BY REPORTS BIDEN'S ALLEGED MISHANDLING OF CLASSIFIED DOCS WAS KNOWN BEFORE ELECTION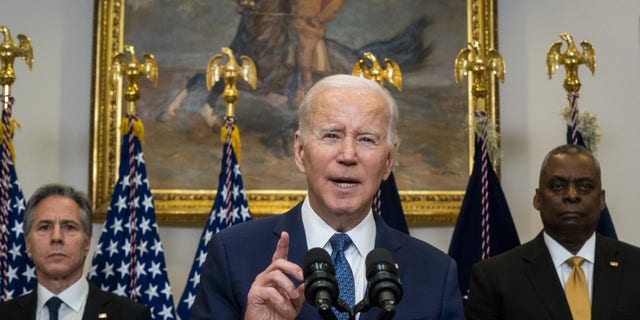 President Biden speaks in the Roosevelt Room of the White House in Washington, D.C., Wednesday, Jan. 25, 2023.
(Shawn Thew/EPA/Bloomberg via Getty Images)
House Speaker Kevin McCarthy has said that lawmakers will probe the handling of classified documents by both Trump and Biden.
The House Oversight Committee told Fox News Digital that Chairman Rep. James Comer, R-Ky., was informed by Pence's team Tuesday regarding the discovery of classified documents at his home.
"Former Vice President Mike Pence reached out today about classified documents found at his home in Indiana," Comer said in a statement. "He has agreed to fully cooperate with congressional oversight and any questions we have about the matter. Former Vice President Pence's transparency stands in stark contrast to Biden White House staff who continue to withhold information from Congress and the American people."
Fox News' Kelly Laco contributed to this report.