A handful of House Republicans filed legislation this week that would freeze United Nations funding for the next two years and use that money to finish work on a wall on the southwest U.S. border.
The Close Biden's Open Border Act, from Rep. Bob Good, R-Va., would raise an estimated $22 billion for the border wall, as the U.S. government contributes about $11 billion per year to the U.N.
Good said repurposing the U.N. money makes sense because of prior reports indicating the U.N. is funding nonprofit groups in Mexico to help migrants make the trek through that country to the southern U.S. border. A report last year from the Center for Immigration Studies, for example, said these U.N.-funded groups are coaching migrants to talk about government persecution in their home countries, in a bid to help them qualify for asylum in the U.S.
BIDEN BUILDS TAXPAYER-FUNDED WALL AROUND DELAWARE BEACH HOUSE DESPITE OPPOSING BORDER BARRIERS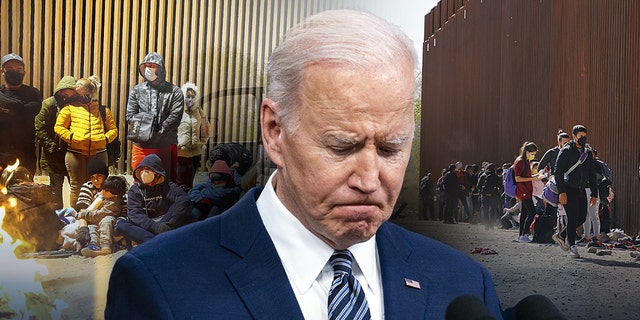 House Republicans are hoping to swap U.N. funding for border wall funding, and say President Biden has failed to do enough to stem the flow of illegal immigrants.
(Photo by Katie McTiernan/Anadolu Agency via Getty Images)
A statement from Good's office on the bill quoted Rosemary Jenks of NumbersUSA, who said the U.N. is "actively assisting and encouraging the surge of illegal aliens at the U.S. border."
"If the U.N. insists on using its funds to destabilize the integrity of our borders, it's only reasonable that we use our share of U.N. contributions for our own border security," Jenks said.
President Biden visited the border over the weekend, but Good said Biden has worked to reverse the tough border policies of the Trump administration, including the push to build a physical barrier to deter illegal entry. He said Border Patrol agents support the wall and that Biden has ignored this sound advice.
BIDEN ROASTED FOR ANNOUNCING HE WILL VISIT THE SOUTHERN BORDER AFTER TWO YEARS: 'TOO LITTLE, TOO LATE'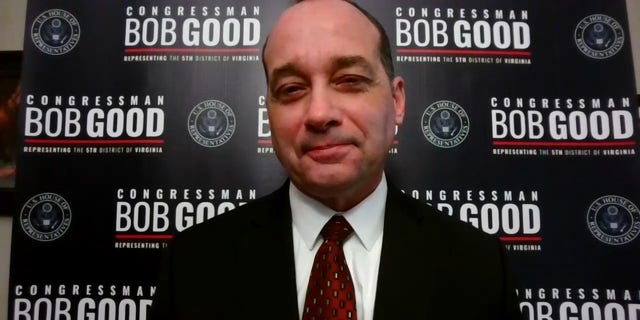 Rep. Bob Good, R-Va., is hoping to add billions in border wall funding with legislation that would take money from the United Nations.
"President Biden also promised amnesty to millions of illegal aliens, and his catch, process and release policies have allowed over 5.5 million illegal aliens to enter this country, that we know of, since he took office," Good said. "It is time to put Americans first and ensure that taxpayer money is prioritized toward keeping Americans safe."
"This legislation would ensure we finish the construction on the Border Wall, and do so with a surplus, while saving American taxpayers money in the process," Good said.
Good also slammed Biden for finally making it to the border after nearly two years in office.
BILL MELUGIN LAYS OUT WHY BIDEN DID NOT SEE THE ACTUAL BORDER CRISIS: 'THIS WAS HARD TO DO'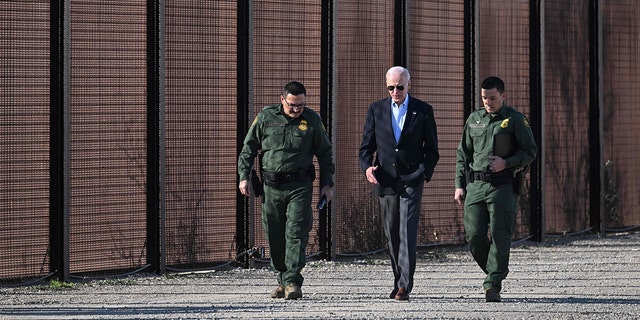 President Biden speaks with a member of the US Border Patrol as they walk along the U.S.-Mexico border fence in El Paso, Texas, on Jan. 8, 2023. 
(JIM WATSON/AFP via Getty Image)
"President Joe Biden finally visited the southern border for the first time after spending the first two years of his presidency ignoring the border invasion," he said. "I have been to the border five times since taking office in 2021, and I have seen firsthand the crisis at the border caused by President Biden's open-border policies."
CLICK HERE TO GET THE FOX NEWS APP
Reps. Matt Rosendale of Montana, Tom Tiffany of Wisconsin, Matt Gaetz of Florida, Mary Miller of Illinois and Thomas Massie of Kentucky are cosponsors of the bill.