close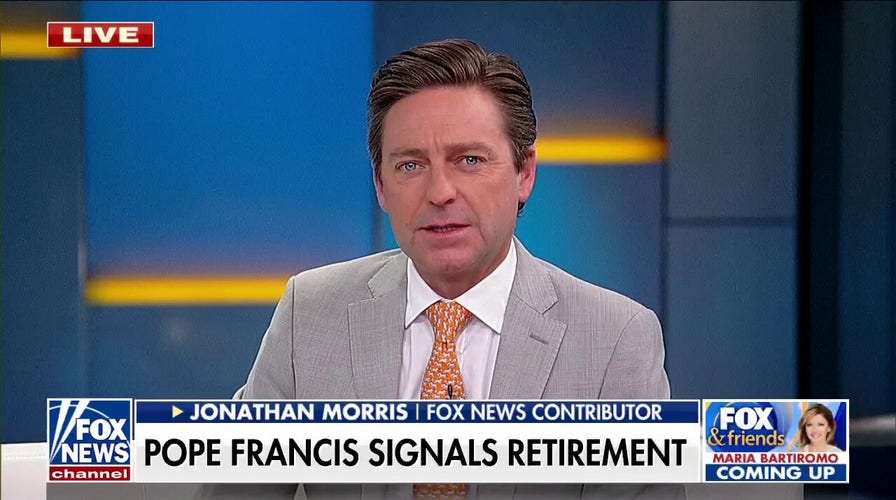 Video
Pope Francis retirement rumors driven by 'confusion': Jonathan Morris
Theologian and Fox News contributor Jonathan Morris responds to rumors that Pope Francis could soon retire amid alleged health concerns.
The Catholic Church is celebrating the 10th anniversary of Pope Francis's pontificate.
The pontiff – who began his papacy on March 13 2013 – did not make much spectacle of the papal milestone, though his reflections on the anniversary have been captured in bits and pieces via Vatican media.
"Time flies… it's in a hurry. When you want to grasp today, it is already yesterday," Pope Francis said in a special recorded message – dubbed by Vatican News as a "popecast."
POPE FRANCIS: 'GENDER IDEOLOGY' IS ONE OF 'MOST DANGEROUS IDEOLOGICAL COLONIZATIONS'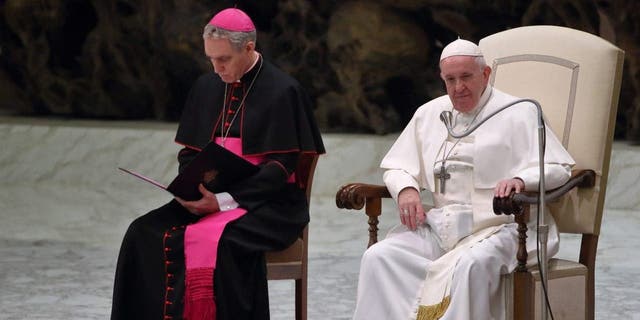 Pope Francis and German Archbishop Georg Gaenswein, prefect of the Pontifical House, during the weekly general audience in the Paul VI Hall, Vatican City, Jan. 15, 2023. (Grzegorz Galazka/Archivio Grzegorz Galazka/Mondadori Portfolio via Getty Images)
"To live like this is something new. These 10 years have been like this: living in tension," he continued.
Social media for the pope posted a short message as well, writing, "Thank you for having accompanied me with your prayers. Please continue to do so,"
Pope Francis focused much of his reflections on the continued Russian invasion of Ukraine, saying the gift he'd like most for his anniversary is "peace."
POPE FRANCIS WARNS CHURCH CANNOT BECOME 'PROGRESSIVE' OR 'CONSERVATIVE' 'POLITICAL PARTY'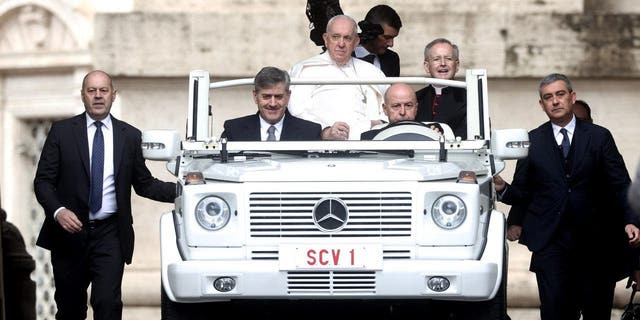 Pope Francis leads his general weekly audience in St. Peter's Square, on March 8, 2023, in Vatican City, Vatican. (Alessandra Benedetti – Corbis/Corbis via Getty Images)
"Fraternity, weeping, smiling. Human fraternity: we are all brothers, reassembling," the pontiff said about the future. "And then learn not to be afraid to weep and smile. When you know how to weep and smile, you have your feet on the ground and gaze on the horizon of the future. But if you can't weep, it means something is wrong. And if you forgot your smile, that's even worse."
This papacy has been most characterized by an ongoing friction between conservative and progressive wings of the Catholic Church – with both extreme ends of the spectrum taking issue with the pope's attitude and governance.
Pope Francis spoke out against gender theory in a recent interview, echoing his past comments expressing disapproval of transgender ideology.
POPE FRANCIS SAYS CATHOLIC CHURCH BANNING PRIESTS FROM ENGAGING IN SEX IS 'TEMPORARY'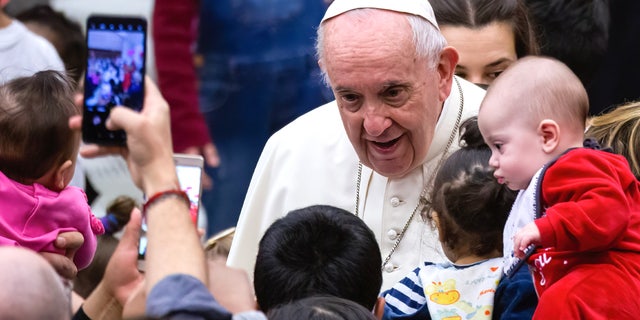 Pope Francis greets and blesses the children, assisted by the Vatican's Santa Marta Pediatric Dispensary, at the Paul VI Hall in 2019. (Stefano Costantino/SOPA Images/LightRocket via Getty Images)
"Gender ideology, today, is one of the most dangerous ideological colonizations," Francis said in the conversation.
While often accused of being a progressive religious leader, Pope Francis has remained consistently orthodox on doctrines regarding sexuality and celibacy.
However, recent comments explaining the adaptable nature of priestly celibacy drew accusations from conservatives that the pope was open to allowing Catholic priests to marry.
In a recent interview with an Argentine publication Infobae, Francis said the ban on priestly marriage was only "temporary" and that there is "no contradiction for a priest to marry."
POPE DERIDES BIDEN'S ABORTION VIEWS, CATHOLIC SELF-IDENTITY AS 'INCOHERENCE'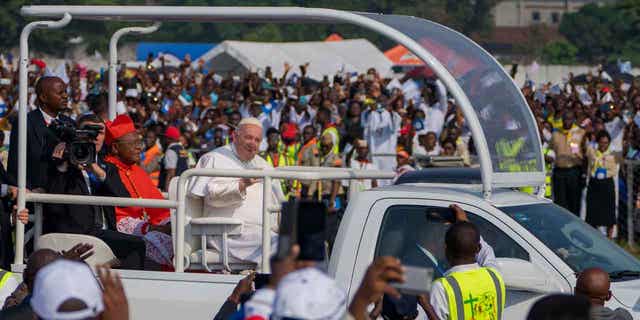 Pope Francis arrives to celebrate Holy Mass, in Kinshasa, Congo, Feb. 1, 2023. (AP Photo/Jerome Delay)
"There is no contradiction for a priest to marry. Celibacy in the western Church is a temporary prescription," Francis said. "It is not eternal like priestly ordination, which is forever whether you like it or not. On the other hand, celibacy is a discipline."
Clerical celibacy is a canonical law of the Catholic Church, but has never been considered a theological necessity. Catholic clergy outside the Latin Rite – such as the Coptic Catholic Church, Melkite Catholic Church, and the Armenian Catholic Church – are free to marry and have children.
Pope Francis has previous praised clerical celibacy as a "gift to the Church" and expressed that he is averse to changing the norms.
CLICK HERE FOR THE FOX NEWS APP
"Personally, I think that celibacy is a gift to the Church," he said in January 2019. "I would say that I do not agree with allowing optional celibacy, no."
Timothy Nerozzi is a writer for Fox News Digital. You can follow him on Twitter @timothynerozzi and can email him at [email protected]