close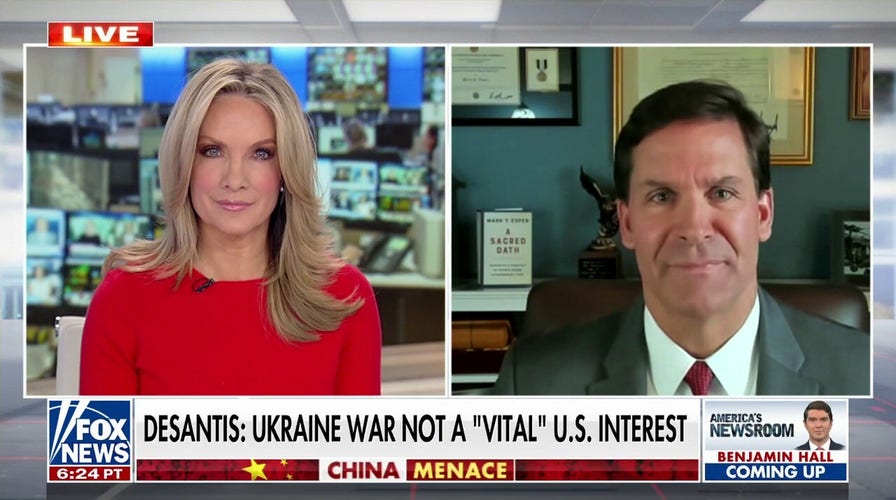 Video
Landmark nuclear submarine deal between US, Australia, UK sends message to China
Former Defense Secretary Mark Esper praises the project and reacts to President Xi and Zelenskyy's plan to speak.
China has issued a terse warning Tuesday that the U.S. and some of its allies are on a "dangerous path" after Washington agreed to sell nuclear-powered subs to Australia.
"The latest joint statement issued by the U.S., U.K., and Australia shows that the three countries have gone further down the wrong and dangerous path for their own geopolitical self-interest, completely ignoring the concerns of the international community," spokesperson Wang Wenbin told reporters at a daily briefing.
The deal, part of the AUKUS partnership between the three countries, will see the U.S. provide Australia with at least three nuclear-powered submarines beginning in the early 2030s, a move that aims to directly counter China's ambitions in the region.
The U.S. and Britain could deploy submarines to Australia as soon as 2027 to train crews in anticipation of the completion of the first submarines from the deal.
JOHN BOLTON WARNS US 'SITTING STILL' AS CHINA, RUSSIA 'SHORE UP THEIR RELATIONS'
The deal could see costs go up to $245 billion by 2055 – a considerable start for Australia's plans to build a full fleet over that time.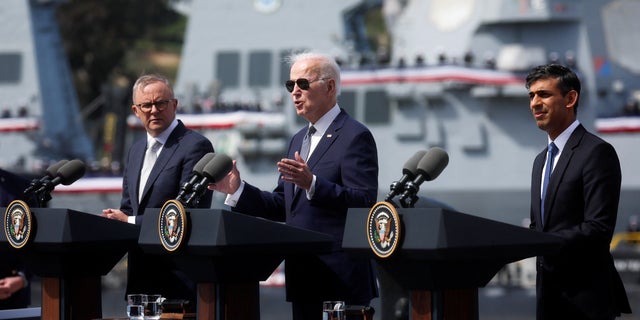 President Biden, center, Australian Prime Minister Anthony Albanese and British Prime Minister Rishi Sunak, left, deliver remarks on the Australia – United Kingdom – U.S. (AUKUS) partnership, after a trilateral meeting, at Naval Base Point Loma in San Diego March 13, 2023.  (Reuters/Leah Millis)
Australian Prime Minister Anthony Albanese, along with British Prime Minister Rishi Sunak and President Biden called the agreement part of their shared commitment to a free-and-open Indo-Pacific region.
Albanese claimed the deal presented "the biggest single investment in Australia's defense capabilities in all of our history." He added that the deal should result in around $4 billion invested in Australia's industrial capability over the next four years, creating 20,000 jobs over the decades to follow.
PRESIDENT XI PLANS TO MEET WITH ZELENSKY AFTER MEETING WITH PUTIN
Against the praise from the three allied nations, Beijing continued to underscore that China views this move as "typical Cold War mentality which will only motivate an arms race," which it argued will "damage the international nuclear nonproliferation regime and harm regional stability and peace."
Beijing argued that the deal may violate the 1970 Nuclear Non-Proliferation Treaty to limit nuclear weapons production.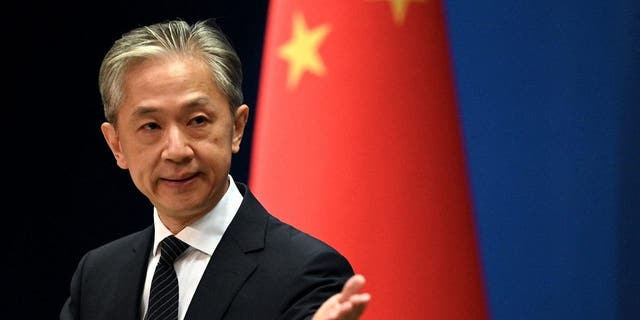 Chinese Foreign Ministry spokesman Wang Wenbin gestures during a press conference at the Ministry of Foreign Affairs in Beijing on Aug. 8, 2022. (Photo by NOEL CELIS/AFP via Getty Images)
Biden stressed that the submarines are "nuclear-powered, not nuclear-armed" and will "not have nuclear weapons of any kind" on them. The U.S. has only shared the technology once before in 1959 with the United Kingdom, according to NPR.
Australia's defense minister, Richard Males, argued the deal was one Australia "cannot afford not to make." He added that Australia had offered China a briefing on the deal.
RUSSIANS WARNED OF NUCLEAR ATTACK AFTER HACKERS BREAK INTO COUNTRY'S TV SERVICE
Biden also claimed that China would not see the deal as aggression and said he would expect to speak with Chinese President Xi Jingping soon, though he did not say when, according to The Hill.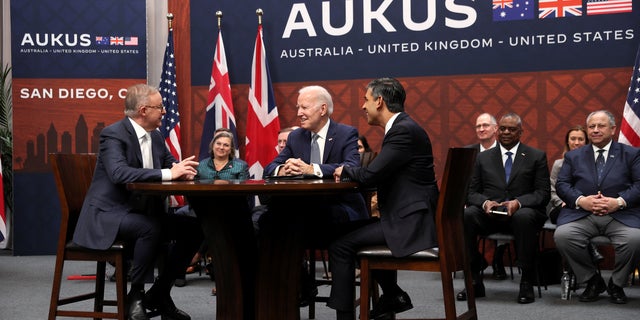 President Biden, center, Australian Prime Minister Anthony Albanese, left, and British Prime Minister Rishi Sunak gather for a trilateral meeting, at Naval Base Point Loma in San Diego March 13, 2023. (Reuters/Leah Millis)
Taiwan's foreign ministry welcomed the deal, saying it would help combat "authoritarian expansion" in the region.
CLICK HERE TO GET THE FOX NEWS APP
"The cooperation between the three parties will strengthen the deterrence capabilities of democratic countries in the Indo-Pacific region and help maintain regional peace and stability," it said in a statement.
Reuters contributed to this report.
Peter Aitken is a Fox News Digital reporter with a focus on national and global news.