Former Republican Rep. Will Hurd of Texas later this month will visit New Hampshire, the state that holds the first presidential primary in the Republican Party's nominating calendar.
The trip by Hurd, who served three-terms in Congress before deciding against running for re-election in 2020, will spark speculation that the one-time clandestine officer in the CIA is mulling a bid for the 2024 GOP presidential nomination.
Republican sources told Fox News on Friday that Hurd will address hundreds of party leaders, elected officials, and activists attending the New Hampshire GOP's annual meeting, which this year will be held on Saturday Jan. 28 in Salem, New Hampshire.
"This is a huge inflection point for the Republican Party as to whether or not we can beat Joe Biden in 2024. It's going to take a fighter with common sense who has already won tough races. Will Hurd has done that and helped others do it," a Republican close to Hurd's political orbit told Fox News.
IS WILL HURD'S NEW BOOK A PRELUDE TO A PRESIDENTIAL RUN?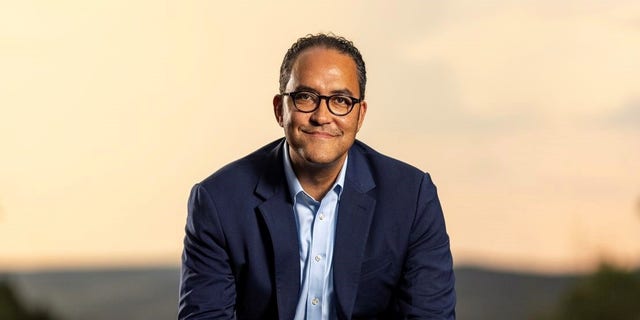 Former GOP Rep. Will Hurd of Texas, in a photo for his book "American Reboot: An Idealist's Guide to Getting Big Things Done," which released last March.
(Former Rep. Will Hurd)
The operative, who asked to remain anonymous to speak more freely, emphasized that "New Hampshire is the front line in that fight and it's a smart move to hear from Granite Staters before he makes a decision about his future."
Hurd grabbed national attention last spring, during a well-publicized book tour for "American Reboot: An Idealist's Guide to Getting Big Things Done."
In his book, Hurd urged his party to rethink its style of politics, and offered ideas to reform America's political system and keep the nation competitive against China and other powers.
MEET THE POTENTIAL 2024 GOP PRESIDENTIAL CONTENDERS
Hurd's book — which is partly a memoir about growing up in Texas with a Black father and White mother, his CIA career and his years in Congress during the administrations of Presidents Obama and Trump, and partly a prescription for his party and the country as a whole — appeared to some political pundits as a roadmap for a possible 2024 White House run.
But Hurd, who was only Black Republican in the House of Representatives during his tenure in Congress, told Fox News last April that "if I have the opportunity to serve my country, I'll evaluate it. I've been lucky to serve it in a number of different ways. But right now, for me it was important to put out some of these ideas because 72% of Americans think the country's on the wrong track and it doesn't have to be that way."
Asked in a September interview with the Texas Tribune if he was considering a presidential run, he answered "I will think about it."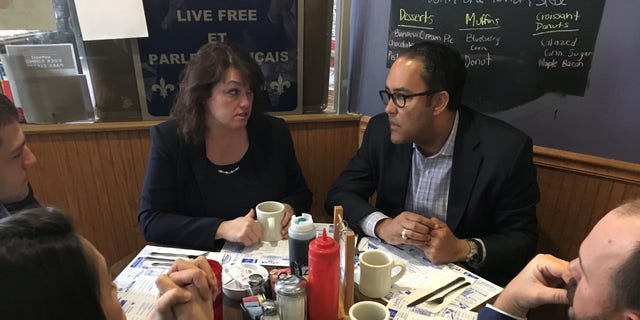 Then-GOP Rep. Will Hurd of Texas met with local Republicans in New Hampshire, as he campaigned during the 2020 cycle for fellow party members, on May 3, 2019 in Manchester, N.H.
(Fox News )
This isn't Hurd's first trip to New Hampshire. The then-congressman stopped in the key general election battleground state in 2019 to meet with local Republicans as he traveled the country on behalf of fellow GOP lawmakers and officials running in the 2020 elections.
Arkansas' Hutchinson sends 2024 signals
Former Arkansas Gov. Asa Hutchinson acknowledges that his two trips over the past week to Iowa — the state whose caucuses for a half century have kicked off the GOP presidential nominating calendar — are a sign that he's seriously considering a White House run.
"Going to Iowa probably does send some signals that your serious about looking at 2024," Hutchinson, who just completed serving eight years as governor, told Fox News.
FIRST ON FOX: HUTCHINSON HEADING BACK TO IOWA FOR SECOND TRIP IN A WEEK
Hutchinson was interviewed during his Thursday-Friday swing to the Hawkeye State, where he attended Gov. Kim Reynolds second inaugural, and also met with other GOP leaders to help celebrate Republican victories in Iowa in November's midterm elections. Hutchinson was also in Iowa on Monday, when he addressed a GOP legislative breakfast.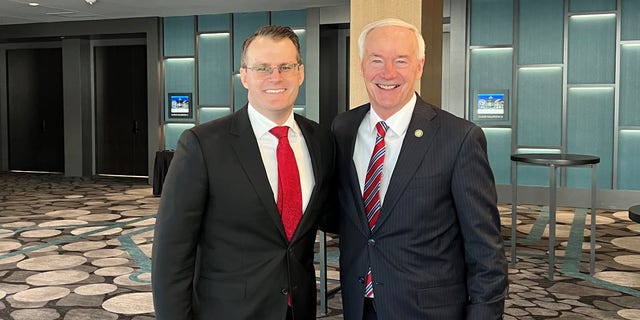 Former Republican Gov. Asa Hutchinson of Arkansas (right) teams up with newly inaugurated Iowa Lt. Gov. Adam Gregg, on Friday Jan. 13, 2023 in Des Moines Iowa
(America Strong and Free PAC)
The term-limited Arkansas governor, who was succeeded Tuesday by Sarah Huckabee Sanders, said his 2024 decision "would need to be made early in the second quarter or sometime in the first quarter… I'm not setting an artificial timeframe — I'm wanting to make sure that if I did become a candidate that there would be the kind of financial support that's needed."
Hutchinson called the reception he received from Iowans "very welcoming," and he highlighted the "connections between an ag state like Arkansas and Iowa, and all that we share together in terms of issues that we face — many of the same values are shared by the communities here. So there's a real connection."
A former federal attorney turned two-term congressman who served as Drug Enforcement Administration administrator and Department of Homeland Security undersecretary during then-President George W. Bush's administration, Hutchinson touts that he's a "consistent conservative."
CLICK HERE TO GET THE FOX NEWS APP
Former President Donald Trump is already in the GOP presidential nomination race, and there's a strong possibility that Florida Gov. Ron DeSantis, former Vice President Mike Pence, former Secretary of State Mike Pompeo, and former South Carolina governor turned former ambassador to the United Nations Nikki Haley also end up running for the Republican nomination.
Asked how someone like Hutchinson could compete with bigger names larger war chests, the former governor said "you've got to work hard and that's what's attractive about a place like Iowa. They like to look you in the eye and make a decision. It's a land of retail politics, which I'm accustomed to. It's getting to know people and their challenges and presenting your case to them. That's the beauty of American democracy."