Several classified documents were found at President Biden's home in Delaware, leading some to speculate the discovery could challenge his "competence" in office.
In 2020, Biden offered voters a contrast to voters who wanted to move on from the controversies of the Trump administration but, two years later, the Democratic president has his own share of scandals that now include the mishandling of classified information.
"An excruciating week of awkward disclosures and the appointment of a special counsel to investigate classified records found at his Delaware home and a former office dating to his time as vice president is beginning to strain his claim to competence," writes The Associated Press White House Correspondent Zeke Miller.
Miller, who has covered the presidency for The Associated Press since 2017, added: "It's an embarrassment to Biden, and the selection of a special counsel to investigate potential criminal wrongdoing in the matter exposes the president to a new, self-inflicted risk."
DEMS STILL SILENT AFTER LATEST BATCH OF CLASSIFIED DOCUMENTS FOUND AT BIDEN'S DELAWARE HOME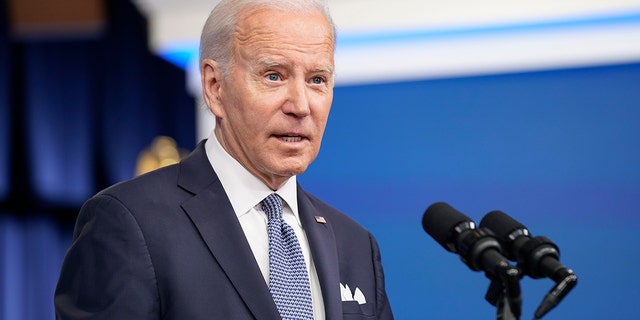 FILE – President Joe Biden in the South Court Auditorium in the Eisenhower Executive Office Building on the White House Campus, Thursday, Jan. 12, 2023, in Washington. 
(AP Photo/Andrew Harnik, File)
Richard Painter, the top ethics official in the George W. Bush administration, said Biden's behavior was "incredibly careless and really quite shocking."
"You never just pack stuff up and cart it out of there," Painter said, noting aides and lawyers would have to carefully sift through the official records that are property of the National Archives.
Painter said classified documents "have these distinctive markings on them" and described the discovery as "very worrisome."
He added: "It's a serious national security breach."
CONSERVATIVES BLAST BIDEN OVER LATEST BATCH OF CLASSIFIED INFORMATION FOUND: 'FBI RAID HAPPENS WHEN?'
The latest classified documents scandal also complicates the Justice Department's pursuit of Trump and whether or not to prosecute him for classified documents found at his Florida estate Mar-a-Lago.
The scandal also has some people recalling the words of former President Barack Obama, who said in 2020 that a Biden administration won't be "exhausting" like Trump's.
"It just won't be so exhausting," Obama said during the 2020 campaign, comparing Biden's term to Trump's. We're "not going to have to think about the crazy things … and that is worth a lot," he added.
In light of the discovery, Biden's own previous comments about Trump's controversy have also resurfaced.
BIDEN CAN'T KEEP CLASSIFIED DOCS IN THAT GARAGE, EX-WHITE HOUSE ETHICS LAWYER SAYS: 'THIS IS A DUMPSTER FIRE'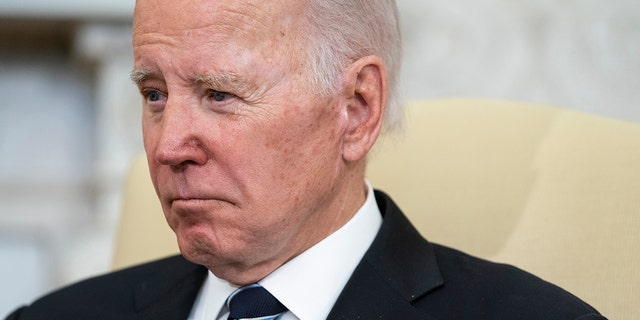 President Joe Biden during a meeting in the Oval Office of the White House, Friday, Jan. 13, 2023, in Washington. 
(AP Photo/Evan Vucci)
Trump was "irresponsible" in handling classified documents, Biden said after documents containing the nation's secrets were found at Trump's estate.
"How that could possibly happen, how anyone could be that irresponsible," Biden said during an interview on "60 Minutes" in September with CBS' Scott Pelley. "And I thought what data was in there that may compromise sources and methods. By that, I mean, names of people helped or et cetera."
Saturday's disclosure comes after documents were found in December in Biden's garage and in November, before the 2022 midterm elections, at his former offices at the Penn Biden Center in Washington, D.C. The documents were from his years as vice president.
The discovery also came amid some confusion surrounding what and how many pages were found.
5 MORE CLASSIFIED DOCUMENTS FOUND AT BIDEN'S DELAWARE HOME, WHITE HOUSE LAWYER SAYS
White House lawyer Richard Sauber said in a statement Saturday that a total of six pages of classified documents were found during a search of Biden's private library at his home in Wilmington, Delaware.
The White House had previously said only a single page was found containing classified information at the estate.
On Thursday, White House Press Secretary Karine Jean-Pierre said Americans would be confident to "assume" that no additional classified documents would be found and that a "final" search had been completed.
AG GARLAND APPOINTS SPECIAL COUNSEL TO INVESTIGATE BIDEN CLASSIFIED DOCUMENTS
She also said the White House was handling the discovery the "right way" and referred the matter to the Justice Department. Jean-Pierre deflected further questions.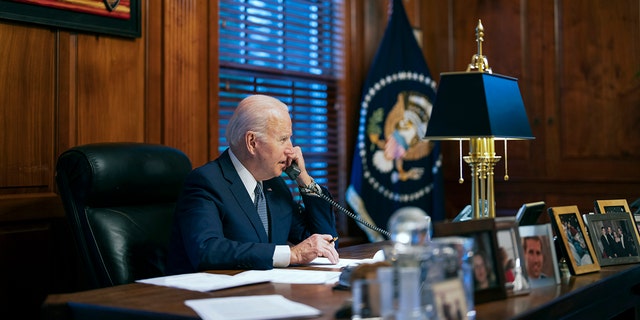 FILE – In this file image provided by The White House, President Joe Biden speaking on the phone from his private residence in Wilmington, Del., Dec. 30, 2021. 
(Adam Schultz/The White House via AP, File)
On Saturday, Sauber revealed that additional documents with classified information had been found.
Sauber clarified the order of events, saying that Biden's lawyers, who do not have security clearances, stopped searching through the documents once they saw the classified markings on the first page on Wednesday evening.
He then found the remaining material Thursday and allowed the Department of Justice to retrieve them.
CLICK HERE TO GET THE FOX NEWS APP
"While I was transferring it to the DOJ officials who accompanied me, five additional pages with classification markings were discovered among the material with it, for a total of six pages," Sauber said Saturday. "The DOJ officials with me immediately took possession of them."
Former U.S. attorney, Robert Hur has been appointed as a special counsel by Attorney General Merrick Garland.
The Associated Press contributed to this report.