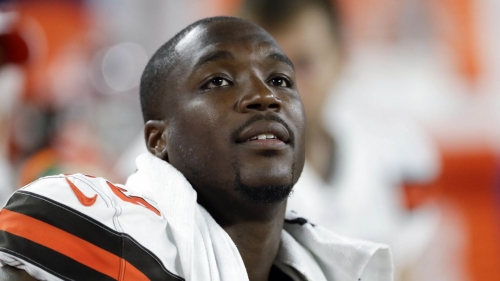 Chris Smith's NFL career spanned eight seasons and seven franchises, playing for five of the teams.
Ron Schwane/AP/File

CNN
—
Former NFL defensive end Chris Smith has died, his former agent said on Tuesday. Smith was 31. The cause of his death is not yet known.
Drew Rosenhaus of RSR Sports tweeted, "Rest in Peace Chris. Condolences to all his family, friends and loved ones. We will miss you."
Smith's high school alma mater also posted about his passing. "Rest in Peace to a West Rowan Legend!," West Rowan Football's account wrote on Twitter. "Chris was a better person than he was player! The impact he had on those around him will be remembered forever!"
Smith played in the XFL, a professional football league, as recently as Sunday when his Seattle Sea Dragons team defeated the St. Louis Battlehawks 30-12 in St. Louis.
"Chris was a powerful presence in the locker room," the XFL said in a statement to CNN. "Loved and admired by his teammates and the coaching staff. Our thoughts and prayers go out to his entire family at this difficult time."
Smith's NFL career spanned eight seasons and seven franchises, playing for five of the teams.
He was drafted in the fifth round in 2014 by the Jacksonville Jaguars, before going on to compete for the Cincinnati Bengals, the Cleveland Browns, the Las Vegas Raiders and most recently the Houston Texans in 2021.
In total he played in 72 NFL games, racking up 80 tackles and 11 sacks in those games, according to NFL.com.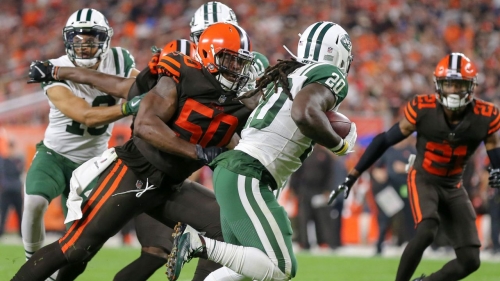 Smith spent eight seasons in the NFL and played for seven franchises.
Frank Jansky/Icon Sportswire/Getty Images/File
The Browns tweeted their condolences on Tuesday. "We are deeply saddened by the passing of former Browns DE Chris Smith," the message reads.
"Chris was one of the kindest people, teammates and friends we've had in our organization. Our thoughts and prayers are with his family during this difficult time."
Several of Smith's former teammates shared tributes to the North Carolina native.
"Rest in paradise Chris Smith," wrote Browns tight end David Njoku on Twitter. "Hometown hero and a brother to everyone. Such a kind soul. This is Heartbreaking."
Derek Carr, who was quarterback of the Raiders during Smith's time there, tweeted: "Love you bro" alongside a picture of he and Smith celebrating.
Roy Miller III, an NFL defensive tackle who played with Smith in Jacksonville, wrote: "My brother I was just thinking how proud I was of you chasing your dreams in the XFL you made a whole room laugh when you laughed you always found a way to make any situation positive RIH Smitty."
In 2013, Smith was named to the All-SEC Second Team for his performances with the University of Arkansas Razorbacks.