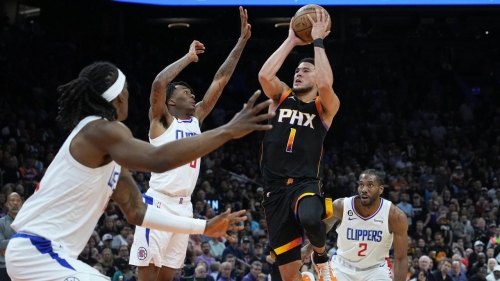 Devin Booker shoots against the Los Angeles Clippers during the second half of Game 2.
Matt York/AP

CNN
—
Devin Booker dropped 38 points and nine assists to lead the Phoenix Suns to a comfortable 123-109 victory over the Los Angeles Clippers on Tuesday and level their first round best-of-seven playoff series at 1-1.
The Clippers had stolen Game 1 behind some tough defensive play down the stretch last time out, but the Suns looked much more at ease on Tuesday in Game 2.
Booker was the primary offensive weapon in his 45 minutes on the floor, shooting 14-of-22 from the floor, including 4-of-7 from three-point range.
Afterwards, Booker's teammate Kevin Durant – who was acquired mid-season from the Brooklyn Nets – was full of praise for the 26-year-old.
"He's an all-around player," Durant told reporters. "He can do everything at an elite level on a basketball court."
Durant and Booker talk during the second half of Game 2.
Christian Petersen/Getty Images
Booker himself said he recognized the opportunity to step up given the heightened stakes the NBA playoffs bring.
"It's that time of year. Everything counts," he told reporters.
"I think with all the talent we have on the team, spacing is a big thing so just trying to give Kev [Durant] space, trying to give CP [Chris Paul] space, just putting everyone in the best position to succeed."
Durant himself added 25 points, six rebounds and five assists while Torrey Craig provided some much-needed shooting from outside with five three-pointers.
But despite the importance of second game of the series, Tuesday's game didn't start ideally for the Suns.
Phoenix trailed by 13 points at one point in the second quarter, but thanks to Booker's playmaking and some excellent mid-range shot making from the whole team, they clawed their way back into the contest.
Come the fourth quarter, the Suns never trailed, eventually claiming their first playoff win with Durant on the court – the team went 8-0 with the 2014 MVP on the court in the regular season.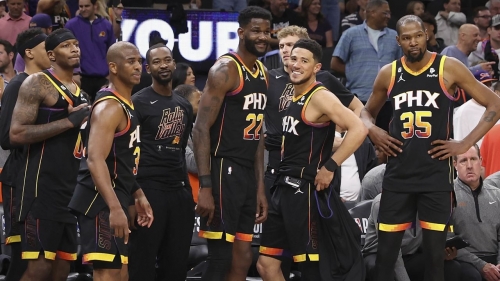 The Suns team react on the bench during the final moments of Game 2 against the Clippers.
Christian Petersen/Getty Images
Kawhi Leonard led the way for the Clippers with 31 points, eight rebounds and seven assists – he scored 38 in the series opener – while Russell Westbrook chipped in with 28 points, five rebounds and five assists.
Afterwards, Clippers head coach Tyronn Lue admired his opponent's ability to adapt to the different defensive looks Los Angeles threw at them.
"We tried to blitz. We tried to fire. We did a lot of different things," Lue told reporters. "They played great."
Game 3 of the series takes place on Thursday in Los Angeles.