Former Republican Kentucky Gov. Matt Bevin pulled a fast one on reporters last week by teasing another run for governor during a speech at the state's Capitol before oddly walking out and driving away rather than filing as a candidate.
Bevin showed up to the state Capitol in Frankfort Friday afternoon ahead of the 4:00 p.m. ET filing deadline to run for governor after hinting he would be jumping into the already crowded Republican field of candidates looking to unseat Democratic Gov. Andy Beshear in the off-year election.
"A beautiful day dawning In Kentucky… Make it a great day!" Bevin said in a Friday morning tweet.
"At 2:45pm in the Capitol rotunda (primarily for space reasons and because some of you are probably tired of sitting on the floor outside the SOS office [smiling emoji]), I will share a few thoughts before proceeding down the hall…," he added in a second tweet later in the day, hinting he would be going "down the hall" to file election paperwork.
KENTUCKY GOV. ANDY BESHEAR CHOSEN TO CO-CHAIR APPALACHIAN REGIONAL COMMISSION
After arriving at the Capitol, Bevin addressed the reporters and state legislators gathered in the rotunda for his speech, which lasted a little more than 20 minutes and consisted of him calling for solutions to problems he said were facing the state, including public school performance, the child welfare and foster care system, juvenile justice, infrastructure, crime, the economy, taxes, and the pension system for state employees.
Bevin later addressed the May Republican primary election and the already declared candidates, imploring them to "not eat each other up … tear each other up, and bring each other down."
He then turned his attention to Beshear and the Democrats.
"He's not the enemy. He's not the boogeyman. His party isn't the boogeyman," Bevin said. "We're all Kentuckians. Let's celebrate that fact. We're all in the boat. We're going to go faster if the boat goes faster. We're going to get our feet wet if there's a hole in the boat. It's as simple as that."
KENTUCKY GOV. ANDY BESHEAR DEFENDS HIS RECORD ON THE PANDEMIC, HIGH CONSUMER PRICES, CRIME, DRUG DEATHS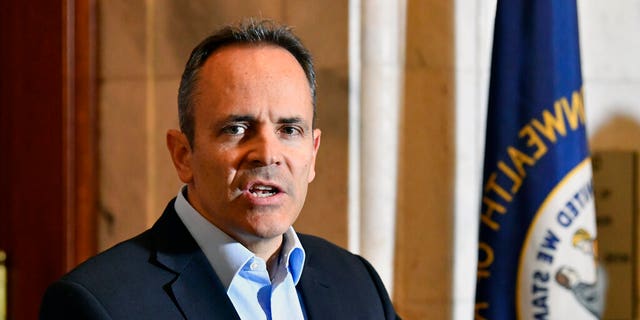 Then-Republican Kentucky Gov. Matt Bevin speaks with reporters as he conceded the gubernatorial race to Democrat Andy Beshear in Frankfort, Ky., Thursday, Nov. 14, 2019.
(AP Photo/Timothy D. Easley)
"I love this state. I want to see this state become the greatest version of itself that it could possibly be. And I'll look forward to seeing this primary unfold, this next election unfold, and the years ahead of us unfold, and I appreciate you all for listening. And now I'm going to head down the hall, and I'll say this as it relates to reading the tea leaves, Ben Goldey gets first place, and Victor Puentes gets honorable mention. God bless you," he concluded.
Bevin appeared to be referencing tweets by two people, one of which was a former staffer of his, that predicted he would not be filing to run for governor.
After concluding his speech, he walked out of the Capitol, down its steps, and entered a white van being driven by another individual which then drove away.
Reporters chased after Bevin as he exited the Capitol, asking if he could clarify whether he was running and if he had any further comments.
KENTUCKY GOV. BESHEAR URGES RESIDENTS TO VIEW NATIONAL BROADBAND MAP, PROVIDE FEEDBACK
"Thank you guys for coming. I appreciate it. Be bold out there. Wear the legislature out on these issues," he shouted back while walking away.
Bevin served as governor from 2015-2019 and was narrowly defeated by Beshear in the 2019 gubernatorial election.
CLICK HERE TO GET THE FOX NEWS APP
Bevin's decision not to jump into the race still leaves a number of high profile Republicans that will face off in the primary on May 16, including current Attorney General Daniel Cameron and former Trump U.N. Ambassador Kelly Craft.