close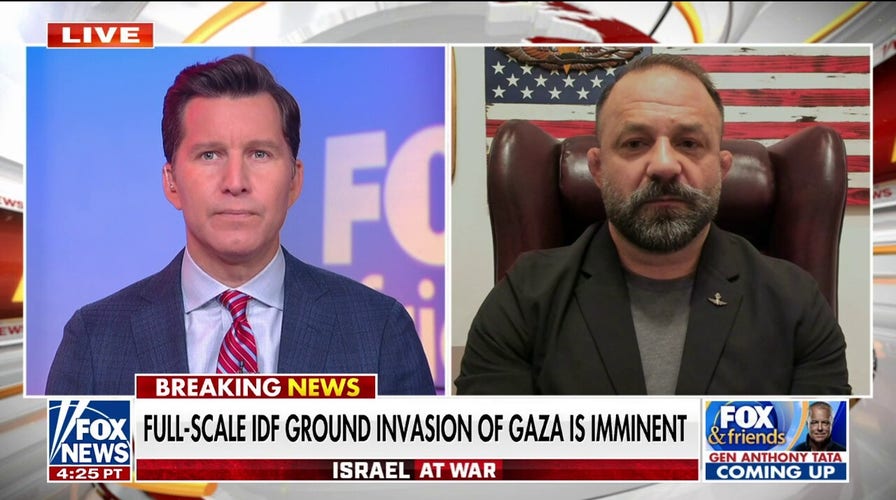 Video
Israeli forces are going to 'scorch' the Gaza strip, Marine veteran warns
Marine veteran Chad Robichaux weighs in as Israel prepares for an imminent full-scale ground invasion of Gaza.
Several countries have started to raise concerns about the growing humanitarian crisis in Gaza as Israel prepares for a ground invasion of the territory following a terrorist attack last week.
U.N. Secretary-General Antonio Guterres's spokesperson Stephan Dujarric on Saturday told Fox News Digital that "discussions are ongoing at various levels involving all parties concerned" about humanitarian access to Gaza. On the topic of potential human rights abuses on both sides, Dujarric said, "We are always concerned about potential human rights abuses."
He added that the Secretary-General has been in "intense" phone contact with U.S., Israeli, Egyptian and European officials, among others, to move forward as "quickly as possible on the critical issue of humanitarian access in Gaza."
At least 3,200 people have been killed since Hamas launched thousands of missiles into Israel last week, including at least 1,300 Israeli civilians and soldiers and 27 Americans. Palestinian health authorities say at least 2,215 Palestinians have been killed, and more than 8,700 wounded.
RUSSIA OFFERS TO MEDIATE ISRAEL-GAZA NEGOTIATIONS, PUTIN SAYS 'NO ALTERNATIVE' TO 2-STATE SOLUTION
The U.N.'s Guterres on Friday ahead of a Security Council meeting urged the need for humanitarian access "throughout Gaza" so that agencies could provide fuel, food and water to "everyone in need."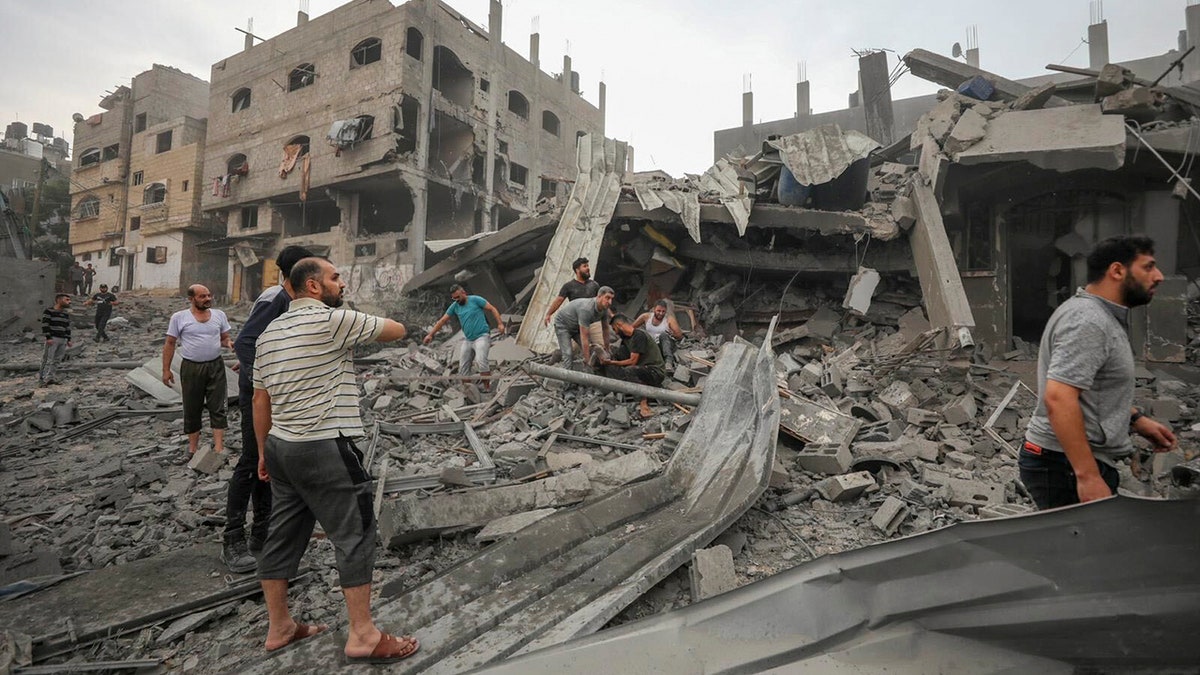 Palestinians search for survivors of Israeli aerial bombing on Jabaliya, near Gaza City, on Wednesday. (AP/Mohammad Al Masri)
"This is a time for the international community to come together around protecting civilians and finding a lasting solution to this unending cycle of death and destruction," he said. "Even wars have rules."
"International humanitarian law and human rights law must be respected and upheld, civilians must be protected, and also, never used as shields," he added, calling for all hostages in Gaza to be released immediately.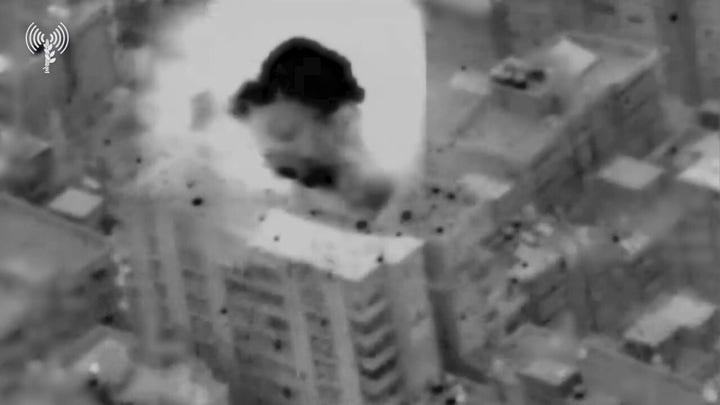 Video
Jordan's King Abdullah II met with U.S. Secretary of State Antony Blinken on Friday and stressed the need for international agencies to have clear access to Gaza and support for their duties, including humanitarian corridors for medical and relief aid.
VATICAN OFFERS TO MEDIATE ISRAEL-GAZA CONFLICT, NEGOTIATE HOSTAGE RELEASE
"His Majesty warned of any attempt to forcibly displace the Palestinians from all the Palestinian Territories or to cause their internal displacement, calling for preventing a spillover of the crisis into neighboring countries and the exacerbation of the refugee issue," the Royal Hashemite Court wrote on social media platform X.
Both Blinken and the king underscored the need for de-escalation in the region and an end to the hostilities while also addressing the humanitarian needs for civilians in Gaza, the U.S. State Department wrote of the meeting.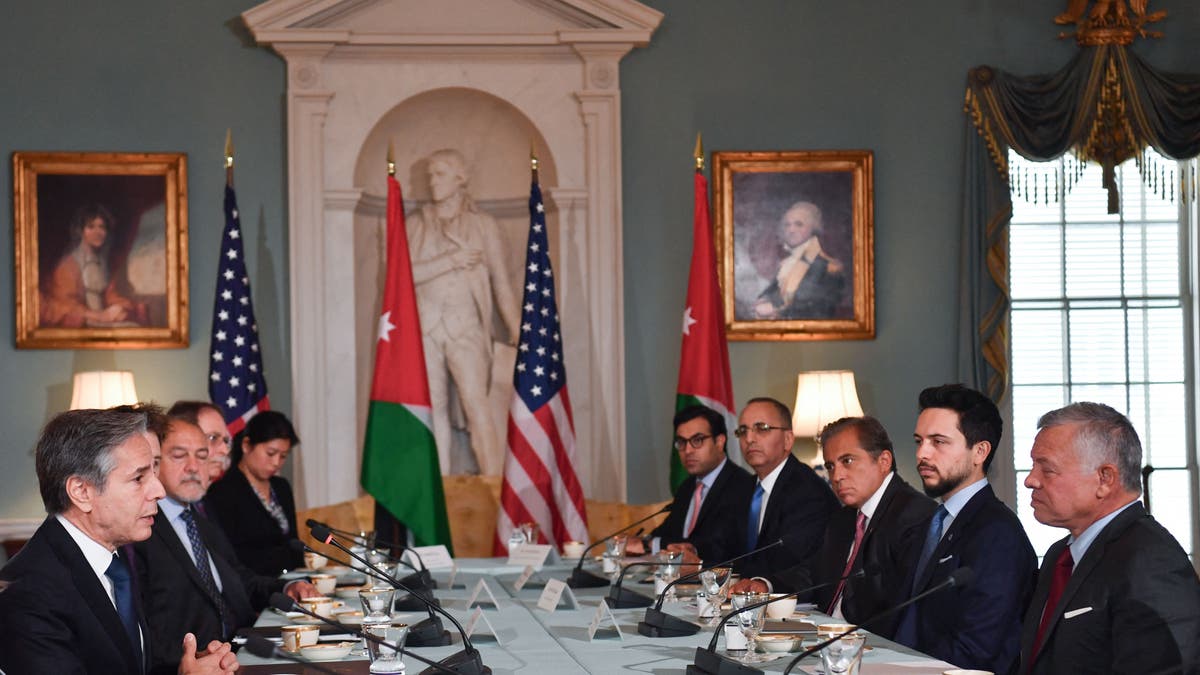 U.S. Secretary of State Antony Blinken (L) meets with Jordanian King Abdullah II (R) as Jordan's Crown Prince Hussein (2R) looks on at the State Department in Washington, D.C. on July 20, 2021. (Photo by Nicholas Kamm / POOL / AFP) (Photo by ) (Nicholas Kamm/POOL/AFP via Getty Images)
Israel sealed off the Gaza Strip, stopping the entry of food, water, medicine and fuel to the roughly 2.3 million residents while it continued to bombard the territory and demanding Hamas release the roughly 150 hostages its soldiers took during last Saturday's unprecedented attack.
Hamas on Saturday claimed that 13 of the reported 150 hostages they took had died during Israel's bombing of the territory, but no agency has yet been able to verify those claims.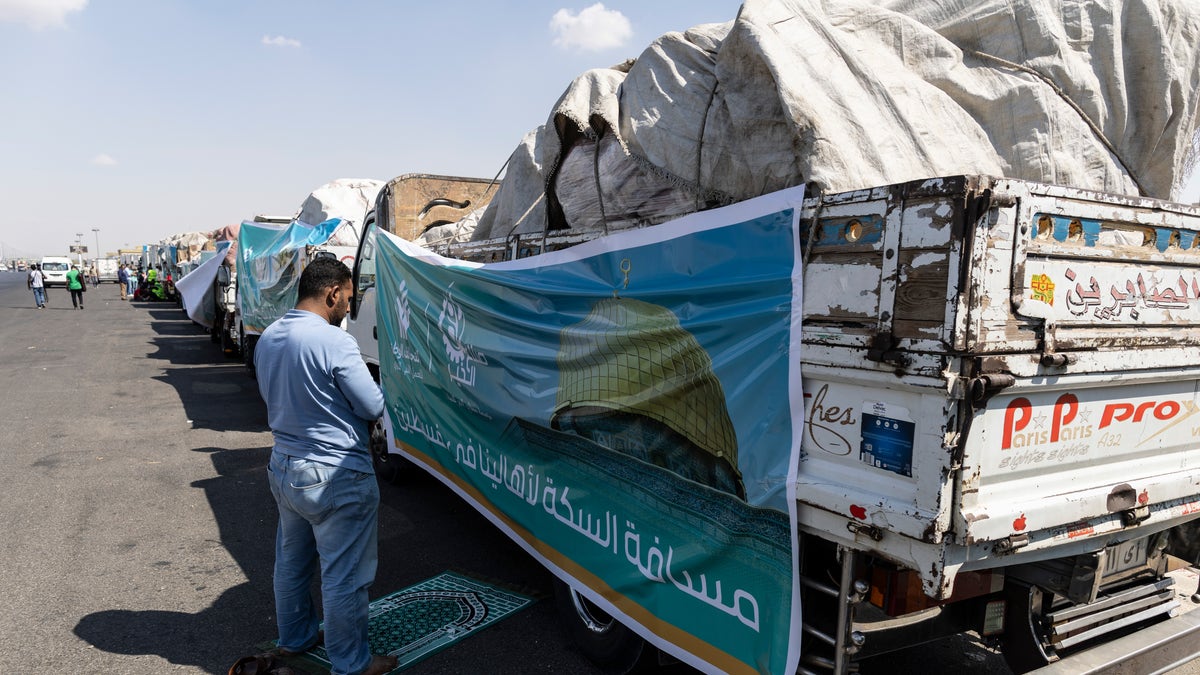 Aid convoy trucks loaded with supplies are seen at Cairo-Ismailia Desert Road on October 14, 2023, in Cairo, Egypt.  (Mahmoud Khaled/Getty Images)
On Friday, Israel issued a warning for residents in northern Gaza to evacuate the area within 24 hours as a "humanitarian step" that aims to "minimize civilian casualties" during its planned ground offensive into the territory.
The United Nation's Office for the Coordination of Humanitarian Affairs reported that the cumulative figure of displaced individuals has exceeded 338,000, "of whom over two-thirds are taking shelter in schools run by the UNRWA," referring to the Relief and Works Agency for Palestine Relief in the Near East.
IDF SAYS IT CONTINUED TO ATTACK HAMAS MILITARY TARGETS, HEADQUARTERS IN GAZA STRIP; HAMAS OFFICIAL KILLED
The U.S. urged Israel to delay the start of the operation to allow the 1.1 million people living in the north to relocate. President Biden and Blinken have both repeatedly stressed the need for Israel to adhere to the "rules of war."
The U.S. has reiterated that Hamas is responsible for the current atrocities and do not reflect the Palestinian people, who must be protected.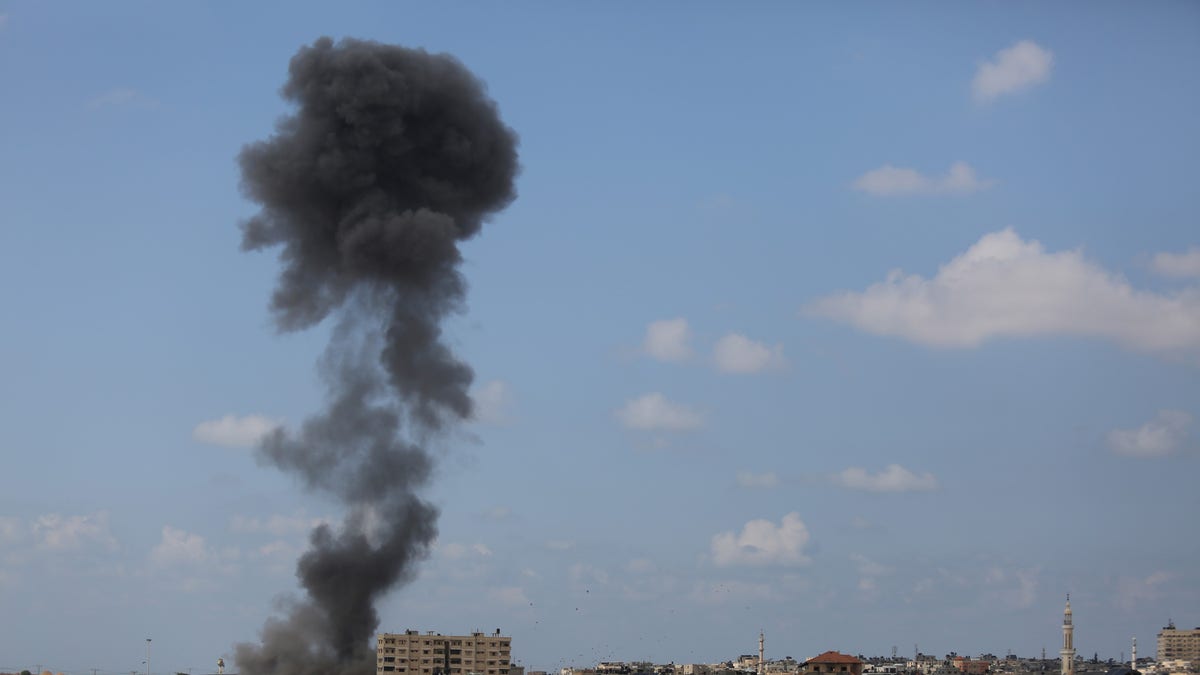 This photo taken on Oct. 10, 2023 shows smoke rising following an Israeli airstrike at the Rafah crossing point between the Gaza Strip and Egypt. (Khaled Omar/Xinhua via Getty Images)
The Rafah crossing to Egypt had been the sole point of exit for the Palestinian people in Gaza, but Israel's bombardment has made it impossible to continue operating the pass, Egypt's Foreign Ministry said Friday.
Egyptian President Abdel Fattah el-Sissi called for access through Rafah in a speech Thursday, but he also warned against letting in large numbers of Palestinians.
NEARLY 20 GOP GOVERNORS URGE BIDEN TO 'PROJECT AMERICAN STRENGTH' BY 'UNEQUIVOCALLY' SUPPORTING ISRAEL
"The threat there is significant because it means the liquidation of this (Palestinian) cause," el-Sissi said at a military college graduation ceremony in Cairo. "It's important for its people to stay steadfast and exist on its land."
The Egyptian Foreign Ministry later called the evacuation order a "grave violation" of international law.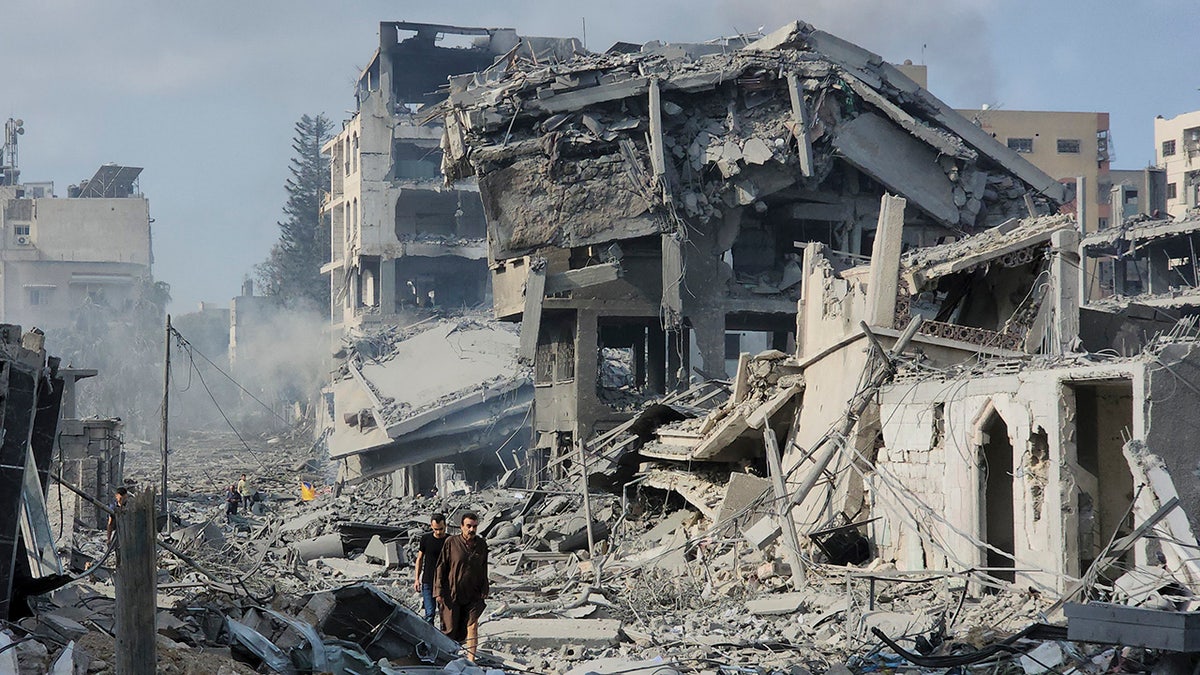 Palestinians walk through the rubble of buildings destroyed by Israeli airstrikes in Gaza City on Tuesday, October 10, 2023. (AP Photo/Hassan Eslaiah)
Egyptian officials have long feared that Israel seeks to make their country responsible for Palestinians in Gaza, which Egypt ruled between the 1948 and 1967 Mideast wars. Egypt has joined Israel in its blockade of the Gaza Strip since the Hamas takeover, tightly controlling entry of supplies and the exit of people.
Turkish President Tayyip Erdogan on Wednesday said that Israel's blockade and bombing of Gaza in response to Palestinian militant group Hamas' attack was a disproportionate response amounting to a "massacre," even as he offered to mediate a deal between Israel and Hamas. Israel's envoy to Ankara on Sunday said it was too early to discuss mediation.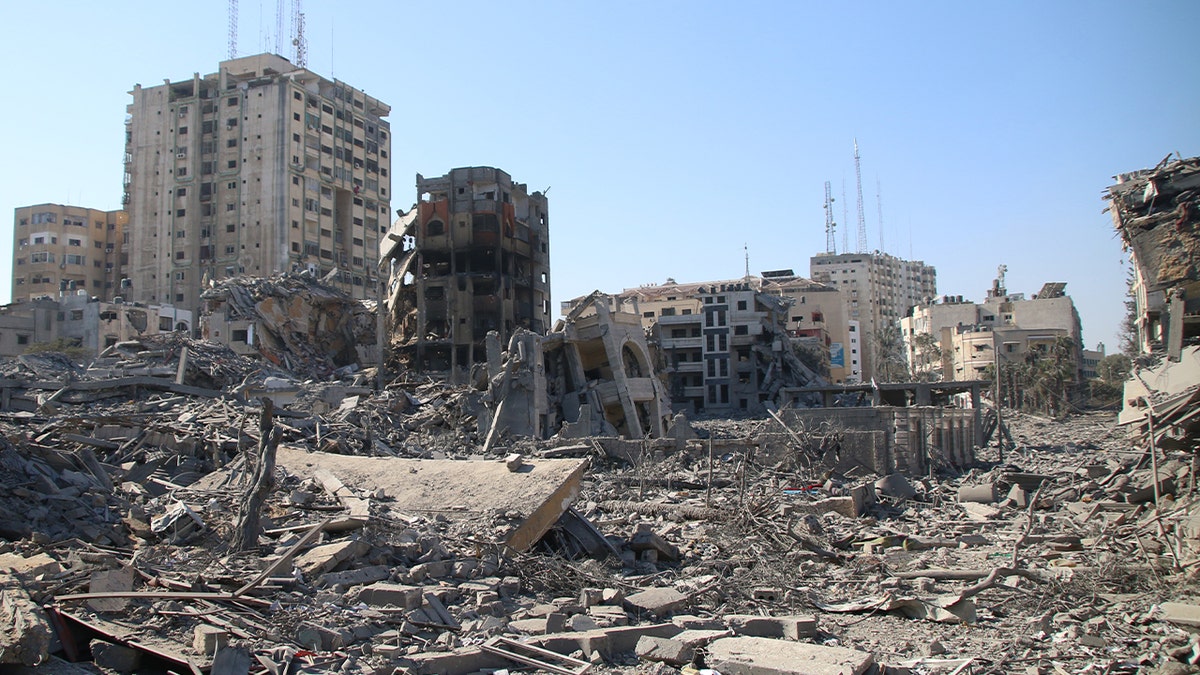 Palestinian citizens inspect damage to their homes caused by Israeli airstrikes on October 13, 2023, in Gaza City, Gaza. (Ahmad Hasaballah/Getty Images)
A senior State Department official traveling with Blinken from Jordan to Qatar told The Associated Press that the U.S. is talking to Israel, U.N. agencies and the International Committee of the Red Cross on creating safe zones within Gaza, where civilians can receive humanitarian aid. It was not clear whether the aid would enter from Israel or Egypt.
CLICK TO GET THE FOX NEWS APP
The U.S. State Department referred to Blinken's comments following his meeting with Saudi Arabia's foreign minister in response to a request for comment.
Fox News Digital's Chris Pandolfo, Reuters and The Associated Press contributed to this report.
Peter Aitken is a Fox News Digital reporter with a focus on national and global news.