A spiritual successor to the popular 90s Championship Manager series, Football Manager was a hit that broke records as one of the five fastest-selling PC games ever when it was released in November 2004.
Since then, the series putting players in charge of running a football club has continued to grow, with last year's game played by six million people.
But it has changed dramatically since the 2000s. Little circles bouncing about on a green rectangle have become a fully-fledged 3D simulation, which gamers often boast (or bemoan) getting lost in for hundreds of hours each year.
With the release of the 20th game in the Football Manager series on Monday, the BBC spoke to Sports Interactive, the British studio behind the game, about the fan favourite and how it has evolved.

"The way that I see it, I'm actually making the game for me – it just so happens that there are a few million other people like me out there," said studio head Miles Jacobson.
"Games aren't cheap for people to buy, so we're determined to make the best value for money game every year, so people are getting a lot of play time out of their £40-50 that they've worked so hard to try and get."
One example of this comes in a new feature that lets players pick up where they left off in last year's game.
For the first time in the series' history, players can continue their last previously-saved game. This means their progress in Football Manager 2023 carries over directly into Football Manager 2024.
According to Sports Interactive, the feature has been used by 25% of players who have pre-ordered the game so far.
"It's definitely our most requested feature from the community, and it's the most pre-ordered game we've ever had," he said.
"This is going to be the last game in the Football Manager series as you know it… we wanted this to be a celebration of the end of an era."
'Motion matching', not motion capture
Football Manager has come a long way from humble text-based beginnings, becoming a gaming behemoth with players rendered in a 3D environment.
This was accomplished with motion capture technology – where a computer processes movement taken from a person wearing a dot-covered suit.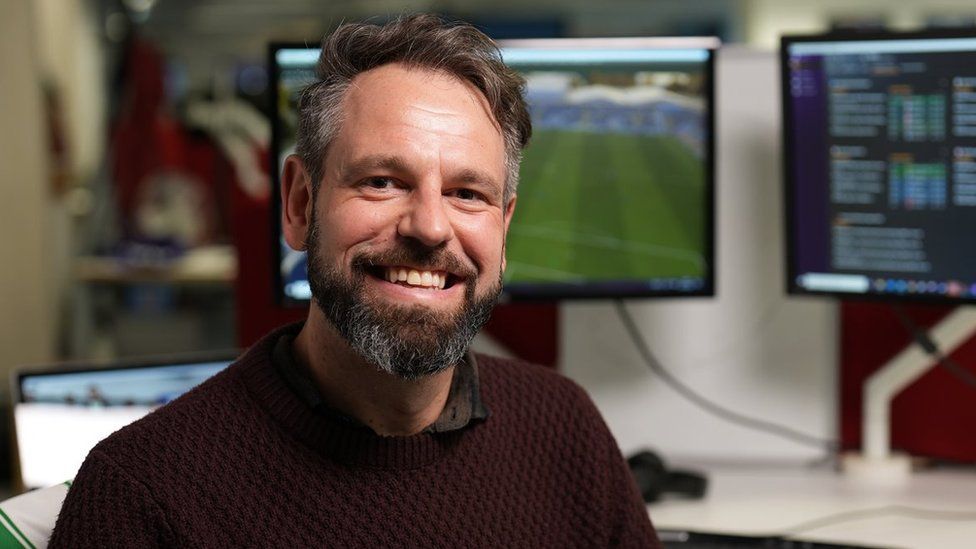 Image caption, Nic Madden has been at Sports Interactive for more than eight years
And Nic Madden, who heads the "match engine" team at the studio, said he used to be one employee wearing the suit.
"The trophy lift celebrations are nearly all me," he said, adding: "But I'm glad that soon my animations won't be in the game at all."
That's because Football Manager 2024 began removing motion capture technology, instead using a new technique called "motion matching".
This analyses data from actual football matches and transforms the movement of real footballers into action in the game itself.
"It's allowed us to have better animations," he added.
"It's done at game speed, which is something we weren't able to replicate in the motion capture studio.
"Whereas these animations that we're capturing are all done within a match context – it feels real because it sort of is real."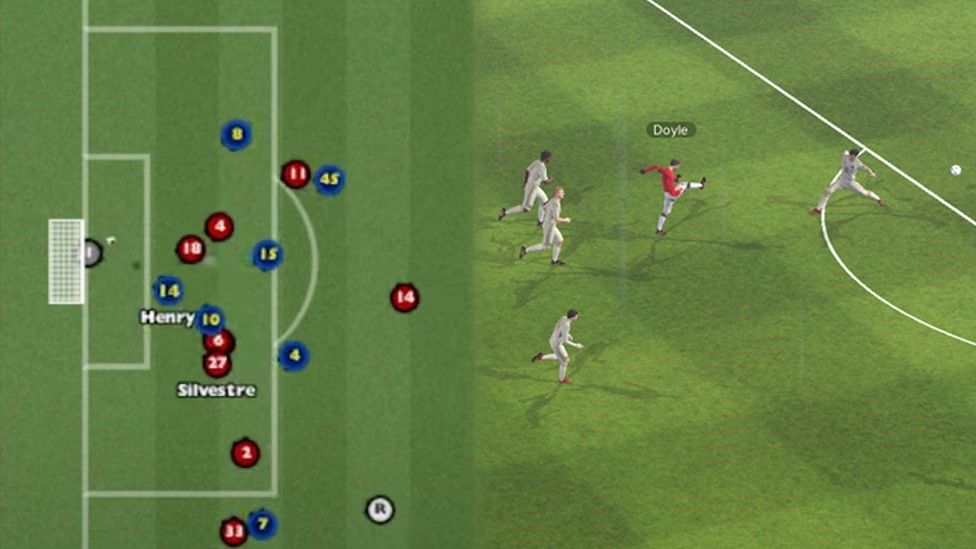 Image source, Sports InteractiveImage caption, Left: Football Manager 2005, Right: Football Manager 2024
'Starting from scratch'
English football fans were recently celebrating history when the Lionesses won Euro 2022 at Wembley.
But Football Manager doesn't feature women, despite being based in the same city as the stadium where England won its first major tournament since 1966. And, international women's teams first featured in football game Fifa – now EA Sports FC – in 2015.
Miles Jacobson confirmed that women's football will be one of the main features of next year's game, and acknowledged the studio "should have done it already".
Tina Keech, head of women's football research at Sports Interactive, told the BBC that when she first joined the firm she was "working from scratch".
As well as analysing all of the players in the women's game and giving them each ratings, one particular problem that has slowed down progress is the thing that Football Manager fans adore above all else – the stats.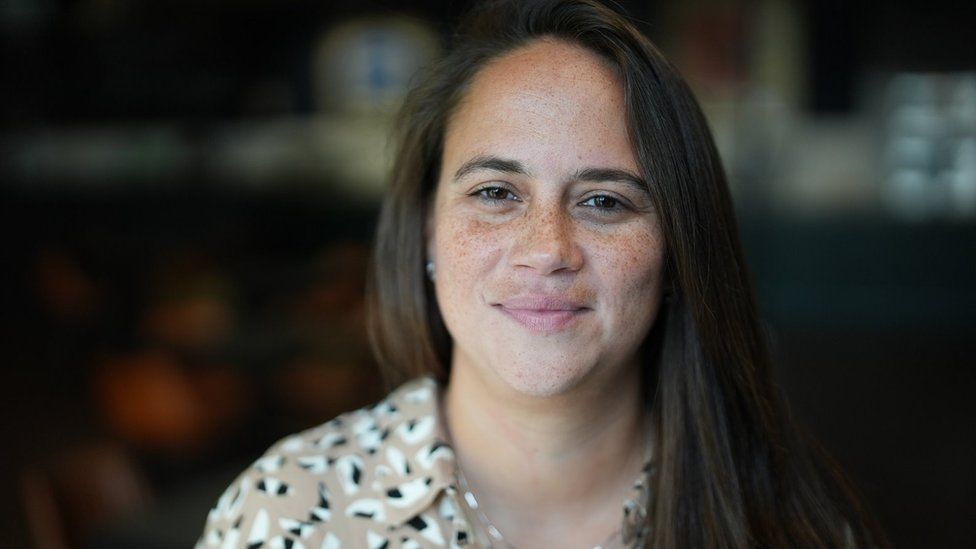 Image caption, Tina Keech has been leading the studio's women's football research team since 2021
"Let's say someone was playing for Chelsea, but then wanted to continue playing and not have a long break," she explained.
"They'd go off to Australia or America and have a loan deal there, and then come back to Europe.
"It must have taken me three days to do Sam Kerr's historical playing career, because she's been back and forth."
Australian international Sam Kerr is one of the biggest names in women's football, and has a comprehensive Wikipedia page, but Ms Keech is sceptical about the data it uses.
"I think everyone who's involved in women's football knows the data isn't accurate," she said, adding: "Even with federations, some of their data is inaccurate."
And she said getting the data right represented a way that the studio can be part of the growth seen in the sport.
"The legacy of the women's game is really important," she said.
"To be part of that growth and seeing where we fit in, it's really exciting. And I just want my daughters to go: 'Yeah, my mummy did that!"
It has been a long time in the making, but the 20th game in the Football Manager series is the last time it will only be focused on male players.
"We should remember where we've come from, and those [female] players that have really driven for the game," Ms Keech said.