The Florida Supreme Court has agreed to hear a legal challenge to Florida's 15-week abortion ban, which was signed into law by Gov. Ron DeSantis in April 2022.
Planned Parenthood and the American Civil Liberties Union filed a lawsuit against the law, arguing the right to abortion is protected by the Florida Constitution. However, the court did not grant their request for a temporary restraining order to block the state from enforcing it.
The law, called the Reducing Fetal and Infant Mortality Act or HB 5, will remain in effect as the lawsuit proceeds.
HB 5 restricts abortion after an unborn child has reached 15 weeks of development. DeSantis has said the law "protects babies in the womb who have beating hearts, who can move, who can taste, who can see, and who can feel pain."
FLORIDA DEPARTMENT OF EDUCATION RESPONDS TO CRITICISM AFTER REJECTING AP AFRICAN AMERICAN STUDIES COURSE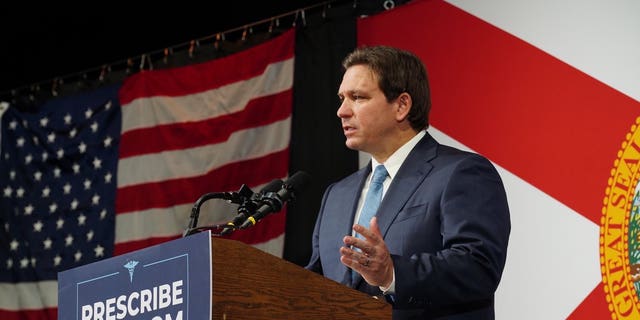 Gov. Ron DeSantis announced plans Tuesday to permanently eliminate COVID-19 mandates in Florida during the upcoming legislative session.
(Ron DeSantis via Twitter)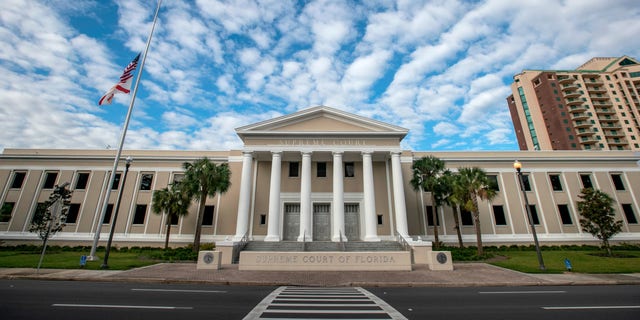 The Florida Supreme Court building is pictured on Nov. 10, 2018, in Tallahassee, Florida. 
(Mark Wallheiser/Getty Images)
Abortion rights proponents disagree. They have characterized abortion bans as an assault on women's "dignity and bodily autonomy," calling the law "dangerous."
"While we are pleased that the court didn't shut its doors completely, we are dismayed that it has allowed this dangerous ban to remain in effect and to harm real people each and every day until this case is finally decided," said Whitney White, a staff attorney with the ACLU Reproductive Freedom Project.
"We hope that the court acts quickly and follows 40 years of precedent and the will of the people to stop this unconstitutional 15-week abortion ban, which has caused chaos and devastation in the state since going into effect in July," White continued. "For almost seven months, women and people in need of essential abortion services have been forced to flee the state in search of the health care they need or face the horror of government-mandated forced pregnancy.
"While today's order is a step in the right direction, Floridians urgently need relief from Gov. DeSantis' cruel ban," she added.
SUPREME COURT ASKS BIDEN ADMIN TO WEIGH IN ON FLORIDA, TEXAS SOCIAL MEDIA LAWS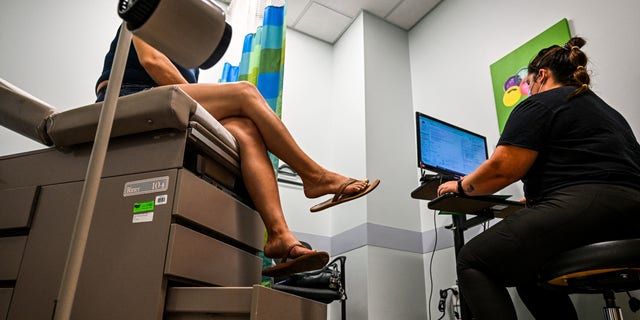 A woman, who chose to remain anonymous, talks to a doctor before receiving an abortion at a Planned Parenthood Abortion Clinic in West Palm Beach, Florida, on July 14, 2022.
(CHANDAN KHANNA/AFP via Getty Images)
The lawsuit was previously heard by Leon County Circuit Court Judge John Cooper, who ruled in favor of the plaintiffs. Cooper said the Florida Constitution contains an explicit "right to privacy" that is "much broader in scope" than any privacy right under the United States Constitution. He further ruled that a 15-week cutoff for abortions is not supported by sufficient state interest. The judge said that while the law has an exception for when abortion is needed to save the mother's life, there are other conditions that "may not be fatal but can have profound and lasting implications for the patient, the family, and the neonate if the pregnancy is carried to term."
"Patients faced with a diagnosis of a fetal condition also need time to make the right decisions for themselves and their families, based on information from their prenatal care providers and from multiple sources with knowledge about the fetal anomaly at issue, discussion with family and other support systems, and consultation with their clergy, social workers, or other resources," Cooper wrote.
Cooper's ruling granted an injunction barring Florida officials from enforcing the 15-week ban, but the state appealed, putting the law back into effect.
In a 4-1 decision, the Florida Supreme Court denied the plaintiffs' request for another injunction, but the justices did not give a reason for doing so.
KAMALA HARRIS TAKES HEAT FOR OMITTING RIGHT TO 'LIFE' WHEN CITING DECLARATION OF INDEPENDENCE: 'GARBAGE'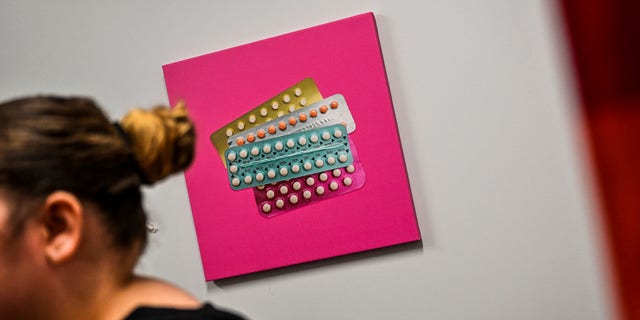 Jasmine, 23, waits to receive an abortion at a Planned Parenthood Abortion Clinic in West Palm Beach, Florida, on July 14, 2022.
(CHANDAN KHANNA/AFP via Getty Images)
The court will schedule oral arguments in a separate order.
The governor's and the Florida attorney general's offices did not immediately respond to a request for comment.
DeSantis has expressed confidence that the Supreme Court will uphold HB 5, even though the court previously has upheld the right to abortion. He has appointed several new conservative justices to the court, which progressive groups worry will redefine how the state constitution's privacy clause should be interpreted and infringe on abortion rights.
Republicans hold majorities in the state legislature and some lawmakers have stated interest in bringing up new abortion restrictions in the 2023 session.
Fox News' Ron Blitzer contributed to this report.