Jeff Zients, the incoming White House chief of staff, met multiple times in 2016 with President Biden's son Hunter Biden who is facing criminal and congressional probes into his past business dealings.
According to emails obtained from Hunter Biden's abandoned laptop and verified by Fox News Digital, Zients met with Hunter Biden twice in February 2016 and on another occasion in May 2016, just months before President Biden, the vice president at the time, was set to leave the White House. President Biden also attended the first two meetings which both took place at the U.S. Naval Observatory where the vice presidential residence is located.
During the first meeting — which took place on Feb. 12, 2016 — Zients, Hunter Biden, then-Vice President Biden met with David Rubenstein, a billionaire and founder of hundred-billion-dollar asset management firm The Carlye Group. Rubenstein is also the member of a series of other organizations including the World Economic Forum, Council on Foreign Relations and Kennedy Center for the Performing Arts.
President Biden has been criticized for vacationing at Rubenstein's mansion in Nantucket, Massachusetts, over the past several years. After he spent Thanksgiving at Rubenstein's home in 2021, the White House said the president had previously visited the home.
HUNTER BIDEN 'QUARANTINED' AT DELAWARE HOUSE WHERE CLASSIFIED DOCS FOUND: 'THERE WAS NO ESCAPING'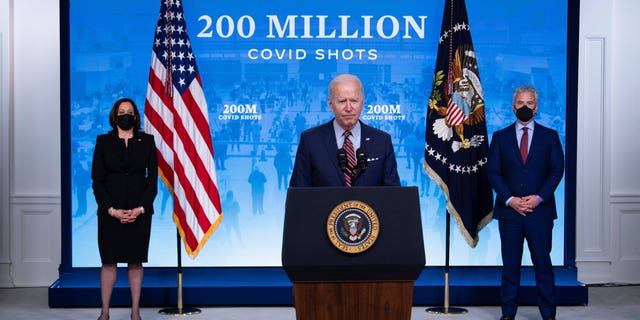 President Biden speaks alongside former White House COVID-19 response coordinator Jeff Zients and Vice President Kamala Harris on April 21, 2021.
(Brendan Smialowski/AFP via Getty Images)
Two weeks after the first meeting, Zients, Hunter Biden and then-Vice President Biden met with former lobbyist and current White House senior counselor Steve Ricchetti and David Bradley, a Washington, D.C.-based political consultant and chairman of media group Atlantic Media.
FORMER BIDEN ASSISTANT QUESTIONED BY LAW ENFORCEMENT OVER CLASSIFIED DOCS REPEATEDLY APPEARED IN HUNTER EMAILS
Then, on May 24, 2016, Zients, Hunter Biden and Bradley met with Eric Lander, the recently-ousted director of the White House Office of Science and Technology Policy, and Richard Klausner, the former head of the National Cancer Institute and a major biotech investor. Klausner was also previously the executive director for global health at the Bill & Melinda Gates Foundation.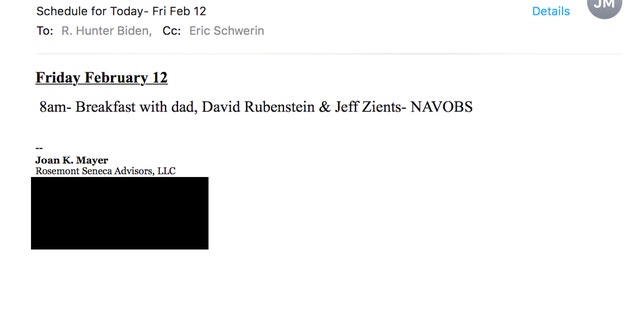 Hunter Biden's former business partner Joan Mayer sends him his schedule on Feb. 12, 2016. The schedule includes a meeting with his father then-Vice President Joe Biden, Jeff Zients and David Rubenstein.
(Fox News Digital)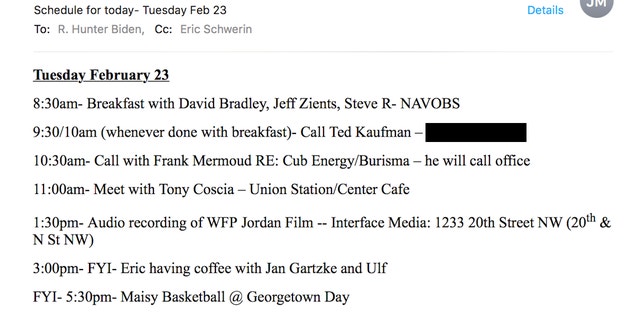 Hunter Biden's Feb. 23, 2016 schedule from Mayer shows a meeting with Zients, David Bradley and Steve Ricchetti.
(Fox News Digital)
In addition, Anne Marie Muldoon, who was an assistant for then-Vice President Biden between 2014-2017, sent Hunter Biden an invitation to attend a potential fourth meeting with his father, Zients, Bradley and Lander at the Naval Observatory on July 12, 2016. While it is unclear whether Hunter Biden joined the meeting, Muldoon sent him a copy of the meeting agenda after it took place.
Zients, Bradley and Lander had also served on the board of directors for the Biden Cancer Initiative, a non-profit venture President Biden and his wife Jill Biden launched in June 2017. It is unknown whether the three had discussed the initiative during their 2016 meetings with Hunter Biden.
SEVERAL TOP WHITE HOUSE OFFICIALS WORKED FOR BIDEN AT HIS THINK TANK WHERE CLASSIFIED DOCS DISCOVERED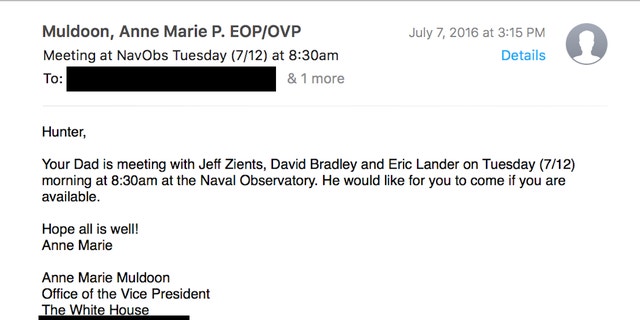 Former President Biden aide Anne Marie Muldoon invites Hunter Biden to a meeting with his father, Zients, Bradley and Lander in July 2016.
(Fox News)
Fox News Digital confirmed Sunday that current White House chief of staff Ron Klain is expected to step down and be replaced by Zients who led the federal COVID-19 pandemic response between early 2021 and April 2022.
"Jeff spent the last 14 months working tirelessly to help combat COVID," the president said in a statement in March after Zients announced he would step down from the role. "He is a man of service and an expert manager. I will miss his counsel and I'm grateful for his service."
BIDEN'S INCOMING CHIEF OF STAFF SLAMMED BY LIBERALS OVER CORPORATE PAST, MASSIVE WEALTH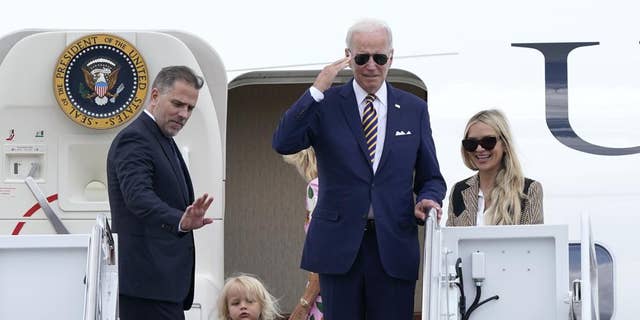 President Biden salutes while boarding Air Force One with his son Hunter Biden and daughter-in-law Melissa Cohen on Aug. 10.
(AP Photo/Susan Walsh)
CLICK HERE TO GET THE FOX NEWS APP
And Hunter Biden has faced scrutiny from federal investigators related to his past business dealings and potential tax evasion. Republican lawmakers have also announced oversight into him and how he allegedly leveraged his father's position for financial gain.
"The American people deserve transparency and accountability about the Biden family's influence peddling," House Oversight and Reform Chairman James Comer said in a statement late last year. "With the new Republican majority, Oversight Committee Republicans will continue pressing for answers to inform legislative solutions to prevent this abuse of power."
The White House didn't respond to a request for comment. Zients and a lawyer for Hunter Biden also didn't respond to requests for comment.
Fox News Digital production associate Matteo Cina contributed to this report.