Rep. Carlos Gimenez, R-Fla, explained to Fox News Digital why he traveled to the Iowa State Fair over the weekend in a show of support for former President Trump – and not his home state's Gov. Ron DeSantis – as the only member of Congress born in Cuba.
"I supported the president. I think he's the right person for the job. Like I told the people of Iowa, I came from another country. I had to flee my country. I see many of the same things that happened in my own country of Cuba," Gimenez told Fox News Digital on Sunday. "Not exactly, but some signs of the same things that are starting to happen here."
"I certainly don't want, you know, this country to go down that path," he said, referring to communism. "And I think the one person that can reverse the path that we're on, which is, in my opinion, a disastrous path, is President Trump. And so that's the message I delivered to the people of Iowa. I'm kind of unique in that sense that I'm the only one there that wasn't born here. And so I have a different perspective. But the reception that he got was extraordinary."
In what was seen as a shot at DeSantis, Trump spent most of his public remarks in Des Moines Saturday introducing Iowa State fairgoers to the about a dozen U.S. House members from Florida who accompanied the former president.
DESANTIS TAKES AIM AT TRUMP AS 2024 RIVALS HOLD COMPETING EVENTS AT THE IOWA STATE FAIR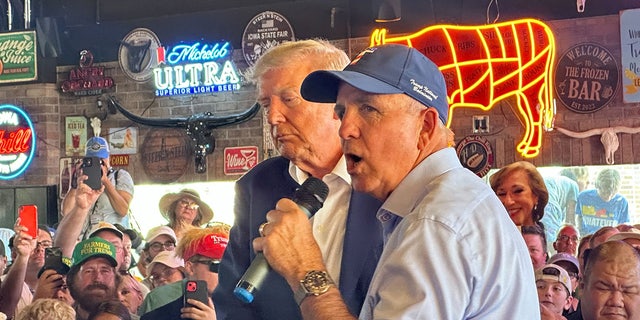 Rep. Carlos Gimenez, R-Florida, speaks to Iowa State Fair goers next to former President Trump on Saturday, Aug. 12, 2023. (Rep. Carlos Gimenez)
Gimenez also spoke out against Trump's ongoing legal battles.
"Americans are patently fair. They want fairness, they want justice. And they just don't see that happening right now," Gimenez said. "They see what reminiscent to me of a Third World country. You know, Daniel Ortega in Nicaragua, one way he won the presidency was basically by jailing all of his opponents."
"And so is President Biden taking a, you know, a page out of Ortega's playbook by trying and throwing as much as he can against probably his chief rival? No, not probably his chief rival, putting his chief rival in jail?" Gimenez continued. "Again, since I come from another country, I look at these countries and see what was going on over there. And that's what's happened in Nicaragua. And, you know, there is a similarity here between what President Biden's doing, and it's definitely political."
"The base is with him, the base will stick with him," he said of Trump. "I believe there's 35, 40% of the Republican base that will never leave…. And, you know, that puts everybody at a disadvantage because he's starting out at 40% and everybody's starting zero."
"These streams of indictments have just strengthened his hold on his backers," he said.
Before taking his three children to ride bumper cars and the Ferris wheel, DeSantis boasted about the delegation of state lawmakers in Iowa that flanked him when reporters asked about the Florida representatives surrounding Trump.
"I think it's fine to bring folks in from Washington, but I think Iowans really are more concerned about the people in their communities," DeSantis said, according to The Associated Press.
VIVEK RAMASWAMY RAPS EMINEM'S 'LOSE YOURSELF' AT IOWA STATE FAIR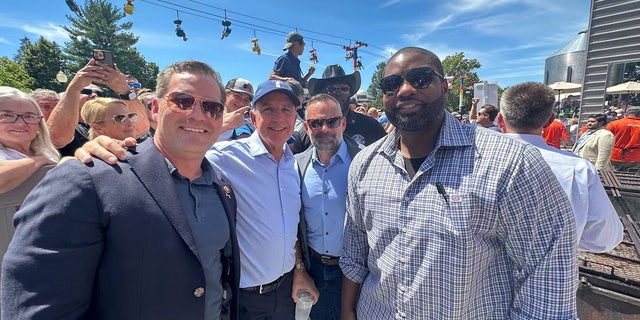 Rep. Carlos Gimenez, R-Florida, and other Republican members of Congress from Florida attend the Iowa State Fair in support of former President Trump. (Rep. Carlos Gimenez)
Gimenez responded to that veiled criticism on Sunday.
"I'm not a Washingtonian. I'm a Miamian," he told Fox News Digital. "I've been a member of this community for a long time. I've served this community in a number of roles. And this is just my final one. So I've been the fire chief of this community. I've been the city manager of the city, I've been commissioner of the county and the mayor of the county. Just now, I went to Washington. So in my case, the argument doesn't hold. I am a local person. I am a community person. So, you know, I can't speak for the rest, but I can speak for myself."
DeSantis and other candidates at the fair called out Trump for his criticism of popular Gov. Kim Reynolds, who has taken a pledge of neutrality and hosted a series of one-on-one conversations that most GOP candidates accepted, but Trump declined.
"That's just how he operates, to attack one of the best governors in the country," DeSantis said. "I think as Republicans we should be thankful and proud to see other Republicans doing well."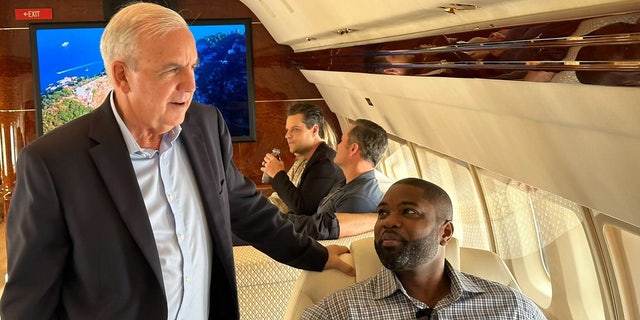 Reps. Carlos Gimenez, left, and Byron Donalds, R-Florida, chat while traveling to the Iowa State Fair in support of former President Trump. (Rep. Carlos Gimenez)
In addressing the drama with Reynolds, Trump seemed to attempt to soothe tensions but repeated his claim that he was responsible for her election. Trump campaigned with Reynolds during her 2018 bid, which she won narrowly. She won re-election by a much larger margin in 2022.
"I have a very nice relationship with her," Trump said. "I got her elected."
Gimenez's reaction to Trump's response to Reynolds was first to deflect by saying, "You can ask the president that himself," only to then give his personal take.
CLICK HERE TO GET THE FOX NEWS APP
"He supported the governor, and he feels that since he endorsed or supported her and helped her become governor, that, you know, there should be some gratitude, some loyalty, you know, to somebody who put a helping hand," he said."You know, he's asking for help, and she's she's kind of staying neutral," he said.
Of the fair experience overall, Gimenez said he enjoyed what was his first time in Iowa. "I wish I could have taken my grandkids, my children. They would have had a blast," he said.
The Associated Press contributed to this report.