The White House and several Democrats have vowed to not negotiate with Republicans over the debt ceiling, but President Biden himself previously championed the importance of having conversations with those across the aisle during his time as vice president.
White House press secretary Karine Jean-Pierre was asked earlier this month about debt ceiling negotiations and whether President Biden is willing to "cut any spending" or would be willing to negotiate with Republicans who "want to cut spending as part of a debt limit deal."
"Look, as you've heard us say before, we will not be doing any negotiation over the debt ceiling," Jean-Pierre said.
"What we're saying is that… this should be done without conditions," she added. "In the past… we have seen both Republicans and Democrats come together to deal with this issue. It is one of the basic items that Congress has to deal with, and it should be done without condition. So, there's going to be no negotiation over it. This is something that must get done."
DEMOCRATS PUSH TO ELIMINATE THE DEBT CEILING, ALLOW UNLIMITED GOVERNMENT BORROWING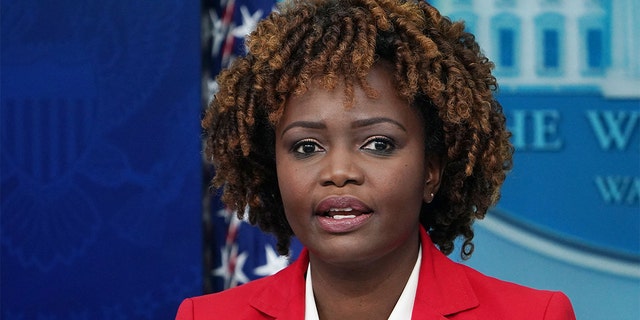 White House press secretary Karine Jean-Pierre speaks during the daily press briefing on Jan. 20, 2023.
(MANDEL NGAN/AFP via Getty Images)
The current stance taken by the White House, as well as Democrats who do not wish to work with Republicans over the debt limit, appears to go against prior remarks made by then-Vice President Joe Biden from 2011 to 2012 on negotiations surrounding the debt ceiling and how members of Congress should work together to reach "certain compromises."
In May 2011, Biden, who played a role in deficit reduction and debt limit negotiations with the new Republican House majority that year, said he was "really pleased and thankful" to those who showed up to discuss the issues at a bipartisan meeting.
"I'm really pleased and thankful all these guys showed up to begin the hard business of trying to deal with what's at hand here," Biden said at the time. "This is an opening meeting where today I had a chance to talk a little bit with each of my colleagues. We're going to lay down not hard negotiating positions, but make sure each of us understand where the other guy is coming from."
Three months later, in August 2011, Biden provided an update to reporters on negotiations with Republicans about raising the debt ceiling, insisting that the conversations at the time were essential in order to have a "normal political battle" about economic growth in the future.
Amid pushback from progressive Democrats, as well as concern over the creation of jobs and growing the economy, Biden said the debt limit was "used as the means by which, unless certain compromises were made, we would default on our debt."
"There is room within the budget, there's room within the budget to fund those priorities," he added at the time. "But it's going to be, you know, what it ordinarily would be — a normal political battle. Rather than sitting there saying, 'by the way, if you don't do this, we're going to let the economy — the United States default.'"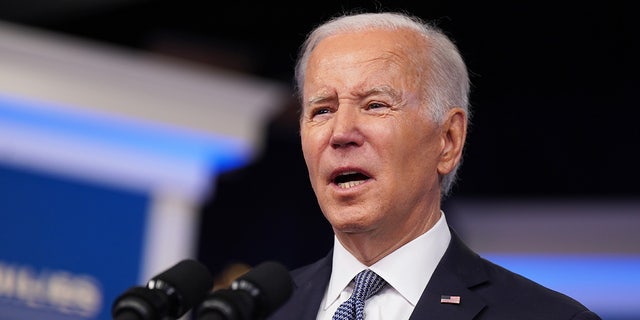 President Biden speaks in the Eisenhower Executive Office Building in Washington, DC, on Jan. 12, 2023.
(Al Drago/Bloomberg via Getty Images)
That same month, Biden criticized those who were "unwilling to budge" or took a "my way or no way" approach on the debt limit or deficit reduction.
"How can you explain the fact that grown men and women are unwilling to budge up till now, and still some of them are still unwilling to budge, by taking an absolute position: my way or no way. That`s not governing. That`s no way to govern. You can`t govern that way," Biden said during an interview with CBS News' Scott Pelley.
"I predict to you that a lot of those new members who came here with 'my way or the highway,' they`ll either be on the highway or they`ll learn that they have to have compromise," Biden added at the time.
One year later, in May 2012, Biden said it was a "great honor" to negotiate the debt ceiling with Republicans.
"I have had the great honor of spending hours and hours and hours, as you've covered my negotiating the debt limit and other things, with the leaders of the Republican Party," Biden said during an appearance on NBC's "Meet the Press."
HOUSE CONSERVATIVE LEADER RIPS MEDIA FOR 'IRRATIONAL' DEBT CEILING COVERAGE, VOWS 'SERIOUS FISCAL REFORM'
Earlier this week, Democrat Sen. Dick Durbin of Illinois told CNN's "State of the Union" anchor Dana Bash that Biden should "absolutely not" negotiate with Republicans about raising the debt ceiling.
"Those who are posing for holy pictures as budget balancers… should note one important fact: almost 25 percent of all of the national debt accumulated over the history of the United States… was accumulated during the four years of Donald Trump," Durbin said.
In contrast, moderate Democrat Sen. Joe Manchin of West Virginia said during a Sunday appearance on CNN that it's a "mistake" for Biden not to negotiate with Republicans about raising the debt limit.
"This is a democracy that we have," he said. "We have a two-party system. And we should be able to talk and find out where our differences are. And if they are irreconcilable, then you have to move on from there and let the people make their decisions."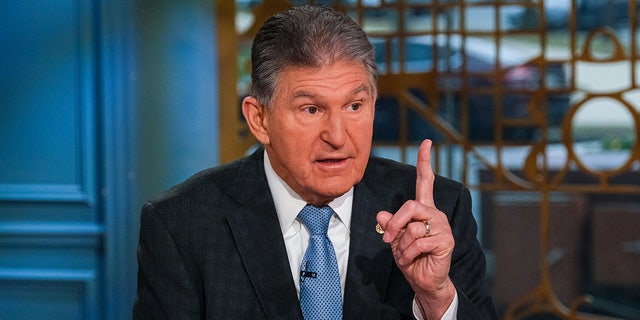 Sen. Joe Manchin, D-W.V., appears on Meet the Press in Washington, D.C., on Jan. 22, 2023.
(William B. Plowman/NBC via Getty Images)
Dozens of House Democrats have proposed legislation that would eliminate the debt ceiling, which would allow the government to borrow without any limit set by Congress.
The federal government hit the $31.381 trillion debt ceiling last week, and House Republicans are pushing for commitments to cut back on the record growth in federal spending before agreeing to allow more borrowing. But Democrats accuse Republicans of setting up the possibility of prohibiting a debt ceiling hike, which would make the government unable to fund all of its current obligations.
Democrats say a better idea is to eliminate all limits on federal borrowing and allow the government to borrow whatever it needs.
CLICK HERE TO GET THE FOX NEWS APP
House Speaker Kevin McCarthy said Friday that he will meet with President Biden to discuss increasing the debt ceiling.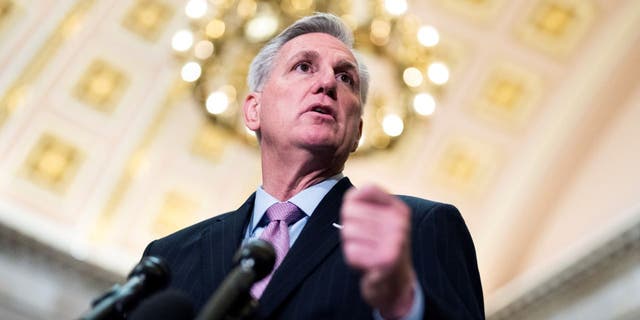 Speaker of the House Kevin McCarthy, R-Calif., conducts a news conference in the U.S. Capitols Statuary Hall on January 12, 2023.
"President Biden: I accept your invitation to sit down and discuss a responsible debt ceiling increase to address irresponsible government spending," the newly elected speaker tweeted Friday afternoon. "I look forward to our meeting."
Biden had said earlier on Friday that he and McCarthy would meet to discuss increasing the debt limit.
"We're going to have a little discussion on that," Biden said of McCarthy, Politico first reported. "If we don't meet our national debt and renege for the first time, we have a calamity that exceeds anything that's ever happened financially in the United States."
Fox News' Peter Kasperowicz and Brie Stimson contributed to this article.