Rep. Ayanna Pressley, D-Mass., on Monday encouraged her one million Twitter followers to donate to their "local abortion fund" to help low-income women access abortions.
"Support your local abortion fund," the congresswoman tweeted from her personal account, adding a link to the National Network of Abortion Funds (NNAF).
"Today, on #MaternalHealthAwarenessDay," she wrote, "as we continue to confront a Black maternal health crisis & relentless attacks on reproductive rights — a reminder that racial justice is abortion justice is maternal health justice & we'll never stop fighting for our collective liberation."
The NNAF helps connect low-income women who want an abortion with their local abortion fund, which can provide funding for the procedure and other support services.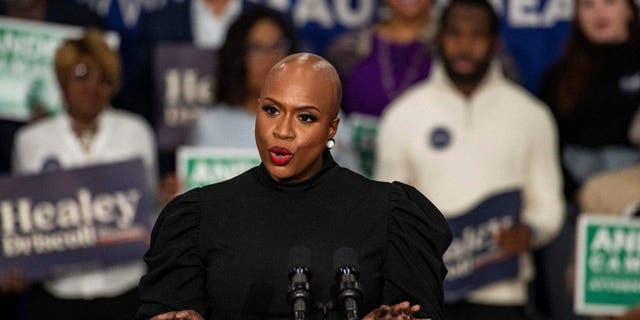 Congresswoman Ayanna Pressley speaks during a "Get Out the Vote" rally at the Reggie Lewis Track and Athletic Center at Roxbury Community College in Boston, Massachusetts, on November 2, 2022.
(Photo by JOSEPH PREZIOSO/AFP via Getty Images)
ABORTION RIGHTS TO EXPAND IN BLUE STATES AFTER ROE V WADE OVERTURNED IN DOBBS DECISION
"Abortion funds are the experts in overcoming obstacles people face when getting their abortions. But they can't do it without you," the NNAF website states. "In FY 20, member abortion funds received 81,692 requests for assistance and were able to support 44,880 callers. With your support, abortion funds can make it possible for more people to get their abortions."
The Carolina Abortion Fund, for instance, offers to help pay for abortions and "provides judicial bypass assistance," according to its page on the NNAF website.
"If you are a minor, please use our Text ABBY line at (844) 997-2229," it adds.
Judicial bypass laws allow a judge to waive parental consent and notification requirements for a minor to obtain an abortion. Planned Parenthood branches all over the country provide information on judicial bypass laws for girls.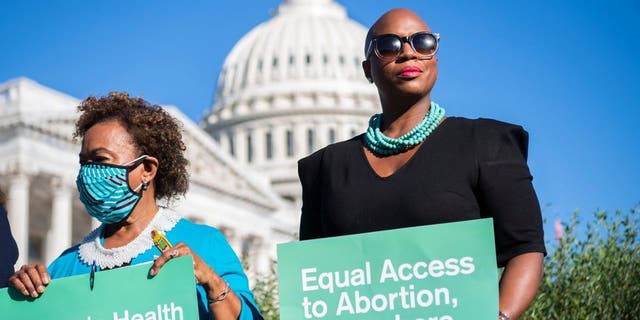 Rep. Ayanna Pressley, D-Mass., right, and Rep. Barbara Lee, D-Calif., conduct a news conference on the Women's Health Protection Act outside of the U.S. Capitol on Friday, September 24, 2021.
(Photo By Tom Williams/CQ-Roll Call, Inc via Getty Images)
ZERO ARRESTS IN AT LEAST 17 JANE'S REVENGE ATTACKS ON PRO-LIFE ORGANIZATIONS
Pressley frequently argues that abortions are health care, and therefore a human right.
"Abortion care is, has always been & will always be a fundamental human right," she tweeted Sunday. "Today, on the 50th anniversary of #RoevWade, a reminder that the people are powerful and we'll never give up the fight for our abortion rights, reproductive freedom, & bodily autonomy."
PRO-LIFE ORG FIRES BACK AFTER DEMOCRATS DEMAND INFO ON PRIVACY POLICIES
"Our reproductive rights are NOT up for debate," she tweeted from her congressional account Saturday. "We must use every tool—at every level of government—to affirm abortion care as the human right that it is."
Pressley and the Carolina Abortion Fund did not respond to Fox News Digital's requests for comment.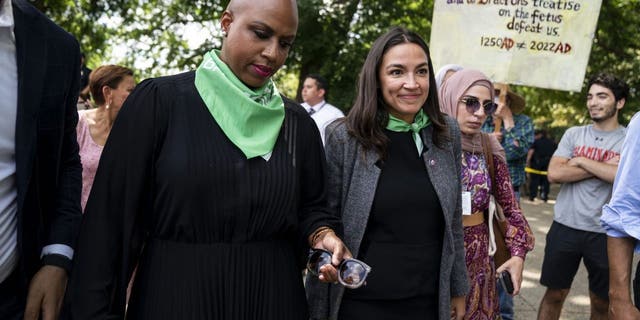 Rep. Ayanna Pressley (D-MA) and Rep. Alexandria Ocasio-Cortez (D-NY) are released from being detained after participating in a sit-in outside the Supreme Court of the United States during a sit-in protesting the high court overturning Roe v. Wade with activists from Center for Popular Democracy Action (CPDA) on Capitol Hill on Tuesday, July 19, 2022 in Washington, DC. 
(Kent Nishimura / Los Angeles Times via Getty Images)
Sunday marked the 50th anniversary of Roe v. Wade, the landmark abortion case that was overturned in the ruling of Dobbs v. Jackson Women's Health Organization on June 24, 2022.
Pressley made headlines last summer after she was detained by police on Capitol Hill while protesting the ruling with activists from Center for Popular Democracy Action.
CLICK HERE TO GET THE FOX NEWS APP