EXCLUSIVE – Former President Donald Trump will make a stop Saturday morning in New Hampshire, the state that for a century's held the first presidential primary in the race for the White House.
Fox News has learned that the former president, who in November launched his third campaign for the White House, will deliver the keynote address to hundreds of party leaders, elected officials and activists attending the New Hampshire GOP's annual meeting, which this year will be held on Saturday, Jan. 28, in Salem.
Trump's stop will come a couple of hours before he heads to South Carolina, another crucial early voting state that holds the third contest in the GOP's presidential nominating calendar.
The former president will be joined by South Carolina's Republican Gov. Henry McMaster and senior Sen. Lindsey Graham as he unveils his South Carolina leadership team in an event at the state Capitol building in Columbia. The gathering will be Trump's first 2024 campaign event since announcing his candidacy in mid-November at his Mar-a-Lago club in Palm Beach, Florida.
TRUMP, DESANTIS, PENCE, AND MORE – THE GOP PRESIDENTIAL NOMINATNION BATTLE FOR EVANGELICAL VOTERS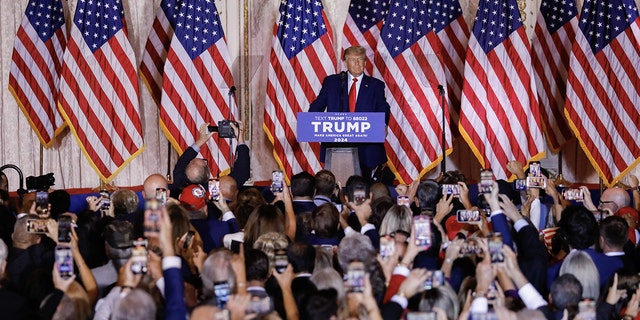 Former President Donald Trump formally entered the 2024 presidential race at his Mar-a-Lago Club in Palm Beach, Florida, on Nov. 15, 2022.
(Eva Marie Uzcategui/Bloomberg via Getty Images)
Steve Stepanek, who's finishing up a four-year stint as chair of the New Hampshire GOP, said in a statement obtained by Fox News that "we are excited to welcome President Trump back to the Granite State to be the keynote speaker at our 2023 Annual Meeting."
"President Trump has long been a strong defender of New Hampshire's First in the Nation Primary Status and we are excited that he will join us to deliver remarks to our members," said Stepanek, who co-chaired Trump's 2016 presidential campaign in New Hampshire before becoming state party chair two years later.
2024 WATCH: TRUMP'S IN – HERE'S WHO ELSE MAY JOIN THE GOP PRESIDENTIAL PRIMARY FIELD
The stops in New Hampshire and South Carolina come amid criticism of the former president's 2024 campaign launch by political pundits, and he's been criticized by Democrats and some Republicans for controversial actions and comments he's made during the past two months. In the wake of a lackluster performance by the GOP in the midterm elections, Trump has also been blamed for elevating polarizing Republican nominees who ended up losing in November.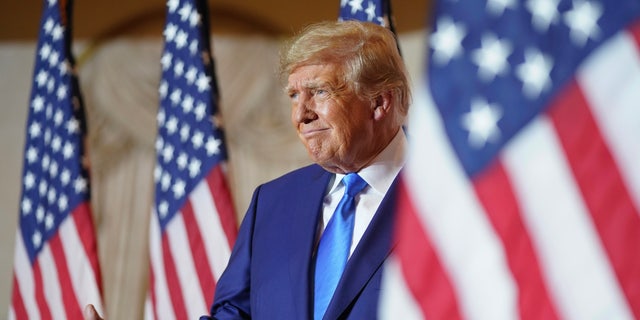 Former President Donald Trump speaks at Mar-a-lago on Election Day, Nov. 8, 2022, in Palm Beach, Florida.
(AP Photo/Andrew Harnik)
Trump remains the most popular and influential politician in the GOP, a ferocious fundraiser and the clear front-runner in many of the early 2024 GOP presidential nomination public opinion polls. But both New Hampshire and South Carolina have home state politicians that are mulling potential White House bids.
WHY THE REPUBLICAN PRESIDENTIAL NOMINATION RACE IS OFF TO A SLOW START
In New Hampshire, popular Republican Gov. Chris Sununu, who was easily re-elected in November, told Fox News this month that "a lot of folks are coming to me. A lot of folks want me to run. It's definitely conversations that we're having."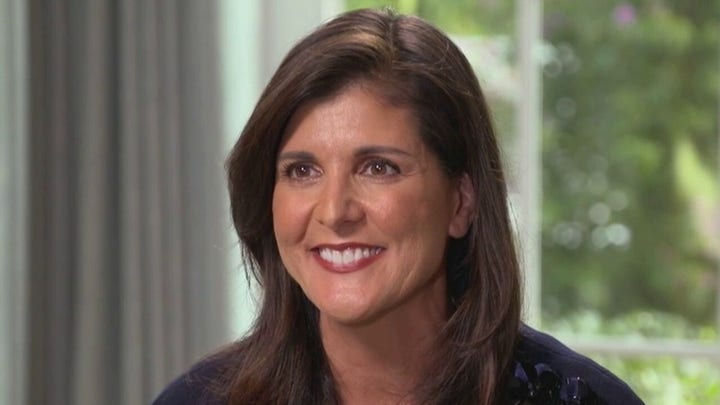 Video
And in South Carolina, former two-term Gov. Nikki Haley, who served as ambassador to the United Nations during the Trump administration, has long publicly mulled a White House run. She said last week in an interview on Fox News' "Special Report," "I think we need a young generation to come in, step up and really start fixing things… Can I be that leader? Yes, I think I can be that leader." Haley has made numerous visits to Iowa and New Hampshire, the two states that kick off the GOP nominating calendar.
CLICK HERE TO GET THE FOX NEWS APP
Sen. Tim Scott, of South Carolina, a rising star in the party and the only Black Republican in the Senate who won re-election in November in a landslide, is viewed by pundits as another potential Republican presidential contender.