close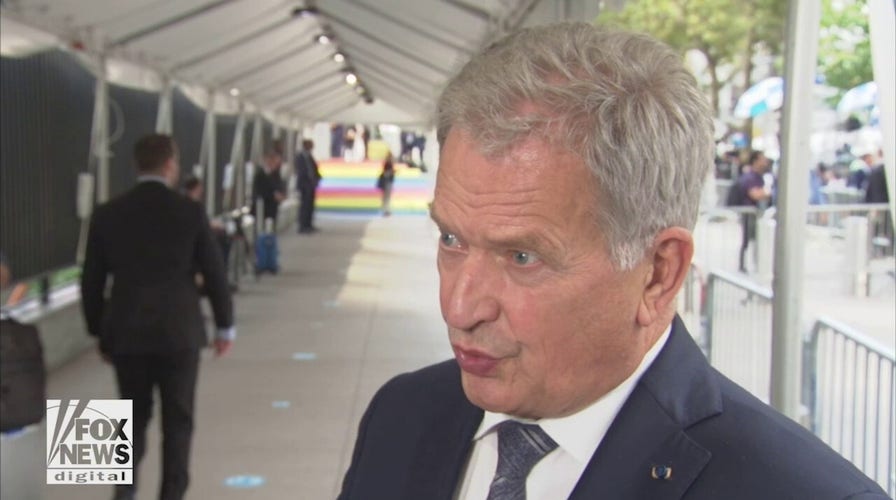 Video
Exclusive: President of Finland discusses Putin's threats to the world
President Sauli Niinistö speaks to Fox News Digital on the sidelines of the United Nations General Assembly.
Finland has begun construction of a 124-mile barrier fence on its eastern border with Russia — enacting a security plan developed after Russian President Vladimir Putin ordered an invasion of neighboring Ukraine.
The Finnish Border Guard said the fence will be 10 ft. tall with barbed wire and surveillance equipment installed on top. It will not span the entire border with Russia but will be built in riskier areas, such as border crossing points and their adjacent areas.
Of all European Union countries, Finland shares the longest land border with Russia, stretching 832 miles. Currently, a simple wooden fence separating forested areas marks the boundary between Finland and Russia.
The Finnish government green-lit the border fence project in June in response to a rise in illegal immigration from Russia, as Russians fled the country to avoid being conscripted to fight in Ukraine. When finished, the new border fence will cover roughly 15% of the border with Russia and will mainly be used to slow and direct illegal immigrant traffic to areas where border officials can manage the flow of people.
NATO CHIEF SAYS UKRAINE WILL 'BECOME A MEMBER OF OUR ALLIANCE' IN THE 'LONG TERM'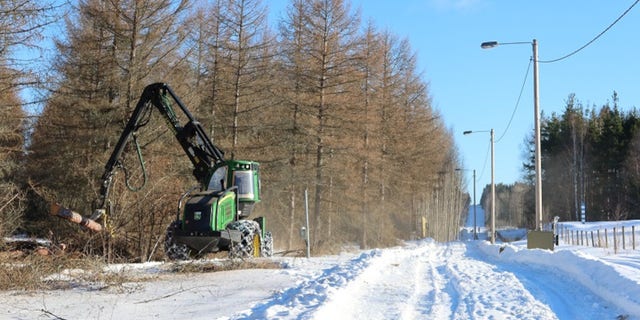 Construction has begun on a pilot border fence project in Pelkola, Finland.  (Finnish Border Guard)
Construction began with forest clearance at the Pelkola border crossing point in Imatra on Feb. 28, 2023, and will continue through the spring. This portion of the fence is a pilot to test the viability of a larger project, which is estimated to cost in the hundreds of millions of Euros, according to the Border Guard.
A road will be built along the fence for the movement and maintenance of border patrols. The fence will be equipped with night vision cameras, lights and loudspeakers in certain areas.
Road and fence installation is expected to begin in March, followed by construction of a technical surveillance system. The pilot project is expected to be completed by the end of June.
An additional 328 yard fence will be built in the Immola garrison area during the program's pilot phase. It will be used as training ground for the Border and Coast Guard Academy and also serve as a test area for new surveillance technology.
FINLAND'S TOP DIPLOMAT SUGGESTS THAT THE COUNTRY MAY HAVE TO JOIN NATO WITHOUT SWEDEN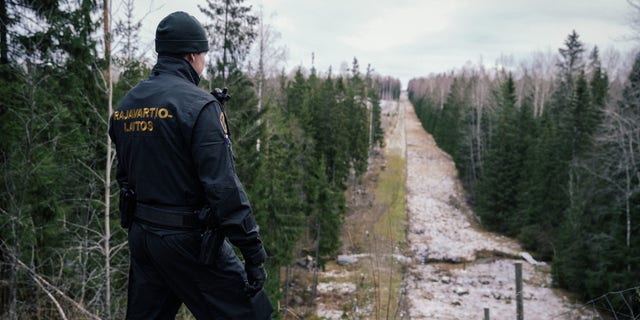 A Finnish border guard looks at a fence marking the boundary area between Finland and the Russian Federation near the border crossing of Pelkola, in Imatra, Finland on November 18, 2022.  (ALESSANDRO RAMPAZZO/AFP via Getty Images)
As the pilot program moves forward, the Finnish Border Guard is planning to construct about 44 miles of additional fencing in other important target areas, with construction to take place between 2023 and 2025. A 34-mile barrier will be constructed in southeast Finland, about four miles more in North Karelia, and three miles each in Kainuu and Lapland.
Finland also took another step towards joining NATO as the country's Parliament overwhelmingly ratified a resolution to join the military alliance. The final vote was 184 to 7, according to the German news agency DW.
Both Finland and Sweden reversed their longstanding positions of neutrality and applied for NATO membership last year after Russia invaded Ukraine.
FINLAND SHUTS BORDERS WITH RUSSIA AS CONSCRIPTION AGE MEN FLEE PUTIN ORDER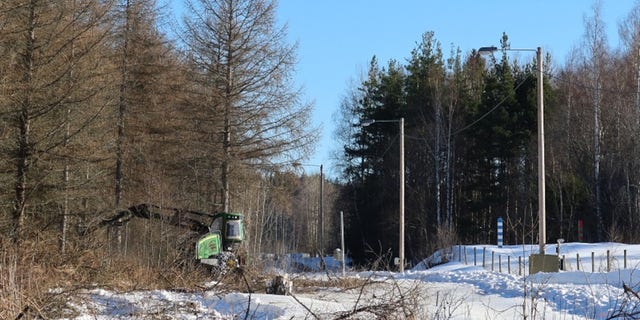 The Finnish Border Guard said construction of the barrier fence project in Pelkola is expected to be completed in June.  (Finnish Border Guard)
Their acceptance into the alliance is contingent on the approval of Hungary and Turkey, with Turkish President Recep Tayyip Erdogan obstructing the process mainly because of Sweden's support for a Kuridsh organization he considers to be a terrorist group.
"We do not have, relatively, a major problem with respect to Finland, but we are always underlining that Sweden should take concrete steps," Turkish Foreign Minister Mevlut Cavusoglu said in February.
CLICK HERE TO GET THE FOX NEWS APP
NATO Secretary General Jens Stoltenberg has expressed openness to a split approval for Finland and Sweden if the differences between Ankara and Stockholm cannot be resolved.
"The main question is not whether Finland and Sweden are ratified together," Stoltenberg said on Feb. 14. "The main question is that they are both ratified as full members as soon as possible."
Chris Pandolfo is a writer for Fox News Digital. Send tips to c[email protected] and follow him on Twitter @ChrisCPandolfo.