close
Video
Fox News Flash top headlines for November 19
Fox News Flash top headlines are here. Check out what's clicking on Foxnews.com.
Finland has accused Russia of flooding its borders with migrants from the Middle East and Africa over its decision to increase defense cooperation with the United States, a claim which Moscow denies.
As many as 300 migrants from Iraq, Yemen, Somalia and Syria have arrived in Finland this week, Reuters reported, citing the Finnish Border Guard. The arrivals have prompted Finland to erect barricades at the border with Russia to stop the migrants from crossing freely into the country.
The razor-wire barriers were put up Friday around midnight at the Vaalimaa, Nuijamaa, Imatra and Niirala border posts in southeast Finland, border officials said.
After two people breached the barriers and crossed into Finland, border authorities said the barriers would be improved so that similar crossings would be impossible.
ZELENSKYY WARNS RUSSIA WANTS TO CAUSE 'EXPLOSION' IN THE BALKANS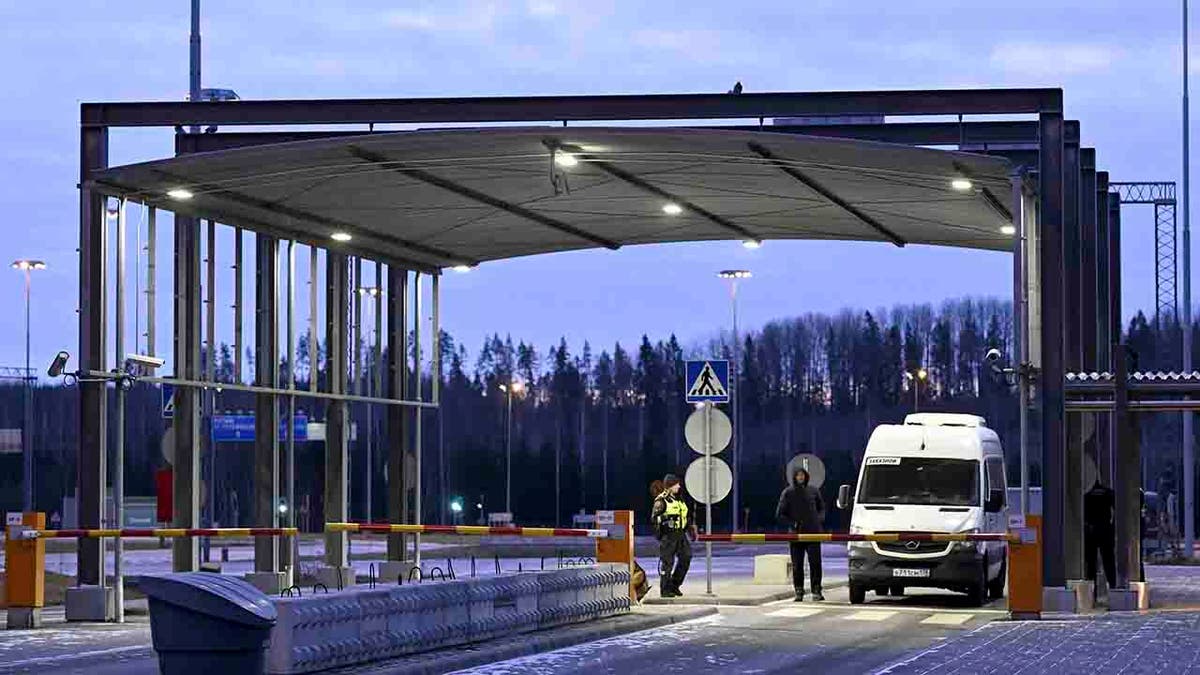 A van at the Nuijamaa, a border station between Russia and Finland in Lappeenranta, Finland, on Thursday. (Vesa Moilanen/Lehtikuva via AP)
Migrants, mostly from the Middle East and Africa, have arrived in the Nordic nation without proper documentation and have sought asylum after allegedly being helped by Russian authorities to travel to the heavily controlled border zone.
next Image 1 of 2

Migrants arriving from Russia board a van to be transported to the Joutseno Reception Centre at the Nuijamaa border station in Lappeenranta, Finland, on Thursday. (Vesa Moilanen/Lehtikuva via AP)

prev Image 2 of 2

The government in Finland has erected barriers at crossing points along its border with Russia to prevent people from trying to enter without proper documentation. (Vesa Moilanen/Lehtikuva via AP)
Nearly all the migrants have arrived at the border zone on bicycles that Finnish and Russian media reports say were provided and sold to them.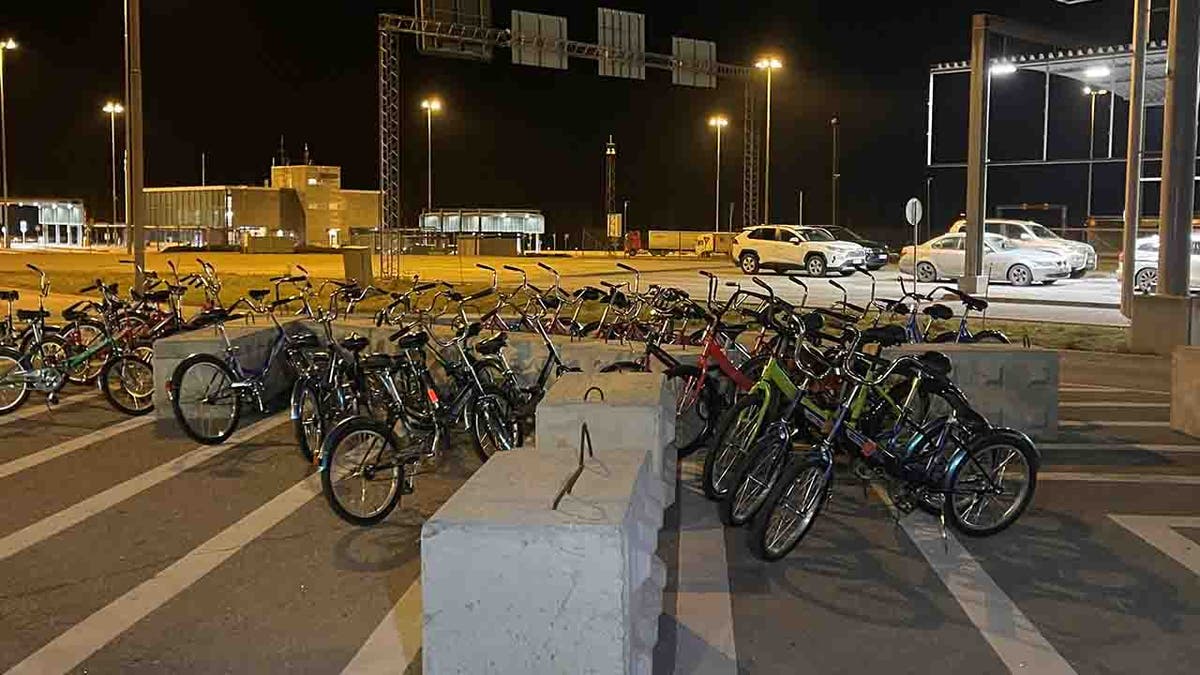 Confiscated bicycles sit at the border between Russia and Finland at the Nuijamaa border checkpoint in Finland on Friday. (Reuters/Attila Cser)
KREMLIN SAYS PUTIN'S EVENTUAL SUCCESSOR WILL BE 'DIFFERENT BUT THE SAME'
Moscow has denied the claims about being behind the flood of migrants. Kremlin spokesman Dmitry Peskov said that Russian authorities "deeply regret that the leadership of Finland chose the path of deliberate distancing from the previously good nature of our bilateral relations."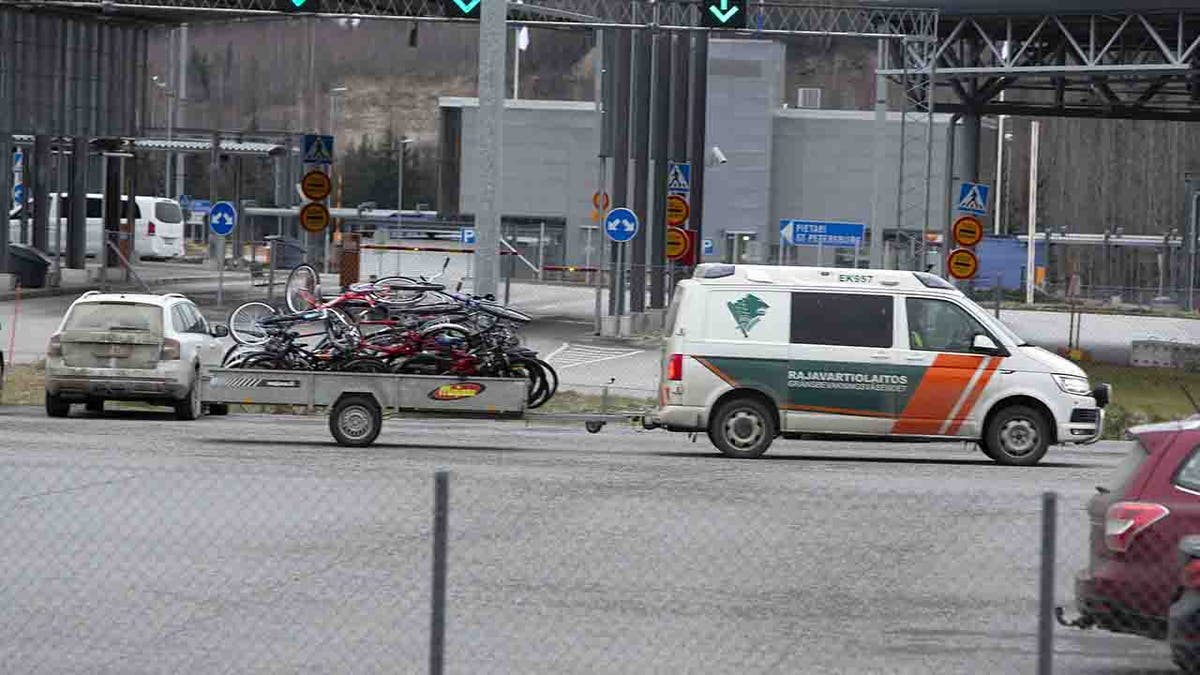 A border guard vehicle moves bicycles used by asylum seekers to cross the border to an impound warehouse in Lappeenranta, Finland, on Saturday. (Lehtikuva/Lauri Heino via Reuters)
CLICK TO GET THE FOX NEWS APP
The Finland-Russia land border serves as the European Union's external frontier and runs a total of 832 miles (1,340 kilometers), mostly through thick forests in the south, reaching the rugged landscape in the Arctic north. There are currently nine crossing points, with one dedicated to rail travel only.
The Associated Press contributed to this report.