Hulya Yesiloglu gazes just beyond her temporary tent city towards a cemetery and says she often wonders if she would have been better off ending up there rather than surviving Turkey's twin earthquakes.
She stands at the mouth of a wood-burning oven baking flatbread on a sweltering summer day in the southern city of Antakya.
Her old stone oven, where she has turned dough to bread for as long as she can remember, is the only part of her home that survived the earthquakes.
The ancient city in Hatay province, 20km (12 miles) from the Syrian border, is still in a dangerous state of disrepair six months after it was ravaged by the February quakes.
Even now thousands of people are living here in makeshift tents and container camps. Like ghosts, buildings stripped of their facades still lean over now-vacant lots where houses and businesses once stood.
Dust covers every surface as the soundtrack of steel claws digging into piles of crumbled concrete and tangled metal plays unendingly in the background of everyday life.
The Turkish government now estimates the cost to rebuild in the 11 provinces affected by the earthquakes will total $105bn (£82bn).
But in Antakya, reconstruction isn't even a thought yet, since it's still in the throes of clearing away the rubble.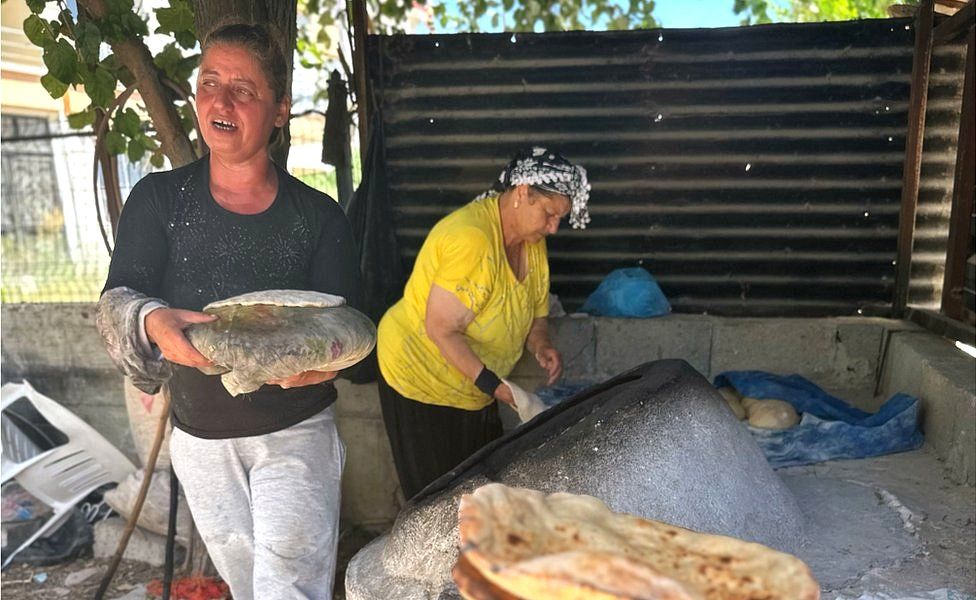 Image caption, Hulya Yesiloglu (left) bakes flatbreads with her wood-burning oven – the only part of her home that survived
Time has moved on, but progress with rebuilding has been slow, and people who remain, like Hulya, say they feel forgotten.
"Thank God nothing happened to my children, my husband, my loved ones, or my family, but being forgotten, not cared for, and being abandoned are very difficult things," she says.
A few metres from where Hulya is baking her bread, her family's five-storey apartment building is still standing – but only barely. It was heavily damaged and is due for demolition.
She and her husband, Metin, still live in the neighbourhood, but it is now reduced to rubble and buildings that have been shaken open by the earthquake, revealing endless rows of empty rooms inside.
The couple's plastic tents are pitched just outside their old front door, but it's too hot to do anything but sleep in them at night and no-one is able to move beyond the disaster.
"Bodies are still being found. It's not over," says Hulya. "If things continue like this, it will only get better after 20 years."
Her assessment of the time needed to reconstruct this city is a far cry from the one-year deadline set for the region by President Recep Tayyip Erdogan days after the disaster.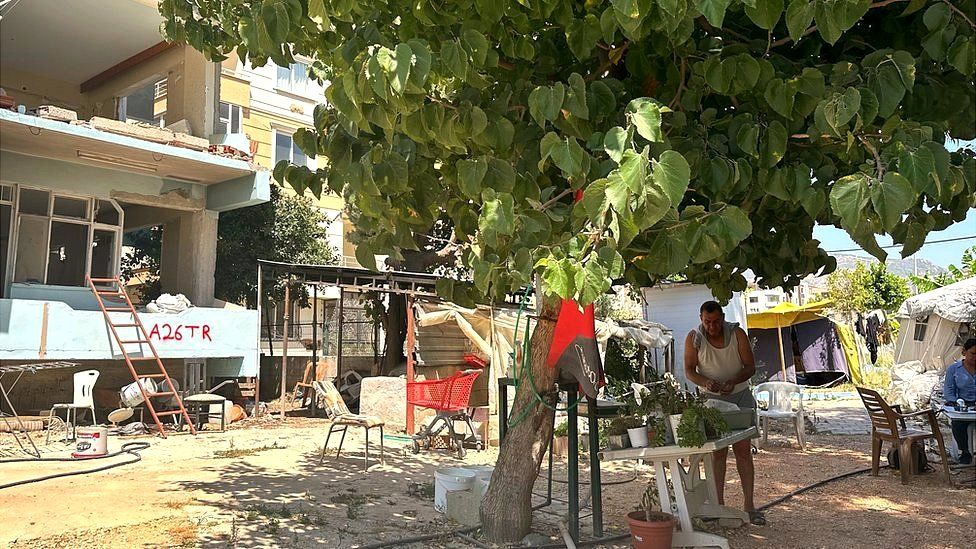 Image caption, Metin Yesiloglu prepares lunch in the shade of a tree after the family home (left, pale blue) was badly damaged
That's largely because the destruction across Hatay province was immense.
More than 50,000 people died in Turkey in the 6 February disaster. In Hatay alone, some 23,000 people died and more than 30,000 were injured, according to Turkey's disaster management agency, Afad.
The following month, the Turkish government assessed that no-one should remain in short-term shelters for more than six months. By July, 164,000 people were still living in tents and containers, according to Afad, in an assessment by the UN.
"We have solved some issues, however, there are still challenges," says Huseyin Yayman, a member of President Erdogan's Justice and Development Party (AKP), and a representative of Hatay in parliament. "Water is not available in the city and we are working to fix that," he adds.
Mr Yayman believes that the rehabilitation process will take much longer than initially anticipated, too, and that financial help is vital – both national and international.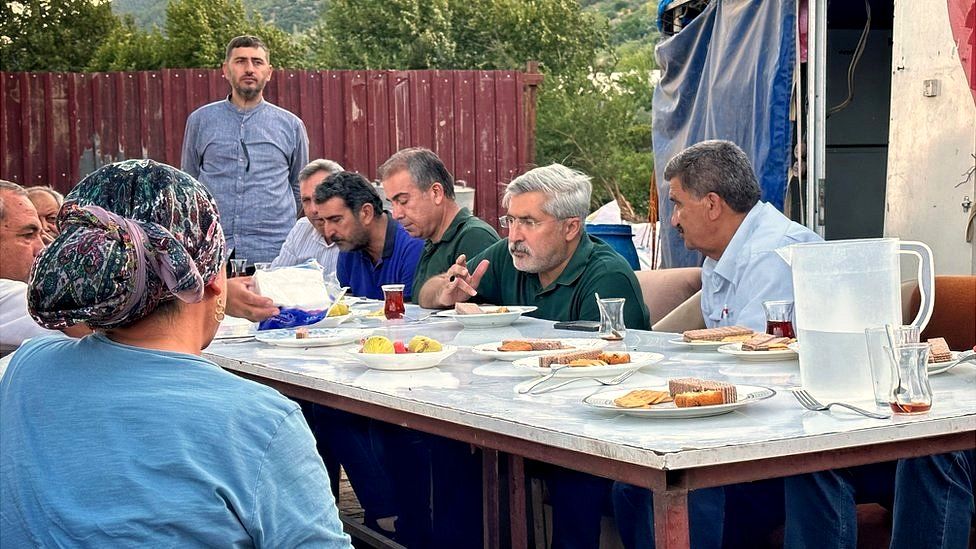 Image caption, Turkish politician Huseyin Yayman (seen here in green shirt and spectacles) has appealed for international help to rebuild
"It takes time to return to normal. I say two plus two: in two years, we can meet the basic needs of people. In two more years, we can start getting back to the new normal," he says.
"We want people from other regions of the country and around the world to help us in these areas because we need serious help. We have problems and we would be happy for them to assist."
Mr Yayman admits that the distribution of aid has been somewhat uneven.
In some tent cities further north in the province, the biggest concern is access to air conditioning, which helps to make the summer heat and humidity more bearable. But in the city centre where Hulya Yesiloglu's family lives, the priority is on safe drinking water.
Hulya says she and her husband have run out of purified drinking water and are now relying on well water to cook and consume.
"Turkey has faced a huge test in this regard," Mr Yayman says.
Permanent housing is at the top of the list for many in the region. About 80km (50 miles) north of the centre of Antakya, in the mountainous city of Hassa, new apartment blocks are rising up.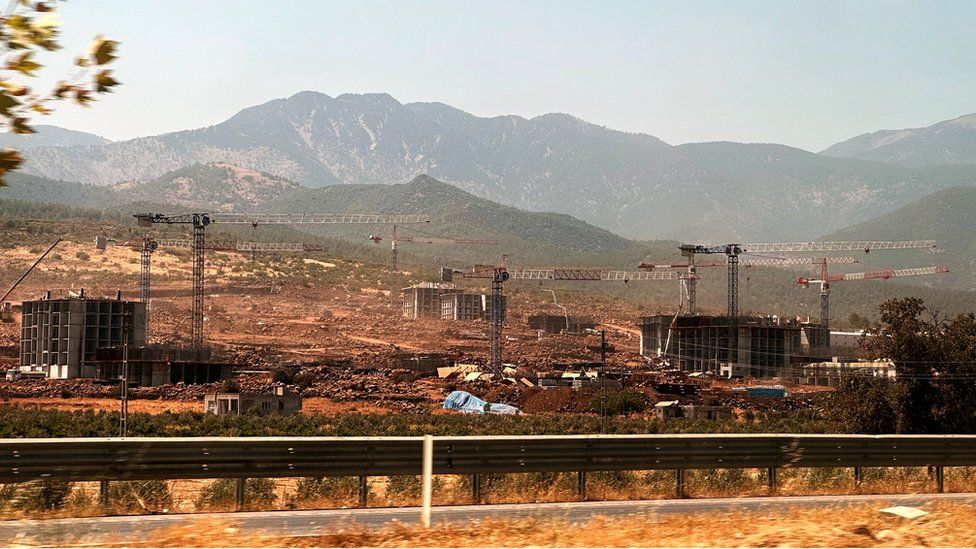 Image caption, New housing blocks are under construction in the mountainous Turkish city of Hassa
The Turkish government has allocated about $370m (£290m) to the project, which is being built by an organisation within the environment ministry called Toki.
Unlike so many of the buildings in Hatay province, Toki insists none of its structures collapsed in February's quake.
This development will have 4,000 flats for 30,000 people and feature a school, health centre and a playground.
Nurtac Yılmaz, whose construction company Yılkanur Insaat is building part of it, says the development won't be fully finished until next summer.
"Just because these constructions are done quickly doesn't mean they are unsafe or not earthquake-resistant," he says.
When it is ready, this complex will be welcome news for the people of Hassa. Priority, Mr Yilmaz says, is being given to those whose homes were classified as heavily damaged.
For others, like the Yesiloglu family, whose homes have been assessed as slightly damaged, it will be a longer road back to normality.
"If the government helps, we don't necessarily have to make [the new house] perfect. You can start slowly, just lay the foundation," says Metin Yesiloglu.
"Then, we can slowly finish it. We won't be in such distress. But now, they say they will conduct an analysis. They will tear down this building and analyse the soil here. If it's suitable, they'll allow construction. If it's not, then no, it won't happen."