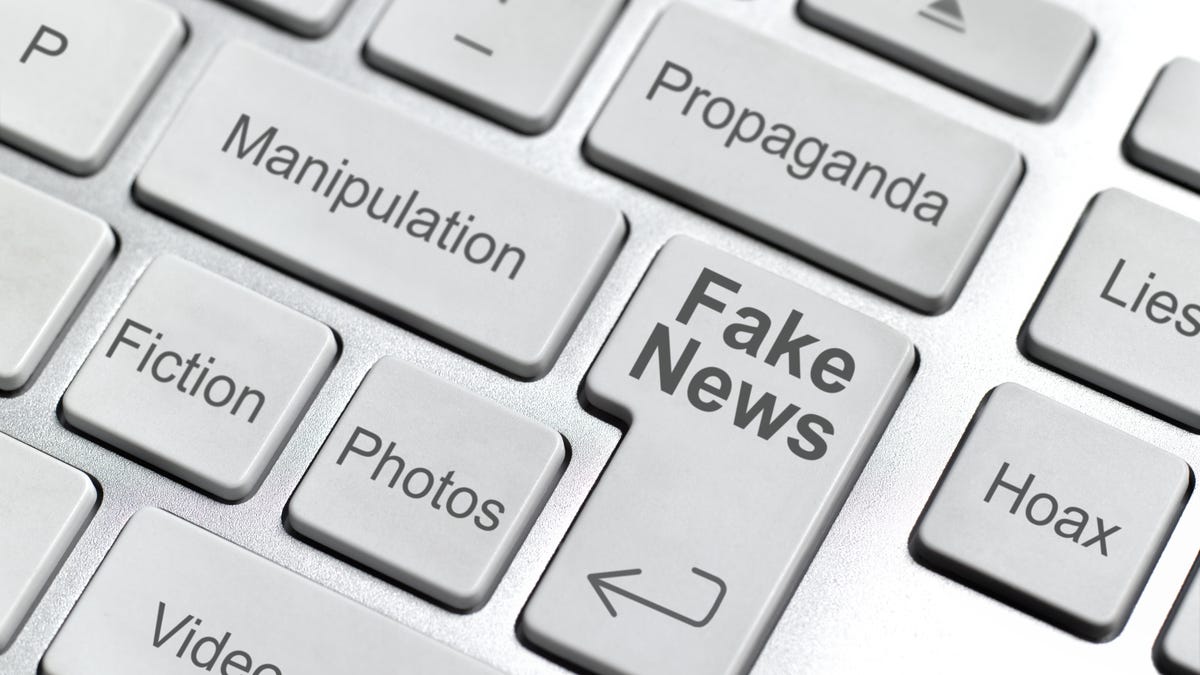 A Knight Foundation study analyzed more than 10 million tweets and retweets.
Getty Images
We're not done with fake news on social media yet.
More than 80 percent of the Twitter accounts that repeatedly spread misinformation during the 2016 presidential election are still active and sending out more than a million tweets a day, according to a study released Thursday from The John S. and James L. Knight Foundation.
The study analyzed more than 10 million tweets and retweets — sent before and after the election — from 700,000 Twitter accounts that linked to "more than 600 misinformation and conspiracy news outlets," according to the Knight Foundation. However, 65 percent of fake news and conspiracy site links in tweets during the election went to just the 10 largest sites, according to the study. That stat remained unchanged after the election.
"Our democracy relies on access to news and information we can trust," said Sam Gill, vice president for communities and impact at the Knight Foundation, in a press release. "Right now, the discussion about misinformation online is based on anxiety and conventional wisdom. That's not good enough."
More than 60 percent of Twitter accounts in the study's post-election analysis showed evidence of automated activity, also known as bots. A lot of the bot accounts linking to fake news sites also follow each other, according to the study, suggesting they may come from the same source.
Twitter said the study fails to take into account things it does to prevent automated and spam accounts from being viewed by people on the social network.
"Twitter is a vital source of real-time antidote to day-to-day falsehoods," said Del Harvey, global vice president of trust and safety at Twitter, in an email statement. "We are proud of this use case and work diligently to ensure we are showing people context and a diverse range of perspectives as they engage in civic debate and conversations on our service."
The study was commissioned by the Knight Foundation and conducted by Matthew Hindman, a media and public affairs professor at George Washington University, and Vlad Barash of Graphika, a network analysis firm.
Twitter, Facebook, Google and other tech companies faced backlash over fake accounts and the spread of misinformation on their platforms during the 2016 presidential election. With the midterm elections taking place next month, Twitter and Facebook are trying to show they take abuse of their platforms seriously. 
Twitter in August updated its advertising policies, including labeling political advertising and identifying who paid for it. Google and Facebook have made similar moves. Earlier this week, Twitter also broadened its rules for identifying fake accounts in an attempt to weed them out.
The Knight Foundation didn't respond to a request for additional comment. 
First published Oct. 4, 11:54 a.m. PT.
Update, Oct. 5 at 8:06 a.m. PT.: Adds more information from the Knight Foundation study.
NASA turns 60: The space agency has taken humanity farther than anyone else, and it has plans to go further.
Taking It to Extremes: Mix insane situations — erupting volcanoes, nuclear meltdowns, 30-foot waves — with everyday tech. Here's what happens.