close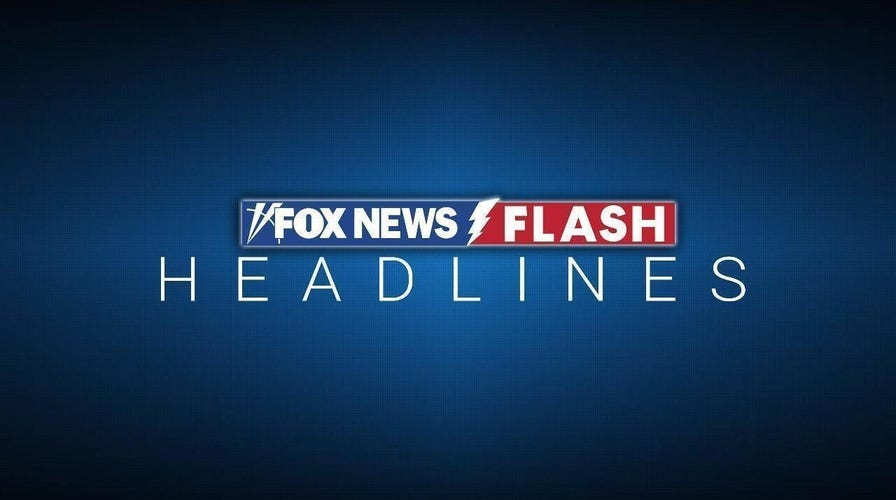 Video
Fox News Flash top headlines for August 9
Fox News Flash top headlines are here. Check out what's clicking on Foxnews.com.
Ursula von der Leyen, the President of the European Commission, paid a visit to Slovenia on Wednesday to extend the European Union's support to the country after devastating floods.
Von der Leyen expressed solidarity with Slovenia during her trip, highlighting her commitment to aiding the nation in its time of need. 
The assistance package encompasses a pledge of $110 million from the EU's Solidarity Fund for this year and an additional $3.3 million in 2024. 
European Commission President Ursula von der Leyen visited Slovenia on Wednesday and promised EU help to the small member state which was ravaged by recent floods that killed at least six people and caused extensive damage.
Von der Leyen said after meeting with Slovenian Prime Minister Robert Golob that they discussed a package of "three components" designed to provide immediate financial aid but also mid and long-term support for reconstruction.
"I am here today to let Slovenia and the Slovenian people know that Europe stands by your side," said von der Leyen, who visited a hard-hit village in northern Slovenia, by the border with Austria, to get a first-hand view of the devastation.
Von der Leyen said $110 million this year from the EU's Solidarity Fund and $3.3 million in 2024 will be made accessible to Slovenia. Additionally, it can draw from other funds or reprogram existing ones, she added.
"A lot of investment has to be done for the recovery of this country," she said. "Slovenia can count on Europe."
POLAND DEPLOYS 2,000 MORE TROOPS TO ITS BORDER, ACCUSES BELARUS OF ORGANIZING ILLEGAL MIGRATION
Slovenian officials have described last week's floods as the worst natural disaster in the country's 32-year history. Two-thirds of the Alpine state's territory was affected and the damage could reach billions of dollars, according to officials.
Torrential rains caused rivers to overflow, flooding houses and fields, damaging bridges and roads, cutting off entire villages and leaving thousands without electricity and running water.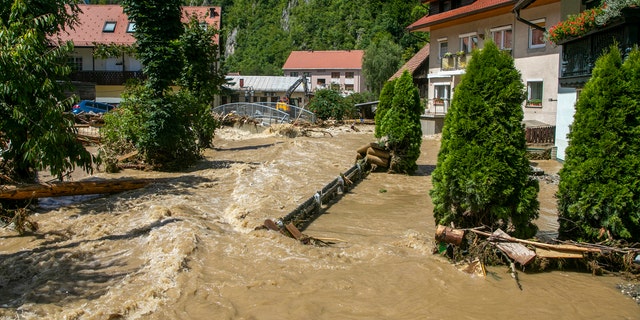 A flooded area is seen in Crna na Koroskem, Slovenia, on Aug. 6, 2023. (AP Photo)
Experts say extreme weather conditions are partly fueled by climate change. Parts of Europe have seen record heat and wildfires this summer.
Golob has said that the greatest damage was to the road and energy infrastructure and that Slovenia will need EU support to rebuild. A number of countries have already sent people and equipment to help.
"European Union is the best thing that happened to Slovenia, and Europe … because, as we asked for help we got it instantly," Golob said at the press conference with von der Leyen. "That is the European solidarity that we are proud of."
CLICK HERE TO GET THE FOX NEWS APP
At the Vatican, Pope Francis said Wednesday that he was praying for victims of floods in Slovenia and Georgia and offered his thanks to those providing aid.
"In recent days, dramatic natural phenomena in Slovenia and Georgia have caused much material destruction," he said. "I pray for the victims, express my spiritual closeness to their families and to all those who are suffering from these disasters, while I thank those who have offered help, especially volunteers."
Experts in Slovenia have warned that although the rain has stopped, further danger looms from landslides in water-soaked areas. Slovenia's weather service said a month's worth of rain fell in less than a day last Thursday and Friday.
Several severe storms in the Alpine nation earlier in the summer blew off roofs, downed thousands of trees and killed one person in Slovenia and four others elsewhere in the region.
Flash floods were also reported in neighboring Austria and Croatia and heavy rains and storms caused major damage farther east in Serbia, which is downstream on the swollen Sava River that flows from Slovenia and Croatia over the Balkans.