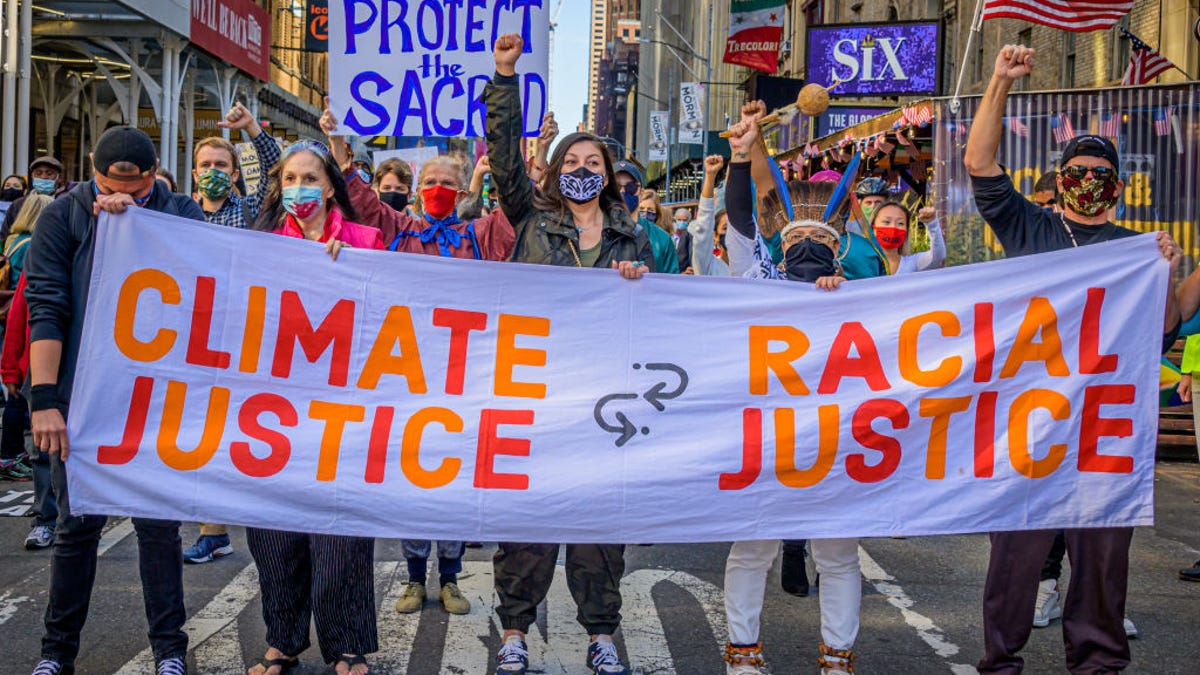 Erik McGregor/LightRocket via Getty Images
"Cancer Alley" is an 85-mile stretch of land in Louisiana containing 150 petrochemical facilities situated near mostly Black, low-income residents who suffer from abnormally high cancer rates. It's one of the starkest examples of environmental racism, or the disproportionate impact that pollution has had on minorities, particularly Black Americans. While the problem was recognized and named in the '80s, it's not until recent years that more attention has been given to this issue. Now the US is finally doing something about it. 
Environmental racism is another version of redlining — practices that have discriminated against minorities seeking loans for better housing or even accessing higher internet speeds — which is uniquely an American problem. While not new — multiple studies have shown that historical redlining has created present-day air pollution disparities in US cities through the creation of environmental sacrifice zones — the issue, as part of the broader push for climate justice, is finally gaining momentum.  
Even Beverly Wright, who grew up in Cancer Alley and is the founder of the Deep South Center for Environmental Justice, acknowledged she thought she knew about racism in all its forms before she learned about environmental racism. 
"It's a type of discrimination I could not fathom," Wright said in a panel discussion during the COP27 UN climate change conference in November. 
In 2021, decades after the problems in Cancer Alley were first identified, UN human rights experts were compelled to release a statement expressing their concern after further industrialization was planned in the region. "This form of environmental racism poses serious and disproportionate threats to the enjoyment of several human rights of its largely African American residents," they said, noting it threatened the local residents' right to life, health and an adequate standard of living.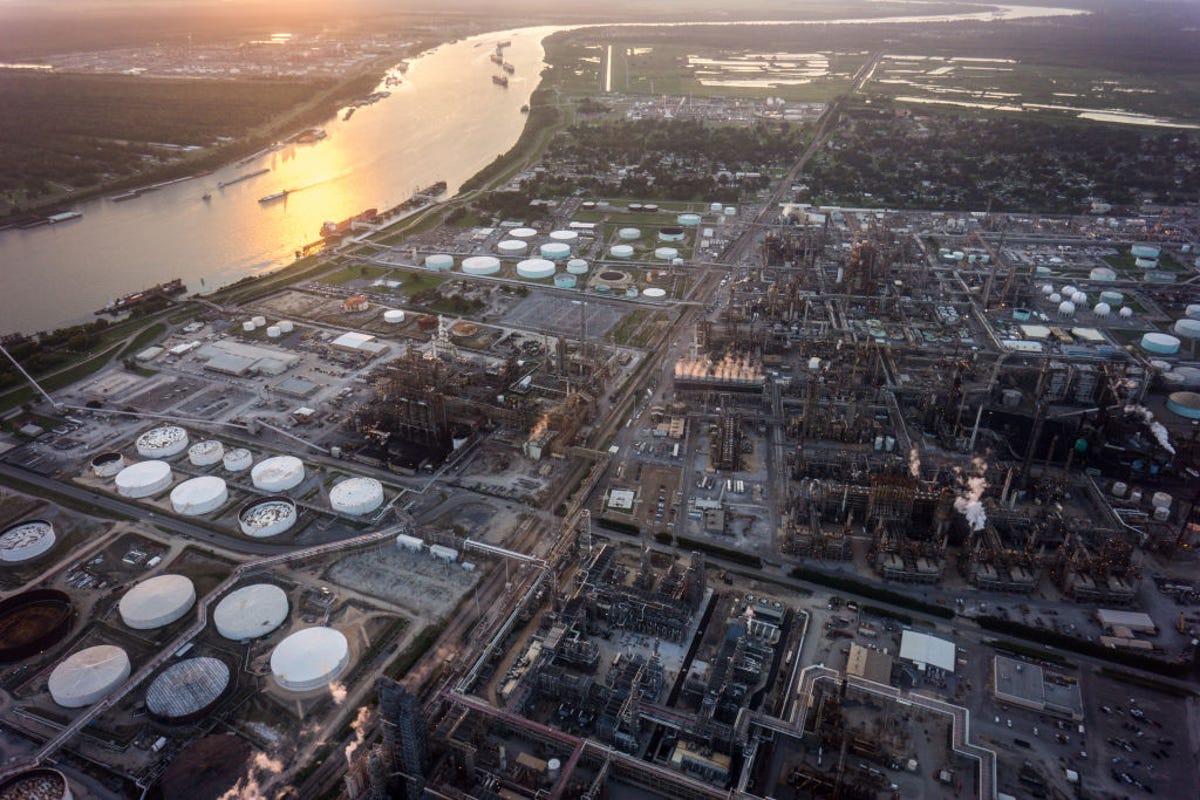 "Cancer Alley" is one of the most polluted areas of the US.

Giles Clarke/Getty Images

The mission to acknowledge environmental racism hit a tipping point late last year, when President Joe Biden passed the Inflation Reduction Act, the most significant piece of climate legislation in US history. The bill channels billions of dollars into a clean energy future for the US, while benefiting jobs, industry and the country's economy. But it also included a $60 billion investment to address the unequal impacts of pollution and the climate crisis on marginalized communities.
This money and assistance is long overdue. For many Americans living in low-income communities and communities of color, it's already too late. Historic pollution from fossil fuel projects in the US has caused death and disease that has adversely affected these demographics for generations. These same communities are now bearing the brunt of the severe weather and disasters caused by the climate crisis on their homes and livelihoods.
Climate injustice is more usually associated with developing countries, many of which have done little to cause the crisis and yet are feeling its impacts most harshly. In reality, it's a global problem that exists wherever there are inequalities. But it's especially exaggerated in the US due to extreme wealth disparity, its legacy of colonization and racial segregation, the political clout of the fossil fuel lobby, as well as generations of denial about the creation of "environmental sacrifice zones" such as Cancer Alley.
More on climate justice

Climate Action and Human Rights Are Intertwined in Fight to Save the Planet
At COP27, Historic Deal Will Compensate Poor Nations for Climate Crisis Disasters
'Heartbreaking' Loss: Climate Crisis Spurs Push for Compensation in 2022
Previous US presidents have acknowledged the problem, but Biden has been the first to center the climate injustice and environmental racism that have plagued low-income, Black and Indigenous communities for generations while making and enacting policy.
So far, this has largely been in the form of words and pledges, but the experts Biden has assembled on his White House Environmental Justice Council — many of whom have been campaigning for decades on the issues — are now waiting to see whether these promises will truly deliver for the most vulnerable and affected American communities. This coming year, as Biden enters the second half of his presidential term, will be the true test of his climate justice-focused policies.
"We're making these recommendations, we're voting on them, we're waiting to see whether they're going to be implemented,"  Ruth Santiago, a community and environmental attorney from Puerto Rico who serves on the council, said in a November interview during the COP27 UN conference on climate change.
For Wright, who serves alongside Santiago on the council, a Democrat administration making noise about tackling climate justice issues is nothing new. Under President Bill Clinton, she worked with federal agencies to make recommendations for tackling the problems, but she saw little to no action taken.
Now with Biden, she feels it's different. "We've been able to make more radical recommendations, a number of them that we've seen move forward," she said in an interview. "It's just more impactful."
Resisting justice
Wright has seen first hand how government funding for environmental and climate disasters rarely reach Black communities. When Hurricane Katrina hit New Orleans in 2005, everyone she knew lost their homes. But when it came time to rebuild, white people were given more money than their homes were worth, and Black people were given less. It took a lawsuit for the state to amend the distribution of funding in a way that allowed Black people to rebuild.
Robert Bullard, who is known as the father of the environmental justice movement, said during COP27 that it was often the case that white communities ended up better off in the wake of extreme weather events, whereas Black communities became poorer. "In many cases in the US and around the world, disaster hits, but often the second disaster is the way the government responds to communities," he said.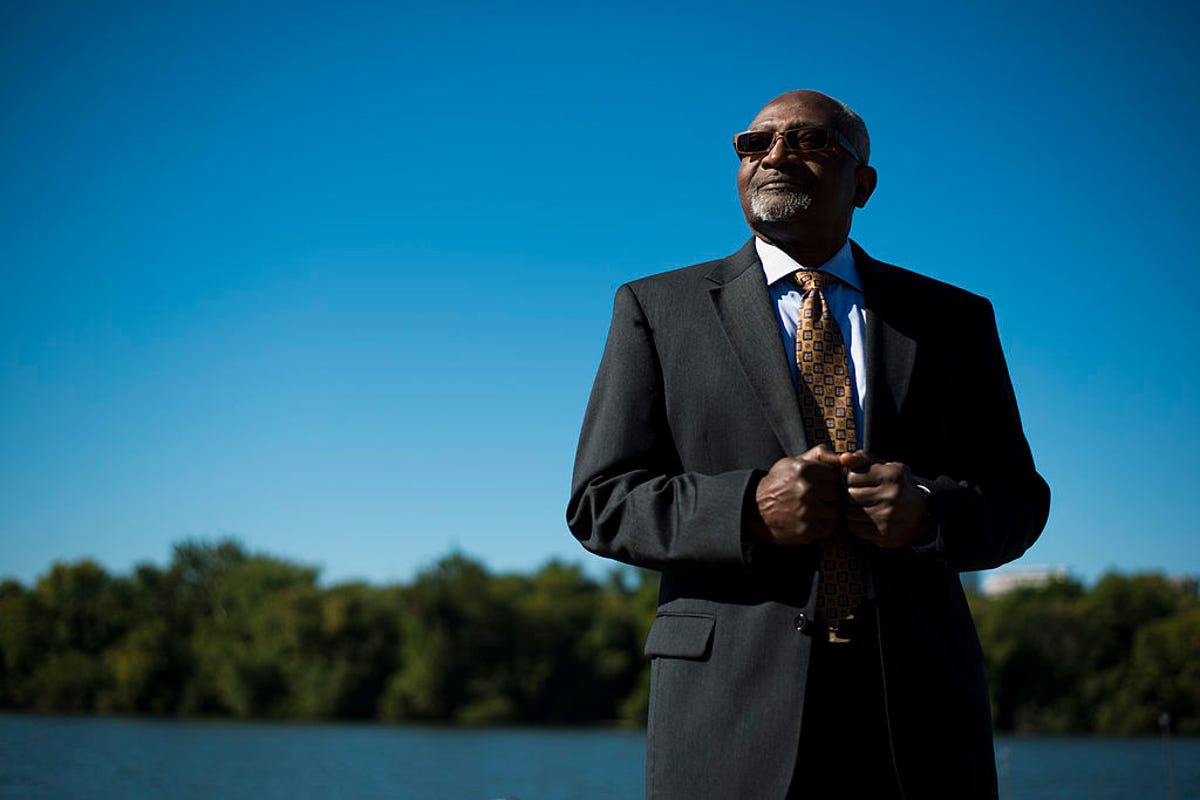 Robert Bullard is a pioneer of the US environmental justice movement.

Marvin Joseph/The Washington Post via Getty Images

When seeking climate justice, litigation is often the only route open to activists protecting themselves and their communities. Speaking at COP27, former Vice President Al Gore told the story of how during the pandemic, he packed up his camper van and drove to Memphis, Tennessee, where he stopped in the empty Graceland parking lot to protest the Byhalia oil pipeline.
The plan was to snake the pipeline through Boxtown, a community in South Memphis whose residents were 97% Black and already suffered from the impact of pollution. 
"I called this a reckless racist rip-off," said Gore, who credits Bullard with inspiring his own environmental justice activism. "It's reckless because it threatens the drinking water and the health of the community. It's racist because it's aimed at a minority black community. And it's a rip-off because this oil company gets the benefits, and all of the risk and all of the damage is put onto the people."
The pipeline was eventually killed, Gore added — not thanks to him but to the tireless work of the young Black activists within the community. But that wasn't where the story ended. Gore described how the oil companies subsequently lobbied the state legislature to pass a law preventing communities from blocking fossil fuel projects anywhere in Tennessee.
What happened in Tennessee is just one example of the resistance everyone in the US advocating for climate justice, from community organizers all the way up to the president, are up against. But if anyone doubts there is the motivation to keep resisting the money and power of the fossil fuel companies, Gore said, "always remember political will is itself a renewable resource."
Political momentum for change
Within fossil fuel lobby groups and the Republican party, there are many who oppose the idea of a just transition to clean energy in a way that prioritizes the health and prosperity of marginalized communities.
Few are more outspoken against these threats than Senators Ed Markey, Sheldon Whitehouse and Ben Cardin. Like the three musketeers for US climate justice, the senators used their attendance at COP27 in November to speak about the Inflation Reduction Act and many of the obstructions they've faced throughout their political careers to justice-centered climate action.
It's necessary for the US to express some "humility" over the fact that it took the country until August to pass meaningful climate legislation, said Cardin speaking at the summit. But, he added, climate justice is "part of the DNA" of the IRA and the bipartisan infrastructure bill, as well as being a principal objective across all domestic legislation introduced by Biden.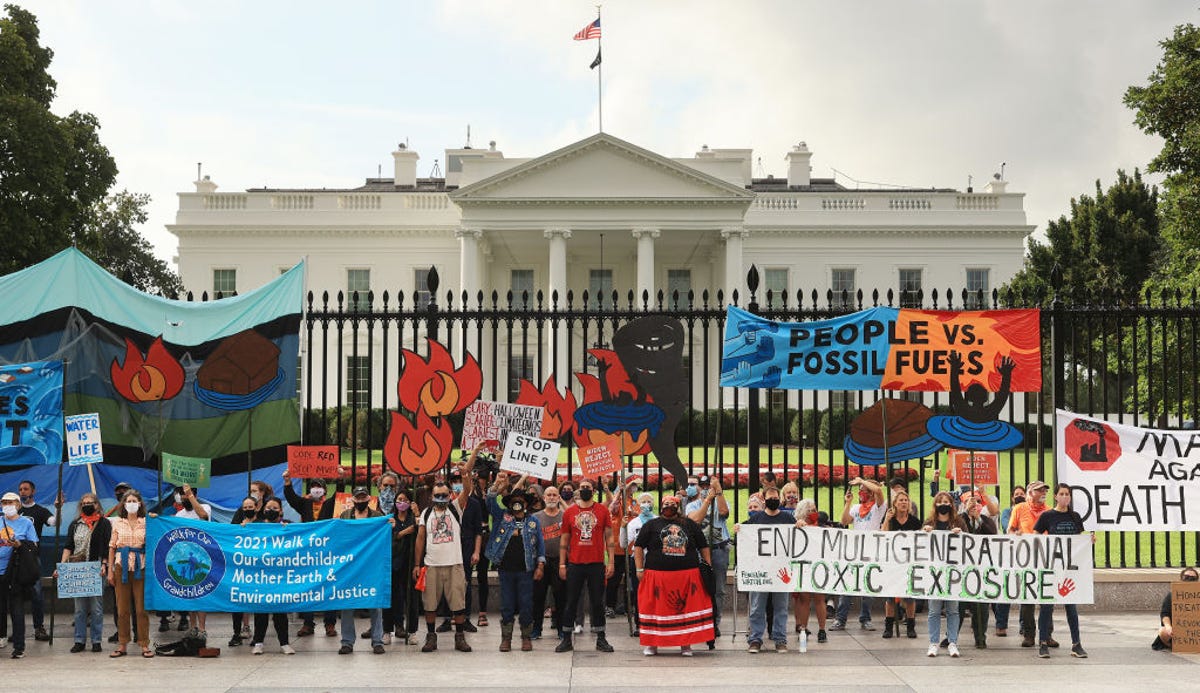 Climate protesers outside the White House in October 2021.

Chip Somodevilla/Getty Images

When Biden entered office, not only did he rejoin the Paris Agreement, but he signed an executive order laying out his intentions to prioritize tackling the issue, establishing the Justice40 Initiative to get money flowing into these communities. Then in September, he established the Office of Environmental Justice and External Civil Rights, which will work under the Environmental Protection Agency to provide grants to communities suffering the effects of pollution.
These combined actions and initiatives represent a moment of reckoning for the US. After generations of sidelining and ignoring environmental racism and the climate injustices within its borders and territories, the country is now doing something.
"What changed was the voters threw out Trump and his pack of fossil fuel-funded climate deniers," Whitehouse told CNET at COP27. "If you've got a fossil fuel-funded, climate-denying crew all around you, it's hard to take climate justice seriously or energy transition seriously."
But even now, the three senators view the fight for climate justice as being far from over. The fossil fuel industry still runs "extremely aggressive operations," including political countermeasures against climate progress in Congress through its control of the Republican party, Whitehouse said. To combat this, he wants to see the rest of corporate America begin to put its weight behind climate justice. If it does, he added, there is "a whole second chapter" to what Congress can achieve beyond the IRA.
Being in the room
The biggest challenge facing the US government right now as it pursues its mission to right the wrongs of historic environmental injustice is ensuring that the funding actually reaches the people it's intended for — and that they get to decide how it's used. A frequent problem, highlighted by Bullard, is that affected communities are only further disenfranchised when the government dictates the solutions.
This is especially true when energy companies present solutions such as transitioning to nuclear energy to communities who have been historically impacted by nuclear power plants. Speaking at COP27, Janene Yazzie, a member of the Navajo Nation and Southwest regional director for indigenous empowerment organization NDN Collective, explained how these kinds of solutions are unacceptable to people in her community.
"I come from lands where our children are being born with uranium in their bodies because of the legacy of contamination," she said. Given the lack of technology available to clean up any nuclear damage that might occur, the community isn't willing to take this risk, she added. Instead, she called for solutions that stem from community rights that focus on well-being.
"The whole principle of environmental justice is that those who are most impacted must be in the rooms, must set the tone," Bullard said. "Many solutions can come from the communities that are being impacted."
Such a solution has been developed by local activists and academics in Puerto Rico. They developed a plan for transitioning the territory to decentralized rooftop solar based on the high-density development of the island, abundance of sunshine, and tendency for hurricanes to knock out and isolate communities from the centralized energy grid.  
"There's civil society consensus," said Santiago, who works as an attorney campaigning for the island's solar transition. "We know what we need." A study conducted by the US Department of Energy agreed, finding that Puerto Rico had four to six times the amount of rooftop solar potential compared with its energy demands.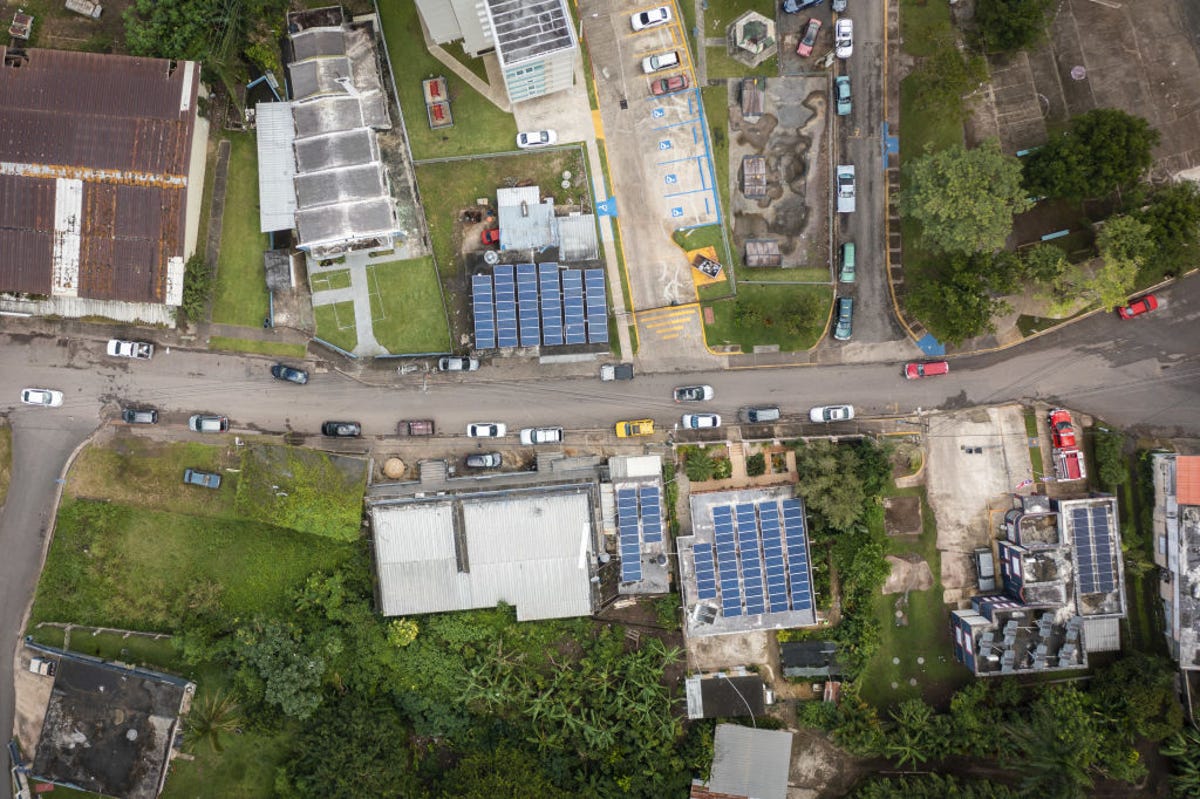 Rooftop solar pilot projects are already seeing success in Puerto Rico.

Alejandro Granadillo/Bloomberg via Getty Images

But instead, what they're seeing, said Santiago, is an avalanche of projects from energy companies based outside of Puerto Rico wanting to build solar arrays on prime agricultural land — threatening the territory's already vulnerable food security. Meanwhile, the US Federal Emergency Management Agency, which allocated the largest amount of funding in the agency's history to repair Puerto Rico's electrical infrastructure following 2017's deadly Hurricane Maria, wants to rebuild the same centralized grid system it had before.
A simple way for the government to prove its commitment to environmental justice and the climate crisis would be to fix the island's electrical system in line with the community's plans, Santiago said. "The money is there, people want it, the rooftops are available," she said. "Everything is in place, except the political will."
As it stands, five years after Hurricane Maria, little of the promised FEMA money has come through and Puerto Rico's energy is still unstable. It's making Puerto Rican activists skeptical about federal funding pledges that claim to target affected communities.
"There's more discourse from the Biden government," said Federico Cintron Moscoso, Puerto Rico program manager for community human rights organization El Puente de Williamsburg. "But how that materializes on the ground is what we haven't seen."
Moscoso said that while speaking with other US community groups vulnerable to climate change at COP27, they shared many concerns about how far away the recent slew of climate justice policies felt from reality.
It's here at the grassroots across the US where local activists — many from Black, Brown and indigenous communities — are crying out for the funding being promised to them to enact the solutions they know will work for their communities.
"If we're serious about implementing climate solutions for all Americans, it starts by taking a rights-based approach to the development of those solutions, to understanding, protecting and upholding the rights of individuals, to building tables of decision making-power that bring all vulnerable people to that table," Yazzie said. "That's how we will get to where we want to go."