close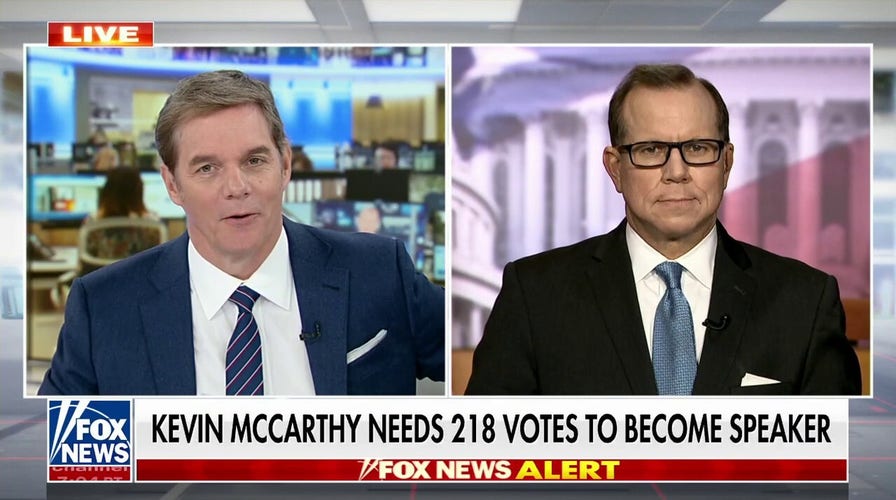 Video
Republicans spar over Kevin McCarthy's bid to become House speaker
Senior congressional correspondent Chad Pergram reports the latest from Capitol Hill. 
Embattled Rep.-elect George Santos promised to support Rep. Kevin McCarthy, R-California, for House speaker Tuesday despite criticism of both men by their fellow Republicans and Democrats.
"Yes, I am," Santos replied when asked if he planned to support McCarthy, who is facing opposition within his own party for the leadership role, Politico reported.
EMBATTLED GOP REP.-ELECT GEORGE SANTOS FIRES BACK AT NEW YORK TIMES AFTER BIOGRAPHY QUESTIONED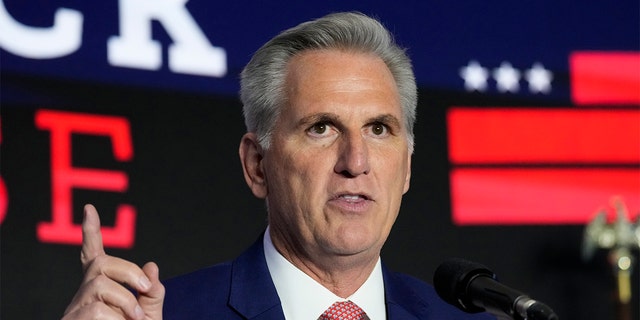 House Minority Leader Kevin McCarthy of California speaks at an election event, Nov. 9, 2022, in Washington. MCarthy is facing growing opposition from within his own party as he attempts to secure the House speaker role.
(AP Photo/Alex Brandon, File)
McCarthy is hoping to capture the necessary 218 votes as elected members of the House met Tuesday to vote on who will be the 118th Congress's next speaker and be second in line to the presidency. A group of Republicans has threatened to block his bid.
The first round of voting on Tuesday ended in a stalemate.
Meanwhile, Santos has faced growing opposition from Democrats after inconsistencies in his resume were made public following his November election win in Long Island, New York.
The revelations have prompted federal, state and local investigations. Nassau County District Attorney Anne Donnelly opened an investigation into Santos last week. During his congressional campaign, he falsely claimed he graduated from college with degrees in finance and worked for Goldman Sachs and Citibank.
Santos has dismissed the claims as embellishments.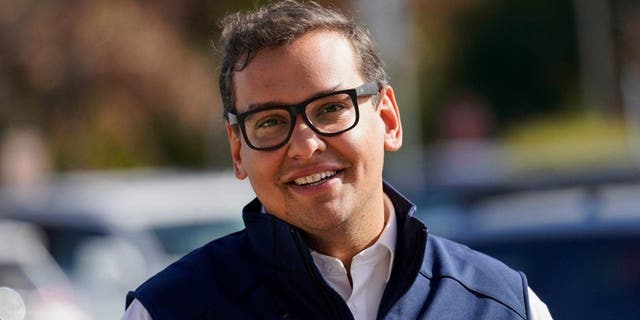 George Santos is facing mounting criticism over his resume. Nassau County District Attorney Anne Donnelly, right, has opened an investigation into him after he admitted to fabricating his resume during his campaign. 
(AP Photo/Mary Altaffer)
"The numerous fabrications and inconsistencies associated with Congressman-Elect Santos are nothing short of stunning," Donnelly said in a statement last week. "The residents of Nassau County and other parts of the third district must have an honest and accountable representative in Congress. No one is above the law and if a crime was committed in this county, we will prosecute it."
In addition, Brazilian prosecutors have revived a fraud case against Santos. On Tuesday, the New York Republican ignored questions as arrived in Washington to be sworn in to Congress.
Multiple House Democrats have called on Santos to resign over the revelations, and his midterm opponent, Robert Zimmerman, has demanded a rematch. Some Republicans have even said Santos should "consider" resigning.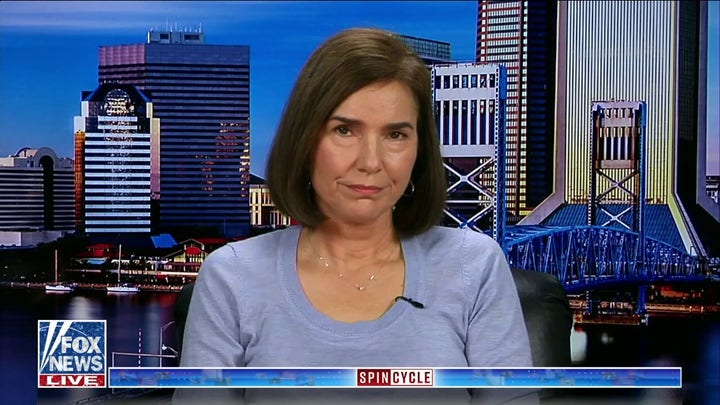 Video
CLICK HERE TO GET THE FOX NEWS APP
"George, if that's even your real name, if you're so convinced that #NY3 voters still trust you – resign & run against me again in a special election," Zimmerman tweeted last week. "Face the voters with your real past & answer questions about your criminal history. Let the voters decide."
Louis Casiano is a reporter for Fox News Digital. Story tips can be sent to [email protected].