August 16 marks 46 years since Elvis Presley died. His legacy lives on — not just for fans, but for those who got to know the man behind the music.
More than 60 years after befriending the iconic southern crooner while enlisted in the U.S. Army, author Johnny Lang put pen to paper and documented a few of the fond memories he had with Presley in his novel, "My Army Days with Elvis: Friendship, Football, & Follies."
Lang exclusively told Fox News Digital he was motivated to write the novel after watching Austin Butler's "outstanding" performance in the award-winning film, "Elvis."
Walking out of the theater with his children and grandchildren, Lang's son asked, "What do you think, Dad? Do you think you're ready to write a book?"
ELVIS PRESLEY'S 1968 'BORDELLO' SCENE ORIGINALLY CUT FOR BEING TOO RISQUE: DIRECTOR
"After seeing this, man, it inspired me," Lang responded.
His wild memories with Elvis lasted a lifetime. From spending hours in training to countless weekends together playing football and nearly becoming blood brothers, Lang cherished the close bond he formed with the "Jailhouse Rock" singer.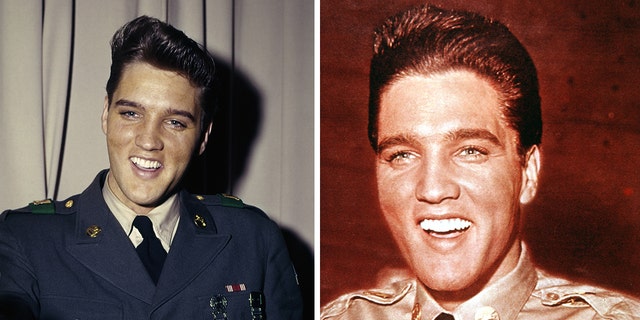 Author Johnny Lang detailed Elvis Presley's humor and larger-than-life persona in a book about their time together in the Army. (Getty Images)
Elvis was drafted into the Army in 1958 while Lang volunteered for the service, which was typical at the time. The only difference was that Presley already had thousands of fans across the country as the "Heartbreak Hotel" artist with a Las Vegas residency under his belt.
Lang had seen Elvis on the firing range in Fort Hood, Texas, but his first opportunity to speak with the musician was on a train headed to New Jersey before they were due to hop on the USS Randolph to Germany.
WATCH: Author Johnny Lang remembers special moment with Elvis Presley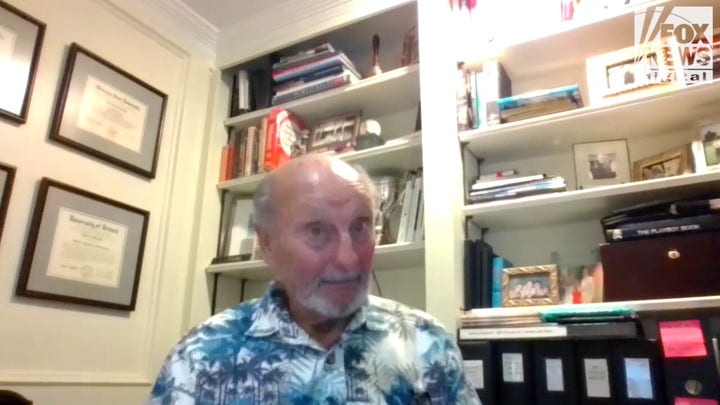 Video
Charlie Hodge, Presley's long-time best friend, introduced Lang to the singer while en route.
ELVIS PRESLEY'S FINAL MONTHS WERE PLAGUED WITH PHYSICAL PAIN AS HE EMBARKED ON GRUELING TOUR, AUTHOR CLAIMS
"I never met a celebrity in my whole life," Lang recalled. "There's Elvis, sitting down there like that, and I walk up to him, standing up and my heart's going like this. And I just stare at him.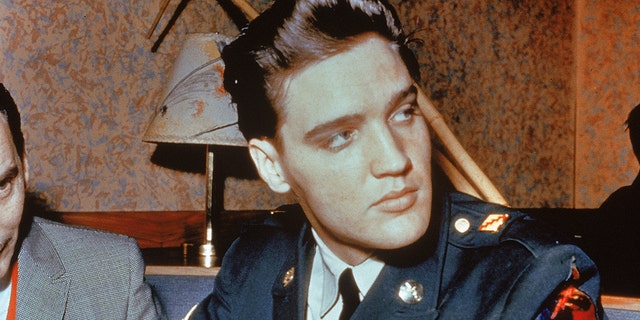 Elvis Presley was drafted into the United States Army in 1958. (Getty Images)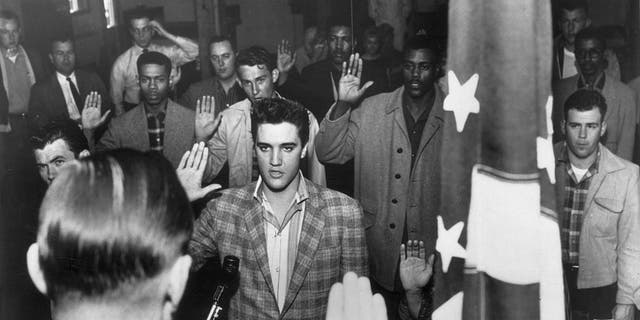 Presley stands with a group of young men at an induction center raising their right hands as they are sworn into the United States Army by an officer standing next to an American flag.  (Hulton Archive/Getty Images)
"And he's looking at me. Finally, he says, 'Sit down, chief.' So I sit down, and I'm so nervous. I said, 'Hey, will you autograph my grandmother's picture? My sister's picture? My mother's picture?' He says, 'No problem.' Anyway, I was there for about 15 minutes and in awe, in awe. And the last thing he says to me, 'I'll see you on the boat, Johnny. Maybe we can spend some time together.' I say, 'I'll be looking for you.'"
Presley was allowed to live off base while stationed in Germany, and Lang was a regular visitor.
WATCH: Elvis Presley was a jokester at heart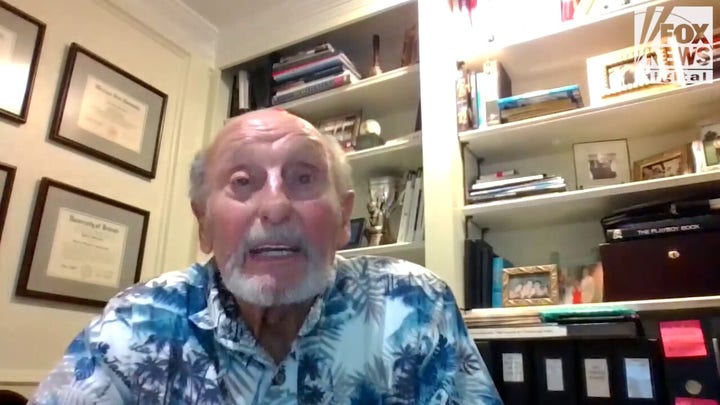 Video
"I spent all my weekends at his house." Lang said. "I'd get up about noon, and then at about one o'clock, I'd be at the house, and there would be about three or four hundred people there because they all want an autograph," Lang said. "I just knock on the door. … I spent almost a year and a half with him every weekend.
"We'd play football with three or four hundred people watching us play ball."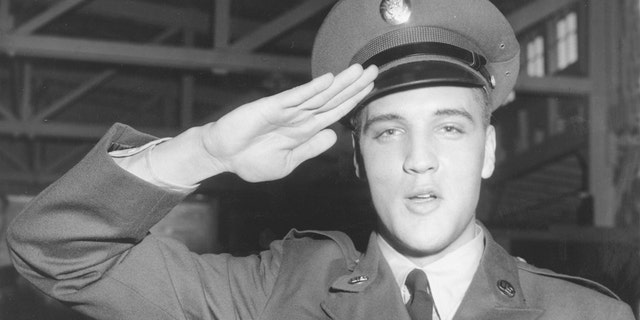 Presley served for two years and was discharged in 1960. (Michael Ochs Archive)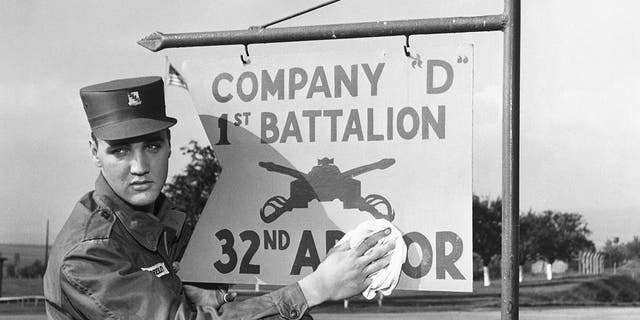 Elvis Presley had already found fame when he was drafted into the Army in 1958. (Vittoriano Rastelli)
One of Lang's favorite stories with his friend was from a time Elvis had a head cold, and the pair shared a quiet, yet poignant moment together.
"We were combat training in a place called Grafenwöhr," Lang recalled. Presley had a "tank outfit" while Lang was in a "scout outfit," but they somehow reconnected.
"I find the barracks. Elvis is all by himself. So, I walk in and say, 'Hey, babe, what's going on?' He says, 'I don't feel good. All the guys are at training. They left me here behind.' So, he's laying on an army bed, and I'm sitting there, just him and me. Biggest guy in the world. But we're talking," Lang remembered.
ANN-MARGRET DESCRIBES HER ELVIS PRESLEY CONNECTION, REMEMBERS NIBBLING ON PAT BOONE'S SHOULDER
"I sat on the edge of the bed, and I said, 'Hey El, will you tell me something?' I said, 'Why are you, with all the fame you have and all the money you have, why are you and I friends?' He said, 'I'm going to tell you something Johnny Lang. You'd still like me if I was a janitor, and thank God I'm not.' And I say, 'You've got that right.' I got up, and in my mind, I'm thinking, 'Unbelievable, just him and I, the whole world would love to see it.'"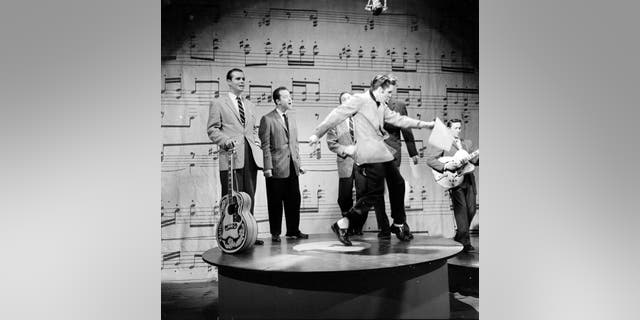 Presley performed on the "The Ed Sullivan Show" Jan. 6, 1957, in New York City. (Michael Ochs Archives)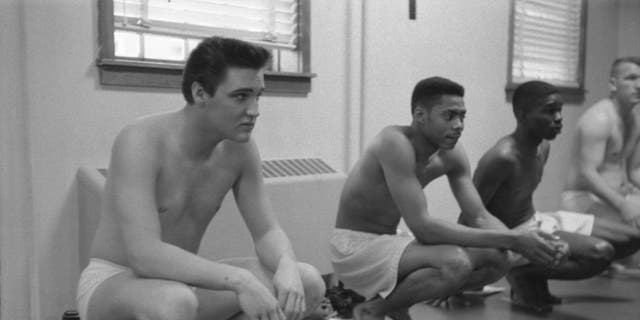 Along with fellow recruits, Elvis (left) waits for a physical examination upon entering the U.S. Army at the Fort Chaffee training installation at Fort Smith, Ark., March 25, 1958.    (Don Cravens)
Lang remembered helping Presley fix his blanket because he wasn't feeling his best and said, "You take care. I know you're not feeling good. I won't keep you up, but God bless you. I'll see you when that opportunity arrives again."
"He said, 'No problem, Johnny. Thanks for coming by.' And that's my favorite story of all. I mean. Entertainer of the century!"
Elvis kept Johnny on his toes, too.
WATCH: Elvis Presley had 'the greatest laugh' and a huge heart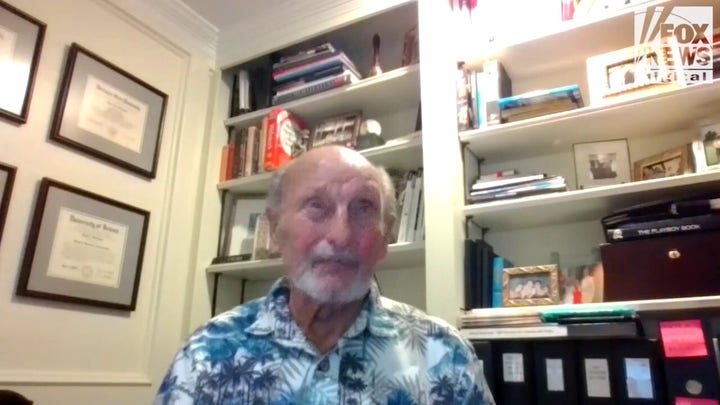 Video
"You never know what he's going to do," Lang said. "He says to me, he says, 'Hey, Johnny, why don't you and I become blood brothers?'"
Presley asked Lang to get a knife, but he played a little joke on the singer in return.
"So, I go in the kitchen. I get a butter knife. Come in the living room. And I say, 'OK, babe, I got you. And he says, 'You do it first, and I'll follow you,' I said OK. So, I take the knife, and I'm going, 'Man this ain't cutting! It's a butter knife!' And Elvis, he's looking at me and says, 'I'll tell you what Johnny, forget it!' Greatest opportunity in the world for me to be a blood brother with the entertainer of the century!"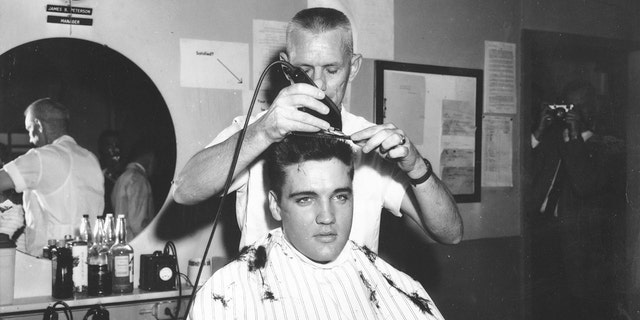 Presley lived like most soldiers while in the Army for two years. (Michael Ochs Archives)
While they were together at the border of Czechoslovakia (now the Czech Republic and Slovakia) during the Cold War, they didn't see combat. Lang and Presley went their separate ways after the Army. While Presley continued with his music career, Lang got married and raised five kids with his wife. He did recall the "sad day" when they said their goodbyes.
CLICK HERE TO SIGN UP FOR THE ENTERTAINMENT NEWSLETTER
"I remember that like yesterday," he said. "I'm standing up, and Elvis is coming downstairs, and there's about seven or eight guys saying goodbye to him."
WATCH: Elvis Presley had hundreds of fans waiting for his autograph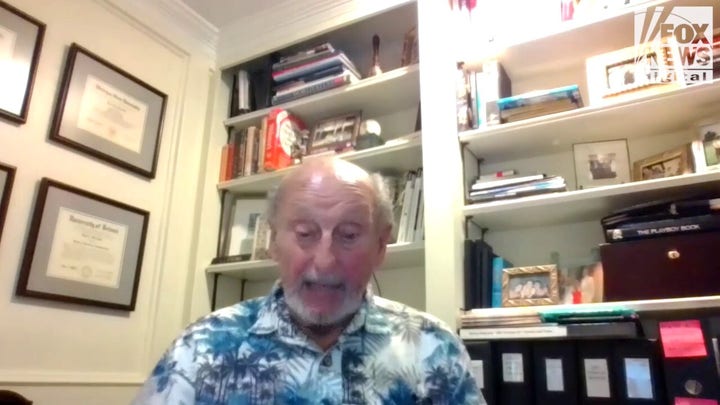 Video
"He comes up to me, shakes my hand, he says, 'Johnny, it was real nice knowing ya and meeting ya.' And I got tears coming down, and I'm crying. I said, 'El, I can't thank you enough for my two years in the service with you, because without you, it wouldn't have been the service the way [it] had.' And he said, 'Ah, think nothing of it, Johnny. If you get a chance, come on down and see me in Vegas,"' Lang said. "I was hurting 'cause I loved the guy."
The world may know Elvis for his music and charming looks, but Lang insisted there was more behind the mirror.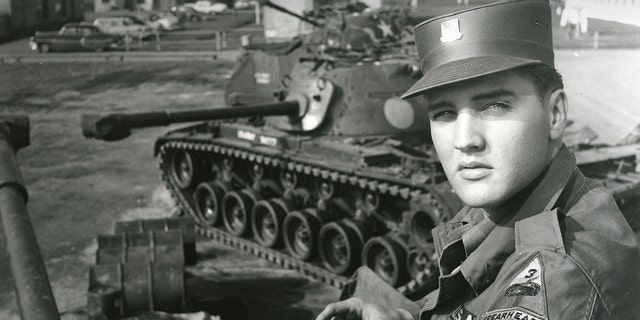 Presley was stationed at the Ray Barracks in Friedberg, Germany. (Vittoriano Rastelli)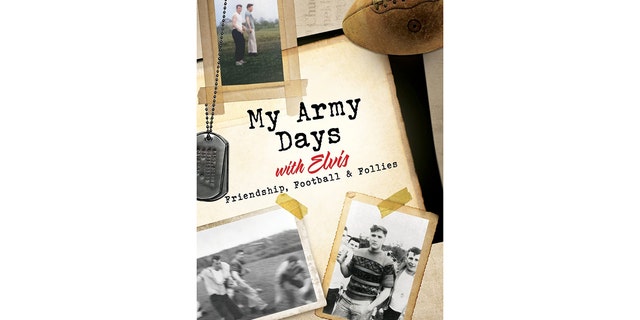 Author Johnny Lang recalled his favorite times with Elvis Presley in the Army. (Johnny Lang)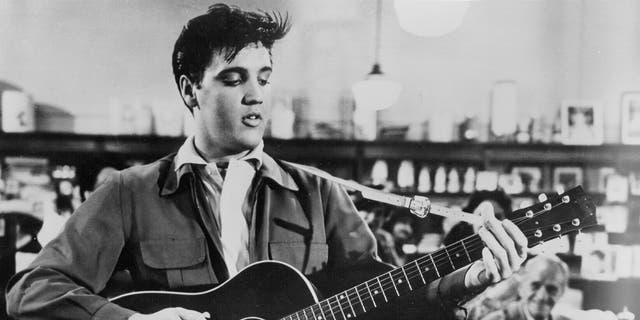 Elvis was also known for his acting career and starred in a handful of films before the Army. (Michael Ochs Archives)
"I don't think the average person knows. … They all know how much heart he had, the whole world knows that, but how funny he was," Lang said. "The greatest laugh I ever heard in my life was Elvis Presley, and funny as hell. And, of course, a heart as big as this building, but the majority of the world knows how much heart he had. But I don't think they know how funny he was. And I used to make that boy laugh."
Even when the "Unchained Melody" musician would make jokes, they were always lighthearted.
Before a game of football one day, Elvis "looks over me and says, 'Hey, Johnny. You think I'll ever be bald?' I say, 'No, you'll never be bald.' I say, 'I'll be bald someday, but listen, I'll tell you what, you're going to be uglier.' He says, 'Let's go play ball.'"
WATCH: Author Johnny Lang recalls first meeting Elvis Presley in the Army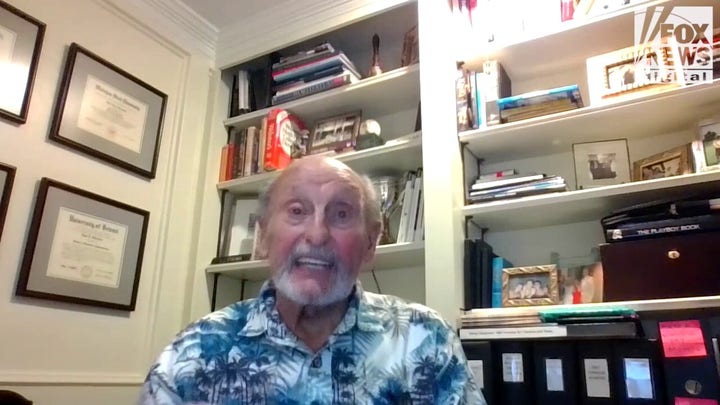 Video
Elvis is one of the best-selling music artists of all time across a number of genres and still holds records for his albums and singles. Presley died in 1977 at his Graceland estate in Memphis. He was 42.
Lang remembered his friend for having "nothing but heart. Sense of humor. … Give you the shirt off his back."
CLICK HERE TO GET THE FOX NEWS APP
"The closest guy I've ever seen to Elvis Presley, entertainment-wise … is Michael Jackson," he said. "The man's [in a class] all by himself.
"You have to be outstanding to get in one Hall of Fame. He did three — rock 'n' roll, gospel and country. That tells me pretty well what Elvis Presley was all about."